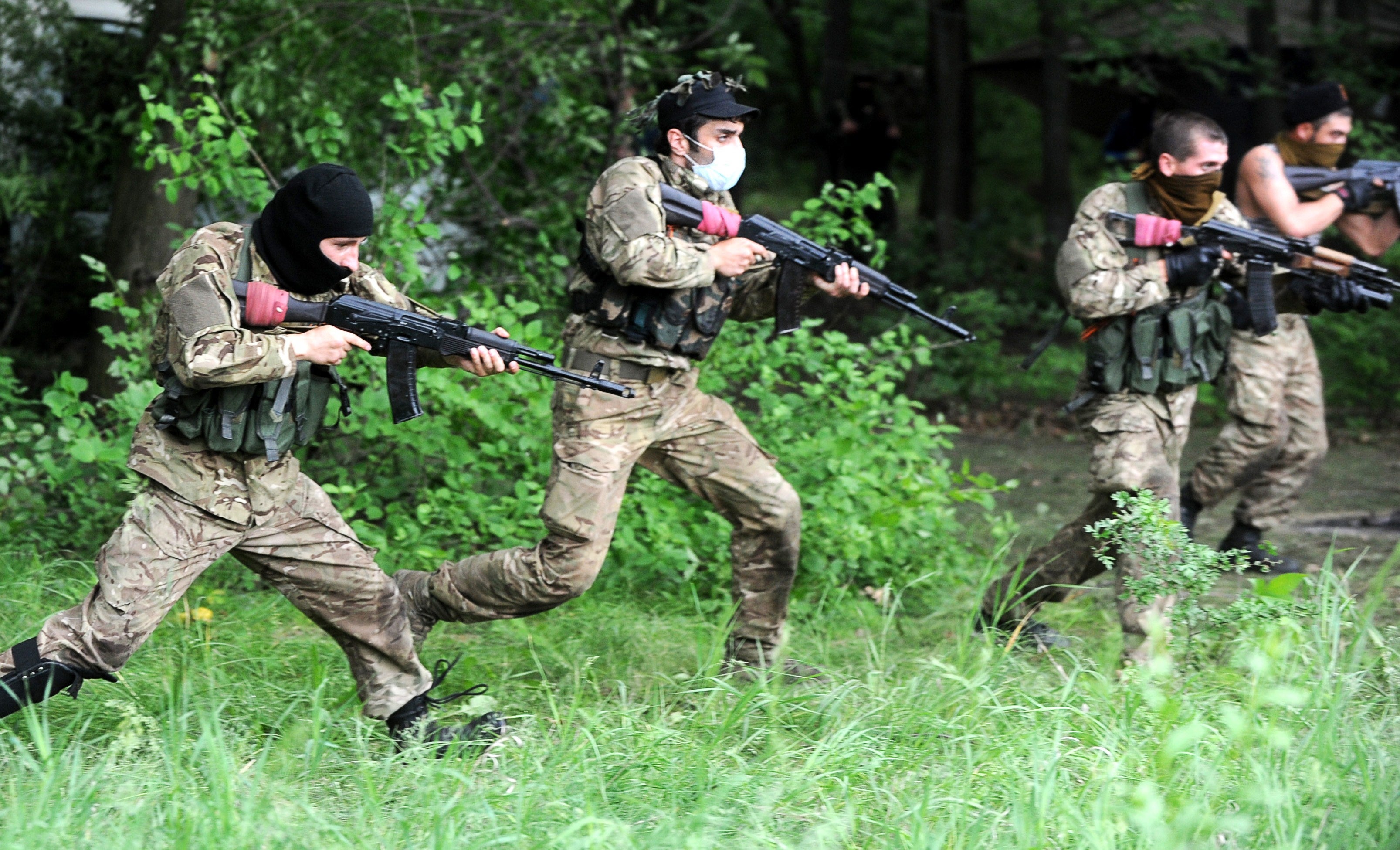 Hundreds of pro-Russian separatists attack Ukraine guards
DONETSK, Ukraine -- Hundreds of armed insurgents attacked a border guards' camp in eastern Ukraine Monday, a spokesman said.
Serhiy Astakhov told The Associated Press by telephone that five rebels were killed and eight injured in the continuing attack on the camp in Luhansk, a major city not far from the Russian border, according to a preliminary assessment. Seven servicemen were injured, three seriously.
The initial attack by around 100 insurgents was met by firing from the border guards, and the number of attackers swelled to around 400 a few hours later. Astakhov said the fighting was continuing, and that the Ukrainian forces sent an airplane to the area but still had been unable to quell the attack.
Vladislav Seleznyov, press secretary for Ukraine's operation against the rebels in the east, described the base as an important coordinating node for border guards across the province, and said the attack may have been an attempt to disrupt communications.
Seleznyov also said that there was another rebel attack Monday on a government checkpoint in Slovyansk, a city in the Donetsk region that has been an epicenter of the pro-Russian movement. He said that rebels had mined a number of power plants in Slovyansk, which he claimed would be detonated if the government were to move on the city.
For weeks, Russian-speaking eastern Ukraine has been the scene of deadly clashes between government troops and pro-Russian insurgents.
Months of protests during last fall and winter drove pro-Russian president Viktor Yanukovych to flee the country. Many in Ukraine's east are suspicious of the new pro-Western government in Kiev, and protests in favor of greater independence from the Ukrainian capital soon turned into a separatist movement as the Luhansk and Donetsk regions declared independence following hastily called referenda.
The conflict between Ukrainian government forces and pro-Russian insurgents in eastern Ukraine escalated markedly in the past week, with rebels attempting to seize a major airport and the shooting-down of a Ukrainian military helicopter.
In Moscow, the Russian defense ministry announced on Monday a military exercise involving the launch of high-precision missiles. The ministry said the maneuvers of the Western Military District will continue through Thursday and will involve the deployment of Iskander surface-to-surface missiles.
Moscow didn't specify the areas where the exercise will be held and made no mention of the situation in Ukraine.
Thanks for reading CBS NEWS.
Create your free account or log in
for more features.