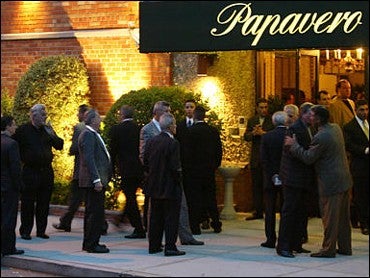 Hundreds At John Gotti Wake
Hundreds of mourners filled a funeral chapel overflowing with flowers Thursday to bid private farewell to a very public mobster: John Gotti, once the most powerful Mafia boss in the United States.
Gotti, renowned for his $1,800 suits, pinky ring and lavish lifestyle, was returned to his native New York after his death Monday from cancer. His wake was held in a funeral home in Queens, New York.
The wake was scheduled for a second day on Friday, with burial Saturday. There will be no funeral Mass for Gotti, the Diocese of Brooklyn decided, although a memorial Mass will be held after the burial.
At the Papavero Funeral Home, a closed coffin sat in the front of the chapel. Dozens of wreaths - many in red and white carnations - filled the room.
"To the chief," read the card on one wreath, while another bore the name of Gotti's old hangout, the Bergin Hunt and Fish Club.
"John, we love you," read another card. "You will always stay in our hearts."
Gotti, 61, died in a prison hospital in Missouri a decade after his conviction for murder and racketeering ended his run as mob boss. He ascended to the top of the Gambino crime family in 1985 with a street hit on his predecessor, "Big Paul" Castellano.
Among those expected to miss the wake are Gotti's two brothers, Gene and Peter, and his son John. All three were behind bars when John Gotti died.
Gotti's gold coffin was flanked by a pair of candles flickering behind red glass. A collection of family pictures was on a table near the coffin; on a glass coffee table stood a framed photo of a tanned, smiling Gotti.
Men in dark suits greeted one another with a kiss on the cheek. Within the first hour of the wake, several hundred people had already come to visit with Gotti's family.
Gotti will be taken to the family mausoleum at St. John's Cemetery in Queens, where he will be placed alongside his son, Frank. The boy died in a car accident when he was 12.
By Verena Dobnik
Thanks for reading CBS NEWS.
Create your free account or log in
for more features.