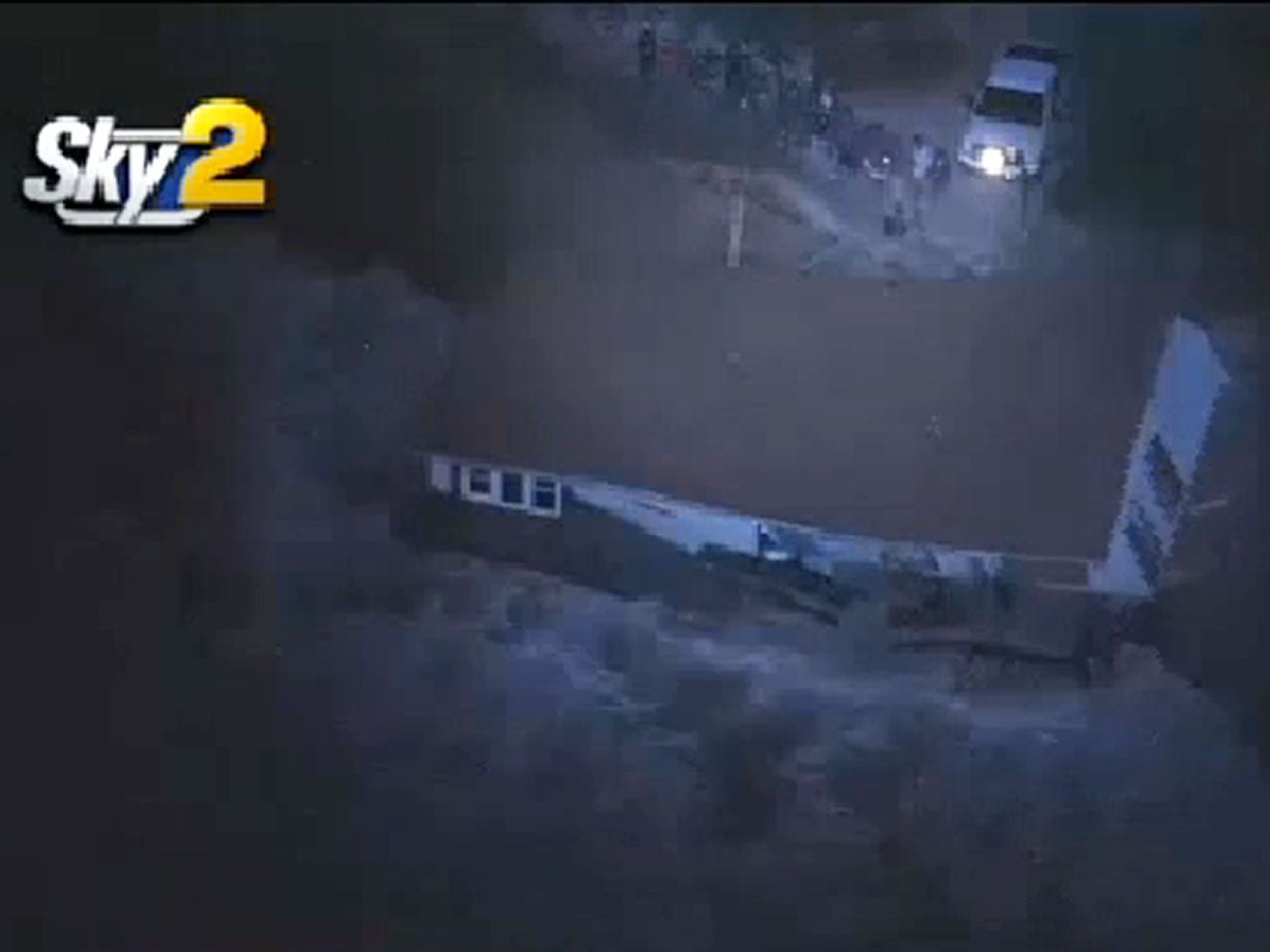 Huge Southern California waves thrill many, but cause damage
NEWPORT BEACH, Calif. -- Southern California is seeing the kind of epic surf usually associated with Hawaii or Tahiti. Beaches are thronged with wave riders and crowds are coming to watch the action, even as seaside communities try to stave off damage from the ocean onslaught.
The waves caused at least one death, a surfer in his 40s who died Tuesday at a hospital after he was rescued by Los Angeles County Lifeguards at nearby Surfrider Beach, reports CBS Los Angeles.
And a well-known lifeguard cottage known as Cove House crumbed into the water, the station says
At least 250 people have been rescued by lifeguards since Tuesday, the station adds.
A third day of waves spawned by the far-off Hurricane-turned Tropical Storm Marie was expected Thursday before calmer waters return.
Spectators lined the shore of the Wedge in Newport Beach on Wednesday, where 20-foot waves were crashing and some of the world's best surfers were riding.
"It's as big as Southern California ever gets," Peter Mel, a prominent big-wave surfer just back from an event in Tahiti, told the Orange County Register. "It's perfect."
Amateurs took to the water too, at least the experienced ones who wary lifeguards would allow in.
Among them was Joshua Magner, 35, who has been surfing since he was 10, and said being in the water was life-altering.
"It's like being born," he said as he zipped his wetsuit and prepared to go back out. "You don't know what the outcome will be, but when you do make it through all that pressure is alleviated, it's liberation, truly the feeling of liberation."
Asked if he was afraid, he replied, "I was scared leaving my house. Dude, I was scared last night. I couldn't sleep."
Some gawkers had to park nearly two miles away and walk to the scene. One man rode a skateboard, carrying a baby. A man put a sign on his car offering his parking space for cash and another was selling commemorative T-shirts for $20 apiece.
Lifeguards up and down the coast sought to keep anyone out of the water who did not have strong experience and were kept busy making rescues all day
Residents of about four blocks of homes along Seal Beach, south of Los Angeles, swept seawater from ground-floor rooms after flooding overnight, and bulldozers reinforced a 6-foot-tall sand berm hastily built to protect shoreline structures.
The berm - a measure normally not needed until winter storms - and the use of pumps prevented more water intrusion during the morning high tide, and another test was expected close to midnight.
The towering waves and rip currents were being produced by swells generated by Marie in the Pacific Ocean. Late Wednesday night, the tropical storm was some 755 west-southwest of Punta Eugenia, Mexico, according to the U.S. National Hurricane Center in Miami, which said Marie was likely to weaken to sub-tropical storm status Thursday. Marie was expected to stay a long distance from California, but life-threatening water conditions were expected to continue through Thursday.
Two cargo terminals at the Port of Long Beach stopped operations late Tuesday because surging, 10- to 15-foot-high waves endangered dockworkers.
The powerful surge also tossed heavy rocks from a seawall onto a road, causing damage and closing the roadway.
The Malibu Pier was closed after pilings were knocked loose. The pier's structural integrity remained sound because of redundancy but people were asked to stay away, State Parks Department official Craig Sap he said.
On Santa Catalina Island, south of Los Angeles, a heavy surge Tuesday night sent sand, water and some 3,000-pound rocks into a boatyard, causing substantial damage and tossing some dry-docked boats off their stands, Avalon Harbor Master Brian Bray said.
The surge also tore away a floating children's swim platform and closed several docks to incoming traffic.
Along the shoreline in Seal Beach, firefighters went door to door, dropping off more sandbags for residents and surveying damage after the initial surge late Tuesday that topped a 2-1/2 foot beach wall, causing flooding in or around the first row of homes. About 100 residences were affected, Orange County Fire Authority Capt. Steve Concialdi said.
"This is our worst summer storm, and I've been here 42 years," said resident Jerry Rootlieb, who was sweeping out his home Wednesday.
Jaime and Blanca Brown's seaside home had a foot of seawater throughout the home, garage and carport. Soaked floor tiles in the hallway were buckled, and a dirty line marked the high point of water in almost every room and the garage. Sodden mattresses and carpets were stacked outside.
"What can you do, man? We are just trying to win the war, and we're just bringing out water. Water, water, water," said the Browns' nephew, Hector Brown.
Thanks for reading CBS NEWS.
Create your free account or log in
for more features.