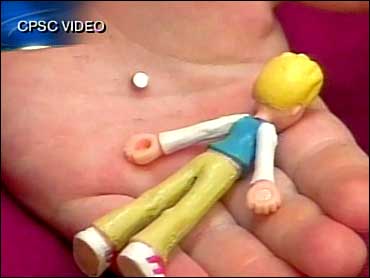 Huge Recall Of Polly Pocket Play Sets
Mattel Inc. is recalling 4.4 million Polly Pocket magnetic play sets after three children were hospitalized with serious injuries from swallowing tiny magnets that fell off the toys, the Consumer Product Safety Commission announced Tuesday.
Polly Pockets are the best-selling miniature dolls in the world.
As the holiday gift-buying season approaches, the commission is urging shoppers to avoid buying toy sets with small magnets for children under age 6. Gift buyers also should check the toy labels, select age-appropriate toys and avoid gifts with sharp edges and small parts.
The commission said it received 170 reports of the small magnets falling out of or from the dolls and accessories in the Polly Pocket sets. Each of the three injured children swallowed more than one magnet and suffered intestinal perforation that required surgery.
Sara Rosales, vice president of communications at Mattel, said the company is working with others in the toy industry, consumer advocates and the government "to make appropriate revisions to the U.S. toy standard to prevent such issues in the future," Rosales said.
---

To see CPSC toy safety and selection tips, click here.
---

The Polly Pocket play sets contain plastic dolls and accessories featuring small magnets measuring 1/8 inch in diameter. The magnets are embedded in the hands and feet of the dolls, plastic clothing, hair pieces and other accessories that attach to the dolls.

The tiny magnets can fall out and be swallowed or inhaled by children. If more than one magnet is swallowed, they can attach to each other and cause intestinal perforation, infection or blockage, which can be fatal.

The recall applies to about 2.4 million sets that were manufactured before April 1, 2005 and sold at department stores and toy stores in the United States from May 2003 through September 2006. They cost between $15 and $30. It also affects another 2 million Polly Pocket play sets were sold worldwide.

Tuesday's recall does not include sets currently on store shelves.

The recalled Polly Pocket brand sets include: Polly Place Hangin' Out House, Polly Place Treetop Clubhouse, Spa Day, Quik-Clik Boutique, Quik-Clik City Pretty Playset, Quik-Clik Sporty Style Playset and Totally Zen Playset. Polly Totally brand Polly Place Totally Tiki Diner sets are also being recalled.

On The Early Show Tuesday, the CPSC's Julie Vallese told co-anchor Hannah Storm parents should take the play sets involved away from their kids immediately, and check play areas and floors for the magnets.

The commission said consumers should contact Mattel to arrange for the return of the toy and to receive a voucher for a replacement toy. For more information about the recall, contact Mattel at 888-597-6597 or visit http://www.service.mattel.com or http://www.cpsc.gov.

Last March, another toy company, Mega Brands Inc., recalled 3.8 million Magnetix magnetic building sets after one child died and four others were seriously injured after swallowing tiny magnets in them.

In 2005, there were 20 toy-related deaths and 152,400 toy-related injuries involving children under age 15. The majority of injuries were sustained from riding toys.
---

DETAILS ON PLAY SETS BEING RECALLED:

Polly Pocket Magnetic Play Sets Model
Polly Pocket! Polly Place Hangin' Out House B2632
Polly Pocket! Polly Place Treetop Clubhouse B3158
Polly Pocket! Spa Day B3201
Polly Totally! Polly Place Totally Tiki Diner B7118
Polly Pocket! Quik-Clik Boutique G8605
Polly Pocket! Quik-Clik City Pretty Playset H1537
Polly Pocket! Quik-Clik Sporty Style Playset H1538
Polly Pocket! Totally Zen Playset H3211

Thanks for reading CBS NEWS.
Create your free account or log in
for more features.