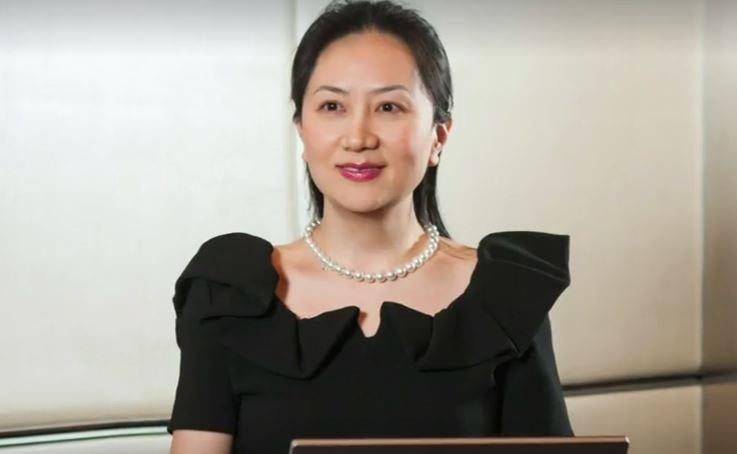 China demands release of Huawei executive Meng Wanzhou held in Canada on behalf of U.S.
TORONTO -- China demanded on Thursday that Canadian authorities release the chief financial officer of China's Huawei Technologies, who was detained over the weekend for possible extradition to the United States. Canadian Justice Department spokesman Ian McLeod confirmed on Wednesday that authorities detained Meng Wanzhou in Vancouver, British Columbia, on Saturday.
McLeod said he could not provide further details on the case due to a publication ban imposed at Meng's request. She has a bail hearing on Friday, he said.
As CBS News partner network BBC News reports, Meng is also deputy chairman of the board and the daughter of Huawei founder Ren Zhengfei.
Huawei issued a statement saying Meng was changing flights in Canada when she was detained "on behalf of the United States of America" to face "unspecified charges" in New York. "The company has been provided very little information regarding the charges and is not aware of any wrongdoing by Ms. Meng," the statement said. "The company believes the Canadian and U.S. legal systems will ultimately reach a just conclusion."
Reports of alleged Huawei sanctions violations
The Wall Street Journal reported earlier this year that U.S. authorities were investigating whether the Chinese tech giant had violated sanctions on Iran. Canadian media also reported on Wednesday that the detention was likely linked to suspected U.S. sanctions violations.
Huawei has said it complies with all laws and rules where it operates, including export controls and sanctions of the United Nations, the U.S. and European Union.
The Chinese Embassy in Ottawa said Meng's human rights were being violated and demanded her immediate release.
"At the request of the U.S. side, the Canadian side arrested a Chinese citizen not violating any American or Canadian law. The Chinese side firmly opposes and strongly protests over such kind of actions which seriously harmed the human rights of the victim," the statement said.
China's Foreign Ministry also demanded Meng's release on Thursday and complained that neither Canadian nor U.S. officials had explained her detention.
A U.S. Justice Department spokesman declined to comment.
Backdrop of a trade war
In April, China appealed to Washington to avoid damaging business confidence following the Wall Street Journal report that U.S. authorities were investigating whether Huawei violated sanctions on Iran amid spiraling technology tensions.
A foreign ministry spokeswoman, Hua Chunying, said then that China opposes any country imposing unilateral sanctions based on its own law.
Asked about the report that Huawei was under investigation, Hua said in April, "We hope the U.S. will refrain from taking actions that could further undermine investor confidence in the U.S. business environment and harm its domestic economy and normal, open, transparent and win-win international trade."
That same month Washington barred Huawei rival ZTE Corp. from exporting U.S. technology in a separate case over exports to Iran and North Korea.
President Donald Trump has threatened to raise tariffs on Chinese goods in response to complaints that Beijing improperly pressures foreign companies to hand over technology. That is widely seen as part of a broader effort by Washington to respond to intensifying competition with Chinese technology industries that Mr. Trump says benefit from improper subsidies and market barriers.
One analyst and former Commerce Department official told the Axios news website this week that China could retaliate for Meng's detention with a possible tit-for-tat move.
"Huawei is one of the Chinese government's pet companies," James Lewis, director of technology policy at the Center for Strategic and International Studies in Washington, told Axios. "They will retaliate and China will take hostages."
Meng's detention in Canada on Saturday came as Mr. Trump sat down with Chinese leader Xi Jinping on the sidelines of the G-20 summit in Argentina. Both leaders were positive about the meeting, which yielded a temporary truce in the fast-escalating trade war between the world's two biggest economic powers. Mr. Trump agreed not to impose any new tariffs on Chinese goods for 90 days, to allow negotiations on a new trade deal to proceed.
But experts -- and even White House advisers -- were cautious in describing the cease-fire.
"I can't call it an agreement yet," Larry Kudlow, Director of Mr. Trump's National Economic Council, told reporters in a call on Monday.
Noting that a similar pause in hostilities in May later fell apart, economists also warned that the sides remain far apart in ironing out key disputes. Those include intellectual property protection for American companies, Chinese commitments to buy more U.S. goods, and Beijing's broader focus on turning China into a technological, industrial and military powerhouse.
"With the truce probably mostly due to a (possibly temporary) change of mind in the U.S., and room for agreement on much of the substance rather narrow, it is fragile," Andrew Hunter of Capital Economics said in a note to clients.
Thanks for reading CBS NEWS.
Create your free account or log in
for more features.