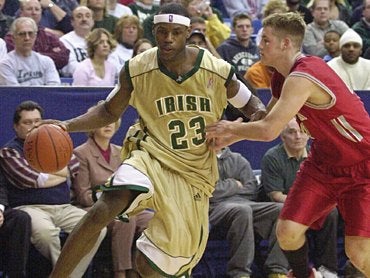 H.S. Hoop Star's Eligibility Reinstated
High school basketball star LeBron James was cleared to play Wednesday by a judge who blocked a state ruling that stripped him of his eligibility.
James can rejoin his team but must sit out one more game, Summit County Judge James Williams ruled. St. Vincent-St. Mary has four games left before the playoffs, and the school can decide which game James will miss.
The senior already missed one game after the Ohio High School Athletic Association declared him ineligible for accepting two free sports jerseys worth a total of $845.
Lawyers for the athletic association and James presented their arguments to the judge during a one-hour hearing.
Williams ordered the school to tell James by noon Thursday which game he will miss. The judge scheduled a preliminary hearing for Feb. 19, when he will decide whether to grant a permanent injunction or go to trial.
"Neither side is going to be happy," Williams said. "There are a number of issues the court wants to hear."
James, who is expected to be the No. 1 pick in this year's NBA draft, and his team were scheduled to play Saturday in Trenton, N.J.
James did not attend Wednesday's hearing. Williams said he would not address the game that St. Vincent-St. Mary had to forfeit because of OHSAA commissioner Clair Muscaro's ruling on James' ineligibility.
Muscaro attended the hearing, which attracted a media throng, including seven camera crews set up in the back of the courtroom.
There was no immediate comment from Muscaro or the lawyers, who were summoned into the judge's chambers following the ruling.
St. Vincent St. Mary's has four games left in the regular season, three of them before the next hearing.
James' attorney, Fred Nance, argued in court documents filed Tuesday that the 6-foot-8 James did nothing wrong when he accepted two "throwback" jerseys from the owner of a Cleveland clothing store.
"All LeBron did was receive a gift from a friend as congratulations for his academic achievements," Nance said. "Had LeBron wished to capitalize on his fame, the recompense could be in the millions of dollars."
James has said he returned the jerseys.
The OHSAA found that the store gave James the Gale Sayers and Wes Unseld jerseys in exchange for posing for pictures to be displayed on its walls.
"If I had known I was violating anything I would have never done it. I would have never jeopardized my eligibility. I would have never jeopardized my team," James told CBS News Early Show Contributor Deion Sanders. "It was just me and a bunch of my friends went in there and the guy said, 'You know, I'll give you a couple of jerseys for your reward for being on the honor roll,' right?"
Muscaro ruled that James broke an amateur bylaw "by capitalizing on athletic fame by receiving money or gifts of monetary value."
Muscaro's decision came four days after the OHSAA cleared James of any wrongdoing for accepting a $50,000 Hummer H2 sport utility vehicle as an 18th birthday gift from his mother.
Nance said in the court filing that James returned the jerseys when he learned that the gift was controversial and might threaten his amateur status.
James, 18, attended practice on Tuesday in the school's gym, wearing a gray T-shirt and blue shorts. He warmed up with his teammates and was stretching in the middle of the floor when coach Dru Joyce closed the practice.
Joyce then ordered green cloth banners to be hung over the glass doors, so no one could see inside.
Joyce refused to comment on James' situation.
St. Vincent-St. Mary next plays in the Isles Prime Time Shootout in Trenton, N.J., this weekend. Because of James' popularity, the school has played in games around the country this season.
Martin Johnson, president of the nonprofit group that is putting on the tournament, said Monday he was optimistic that James would be cleared in time to play.
The Fighting Irish have four games left before the state playoffs.
OHSAA spokesman Bob Goldring said if Williams blocks the athletic association's ruling and grants a restraining order, James can resume playing immediately.
Williams would then hold another hearing within 14 days, when he could decide whether to make the injunction permanent or extend the temporary order.
With James deciding to fight for his reinstatement through legal action, it is unlikely he will appeal his suspension to the athletic association.
Nance accused the OHSAA of being frustrated that the school is capitalizing on James' fame by playing in a larger arena, receiving fees from playing in tournaments across the country and contracting with a cable network to televise the games.
Steven Craig, a lawyer for the OHSAA, said, "The commissioner is obligated to interpret and enforce the bylaws as written. That is what he feels he's done in this case and stands by his decision."
The school defended James and said the punishment was too severe.
"LeBron made a mistake and accepts responsibility," James Burdon, chairman of the school's board of trustees, said Tuesday. "He's apologized for the pain he's caused others. However, he has not committed a crime, nor has he consciously hurt anyone."
"There's nothing I'm sorry more about, you know, disrespecting my teammates," James told Sanders.
The school was initially named a defendant by Nance, but Burdon said St. Vincent-St. Mary will be dropped from the lawsuit.
Nance also asked the judge to reinstate the Jan. 25 win over Akron Buchtel the school had to forfeit.

Thanks for reading CBS NEWS.
Create your free account or log in
for more features.