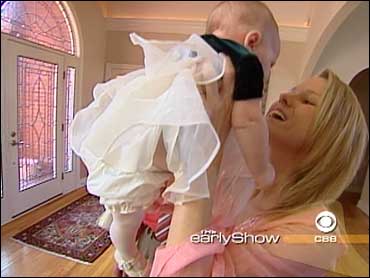 How To Spot An Adoption Scam
Every year, more than a million Americans try to adopt a child. Many face long waiting lists and lots of disappointment, and authorities say that makes them prime targets for scam artists who prey on their vulnerability. CBS News correspondent Mark Strassmann reports.
Mark and Kim Pendleton couldn't have a child of their own, so they decided to adopt.
"We already had a family with me and my wife," Mark says, "and we wanted to complete that."
Adds Kim, "I was very excited, couldn't wait to be a mom."
Through an adoption Web site, they were matched with someone who appeared to be their ideal birth mother: Bobbie Jo Quarzenski, a single mom in Pennsylvania, pregnant with a baby girl.
And they seemed to click from the moment they met.
"When she got out of the car, she looked at my husband and said, 'You look just like the father of the baby,' " Kim says.
"It makes you feel like, well, maybe this is the match that's going to work out for us," says Mark.
The Pendletons agreed to pay Quarzenski's pre-birth expenses. She would let them adopt her unborn child. The fit seemed so perfect that the Pendletons picked out everything from the baby's nursery to her name: Alia.
"We had her whole room ready," says Kim. "She was just waiting to get here."
But suddenly, Quarzenski disappeared, right before her delivery date. Desperate for answers, Kim called Quarzenski's roommate, who had stunning news.
"She tipped me off that (Quarzenski) had no intentions of placing the baby for adoption and that she was not coming," says Kim.
The Pendletons had been scammed: almost $14,000 in expenses, and an incalculable emotional price tag.
"There's no words to describe how you feel," says Kim, in tears.
How did the Pendletons get through it?
"Tears and prayer and support from family and friends, and our faith, kept me through it," Kim says.
It was a heartbreaking surprise, and not just for the Pendletons. Two other families had been promised the same baby in what turned out to be the same scam. Three families in three states. All told, Quarzenski allegedly conned them for more than $21,000. She's now awaiting trial on six felony counts in a Pennsylvania jail.
"She was just seeing money and dollar signs and a way to use the situation she was in to obtain funds," says district attorney David Lupas.
The Pendletons now have the child they wanted all along, baby Brooke, adopted from a Florida mother three months ago. But they're still looking for justice.
"Until we start prosecuting these girls and letting them know this is not an OK thing to do, this is going to be an ever-growing problem," Kim says.
Bobbie Jo Quarzenski's attorney did not return The Early Show's calls for comment.
So how can you protect yourself against getting scammed if you are looking to adopt? Some advice was offered on The Early Show by Jane Spinak, a family law professor at Columbia University.
The Pendletons used an online adoption facilitator rather than an adoption agency.
"It is more risky," says Spinak. "An adoption facilitator is usually looking for birth parents on behalf of adoptive parents and not doing the same kind of research on birth parents that a licensed adoption agency would do. People choose to use an adoption facilitator because it's less expensive and sometimes they ask fewer questions of the adoptive parents."
There are a few guidelines that might help you avoid the scam.
Research the birth mother. "It's very important that you come up with a set of questions to talk to the birth mother about," Spinak says. "And sometimes when a birth mother doesn't want to meet with the adoptive parents, it's very important that your lawyer or social worker interview the birth mother on your behalf and ask those same questions."
Be care with money that you give to the birth mother. "Every state has laws about how much money can be spent on legal expenses, medical expenses, and sometimes living expenses," Spinak says. "So you want to know the law in your own state and you want to avoid spending a lot of money when the birth mother asks, 'Can I have some money?' directly. Usually, that's a tip-off this might not be legitimate." There should absolutely be an agreement in writing.
Look for red flags. The money issue is only one possible red flag. In the case of the Pendletons, the birth mother appeared very eager to bond with the couple right away, telling Mark Pendleton that he looked like the baby's birth father. "She might have been too eager," Spinak says, "because usually a birth mother wants to take time to get to know you as an adoptive parent, just like you want to do that, as an adoptive parent. So you don't want to see someone who's immediately latching on. You want the birth mother to be careful, too."

You also should have contact information. Even if the birth mother doesn't want to meet with the adoptive parents, she ought to be willing to give your lawyer a phone number and an address. If you can't get in touch with the birth mother, that's a bad sign.
It is a business relationship. "You're not making a friend," Spinak says, acknowledging that it's difficult to keep it on a business footing. "Of course, it's an emotional issue for a birth mother and for adoptive parents. But you're not making a friend. That's not what's going on here. You're trying to figure out whether this is a child you can adopt. And since the birth mother has a right, until after the child is born, to change her mind, you have to be prepared for that."

None of these warnings are intended to dissuade people from adopting. The Pendletons were faced with an unusual situation. "What you want to do is do your research so that you can move forward and create a new family," Spinak says.
Thanks for reading CBS NEWS.
Create your free account or log in
for more features.