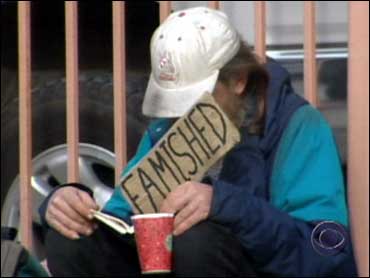 How To End Homelessness? Provide Homes
Imagine your best day ever, and you'll understand what Doretha Cotton is feeling, holding the keys to her first apartment in 20 years.
"This is the key to my new mansion," says Cotton.
Until now, Cotton was homeless on the streets of Washington, mentally ill and alcoholic, and part of America's unsolvable problem.
Unsolvable, reports CBS News correspondent Wyatt Andrews, until Sam Tsemberis turned the approach to homelessness upside down with his "housing first" approach.
Instead of the old way, which required the homeless to get clean or sober first, before getting an apartment, Tsemberis starts with the apartment.
"The treatment for homelessness is housing, so we are simply (saying), 'here is an apartment'", says Tsemberis. "Housing is the cure for homelessness. It's that simple."
Cotton says she feels that having an apartment does change her in some way. "It makes me feel... that I can be independent and responsible, that I can be a good neighbor."
Housing first also involves intensive in-home visits. Cotton will see nurses, social workers and drug counselors. They come with the apartment.
Tsemberis brushes off criticism that he's made it too easy on the homeless. He argues that housing first works - for less. Chronically homeless people now cost taxpayers $40,000 a year each for shelters, jail time and emergency room visits. He says doing it his way costs just more than half that amount.
"Here's a program for $22,000 that gives a person housing and services that end their homelessness and puts them on their way to getting better," says Tsemberis.
Housing first has documented an 85 percent success rate, and is now the official policy in more than 150 cities, including the nation's capital.
"It's actually cheaper than it is to run the shelter system, and a lot better for the people who are in it," says Washington Mayor Adrian Fenty.
"I don't want to drink. I don't want to solicit, panhandle," says Cotton. "I don't have to do those things anymore."
When we left Cotton, her counselor was teaching her to use the intercom.
But it's Tsemberis who has taught officials a brand new way to solve the unsolvable.
Wyatt Andrews
Thanks for reading CBS NEWS.
Create your free account or log in
for more features.