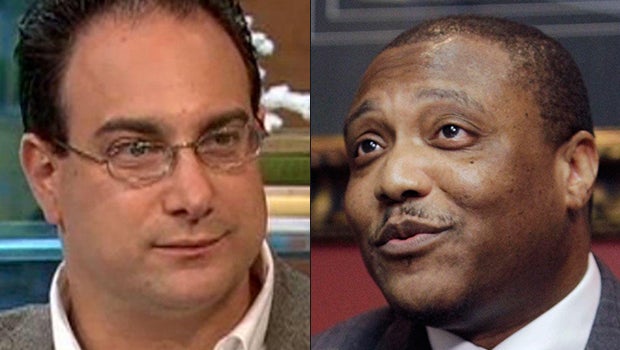 How the wrongfully convicted are compensated for years lost
Imagine serving years, even decades in prison for a crime you didn't commit and then - when you're finally exonerated and released - you're not guaranteed any form of compensation under the law.

In at least 21 states, that's the case.

"It's troubling - to say the least," Bruce Barket, an attorney who represented Marty Tankleff, a New York teen who was convicted in his parents' 1988 murder and spent 17 years in prison before being exonerated, told CBS News' Crimesider.

"Individuals who were wrongly imprisoned should be compensated. It seems incredible to me that there could be an argument against it," Barket said. "They can't just pick up where they left off. They lost careers, jobs, families, the ability to build a career. Their lives were, in essence, destroyed."

Tankleff, who was 17 at the time of his parents' killings, was freed in 2007 at the age of 36 after an appeals court found key evidence in his trial was overlooked. It wasn't until January 2014 that he won a settlement of nearly $3.4 million in a wrongful conviction lawsuit against New York State.


WATCH: 48 Hours: "Marty Tankleff's Fight for the Truth"


New York is one of 29 states - along with the Federal Government and the District of Columbia - that have compensation statues for the wrongfully convicted, according to the Innocence Project, a national litigation and public policy organization dedicated to exonerating wrongfully convicted individuals through DNA testing and reforming the criminal justice system.

Rebecca Brown, Director on State Policy Reform for the Innocence Project, told Crimesider that of the states that do have compensation statues, each differs, and some impose restrictions that could prove problematic.

For example, several states require that the person did not "contribute to their own conviction" in order to reap the benefits of the state's compensation statute. In other words, a person who falsely confessed or pleaded guilty to a crime they didn't commit could be prohibited from receiving compensation.

According to Brown, nearly 30% of all DNA exonerations recorded in the United States involve a person that either pleaded guilty or falsely confessed. The National Registry of Exonerations, maintained by the law schools of the University of Michigan and Northwestern University, recorded 1,281 exonerations from January 1989 through December 2013, and says 11% of those occurred in cases in which the defendant had pleaded guilty - a trend the Registry says is on the increase.

The Innocence Project recommends that all states implement wrongful conviction compensation statutes, and says each should offer a minimum of $50,000 for each year a person spends in prison. People who plead guilty or were coerced into confessing should not be restricted under these statutes, Brown contends.

The organization also suggests that states should reimburse the defendant's attorney fees, make subsistence funds available immediately and offer a range of social services, including mental health services, medical and dental care, and access to housing and education.

"Most people - when they leave prison - get probation services. Our clients do not because they're innocent," Brown said.

Anthony Graves, who spent 18 years behind bars - 12 of which were on death row - in the 1994 killings of six people, before being exonerated and released in 2010, agrees that it's important for a state to implement support services for those who are released from prison following a wrongful conviction.

WATCH: 48 Hours' Emmy-winning broadcast: "Grave Injustice"


Graves, who received $1.45 million under Texas' wrongful conviction compensation statute 6 months after his release, says states should not only offer money to the wrongfully convicted, but also free healthcare and much-needed counseling.

"That's the biggest disappointment. There was nothing in place to help me make a transition," Graves told Crimesider. "I walked out from solitary confinement out onto the streets with nothing."

Graves said he was charged over $500 per month for health insurance following his release.

"For all those years you're denied real good medical treatment and then you come out and you're charged to get all the things fixed that time in prison caused?," he said.

Graves called the $1.45 million "an insult" and said that while no amount of money could make things right, a person who was wrongfully sentenced to death should be given no less than $1 million per each year spent on death row. Graves said it's unfair for a person who served time in the general prison population to be awarded the same amount as someone who was on death row.

The federal wrongful conviction compensation statute is the only statute that offers higher compensation for those who spent time on death row. Under the federal statute, a person can be awarded up to $50,000 per year of wrongful imprisonment and up to $100,000 per year on death row.

Graves also says it's important for a person's record to be cleared of the wrongful conviction - something he says has not been done for him.

"It all came up on my record when I went to get an apartment. My application was denied because of things that came up on my record," Graves told Crimesider.

Rebecca Brown, of the Innocence Project, says this is "a huge problem" and that often times, an exoneree resorts to carrying around a newspaper clipping documenting their exoneration to get things like housing and jobs.

The Innocence Project acknowledges that in states without compensation statues, exonerees do have other options: (1) Pursuing a civil rights lawsuit, which requires proof of official misconduct leading to a constitutional violation; (2) Pursuing a private compensation bill, in which a state legislature makes an exception for an individual. However, the group says both options require the wrongfully convicted person to endure yet another long legal and/or political battle.


According to the National Registry of Exonerations, 2013 was a record-breaking year for exonerations in the United States. The Registry recorded 87 known exonerations, forty of which were murder exonerations, including one in which a prisoner had been sentenced to death.

Of the 1,281 exonerations recorded by the Registry from 1989 through 2013, almost all the individuals had been in prison for years; half for at least 8 years; more than 75% for at least 3 years. As a group, the defendants had spent nearly 12,500 years in prison for crimes for which they should not have been convicted - an average of 10 years each.

Ultimately, can any amount of money or benefits make up for all that time lost?

"A billion dollars would not buy back those 18 years that I could see my kids growing up," Graves told Crimesider.

Brown, of the Innocence Project, agrees. "But," she says, "it is incumbent upon the state to ensure that we do all that we can to make a person as whole as we can after they have lived through that horrific experience."

___


Editor's note:


Since his release, Anthony Graves started the Anthony Graves Foundation aimed at helping at-risk youth whose parents are behind bars. He also founded an organization dedicated to investigating wrongful convictions.


Marty Tankleff is working as a paralegal and expects to graduate from law school in May. He is still waiting on the money from his settlement with New York State, and has a federal civil rights lawsuit pending against the Long Island, N.Y. detective who he alleges coerced a confession from him.

___

This Saturday, "48 Hours" investigates the cases of Ryan Ferguson and Damon Thibodeaux, two men convicted of murder who maintain their innocence. The double feature airs Saturday at 9 p.m. ET/PT on CBS. Watch a preview.
Thanks for reading CBS NEWS.
Create your free account or log in
for more features.