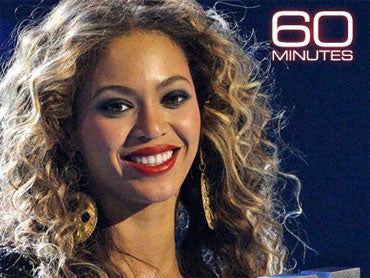 How Gradual Success Helped Beyonce
Her full name is Beyonce Knowles, but she is known far and wide simply as Beyonce. The important thing is that you don't confuse her with what seems to be a gaggle of one-name pop stars. She is one of the most famous women in the world now and the foundation of that celebrity is not based on tabloid hype but raw talent. She is the real deal.
At age 28, she has already spent half of her life in show business, and is well on her way to becoming the Judy Garland or Barbra Streisand of her generation. She's a singer, dancer, actress who has sold 118 million records, appeared in seven movies, won ten Grammy Awards and is up for another ten Sunday night.
And as 60 Minutes correspondent Steve Kroft found out when he met up with her in Dublin on the final stop of a grueling nine month tour, Beyonce is just beginning to hit her stride.
Beyonce a Winner at 2010 Grammys
Web Extra: On Stage
Web Extra: Competing with Jay-Z?
Web Extra: Backstage
Web Extra: On The Road
Web Extra: Broadway Bound?
Web Extra: Hair Salon
All you need to do is watch. She's a polished product that has been years in the making, a fiercely talented performer with a million kilowatts of energy, and a role model who has been strong enough to strut around all the usual pitfalls of fame.
"I am definitely someone that analyzes everything. And I made the decision at a very young age to not do certain things," she told Kroft.
"No drugs, no eating disorders, no bad relationships," Kroft remarked. "No breakdowns due to overwhelming pressure. It takes a certain amount of…discipline, I guess."
"It takes discipline, and it takes focus and I think I'm very fortunate that I've had gradual success. It's not something that happened in one day. It's something that I've worked at and worked at," she explained.
It's a career that began literally in grade school. Beyonce Knowles was raised in an upscale Houston neighborhood by her father Matthew, a sales executive who would become her manager, and by her mother Tina, Beyonce's creative muse, who owned one of the most popular hair salons in Houston.
It became one of her daughter's first venues.
She told Kroft she began performing when she was nine years old. "That's when I started performing at Walmarts and, you know, wherever we could perform. We didn't become professional until we got a record deal around 12 years old."
"So, who wanted to do this? You? Or your parents?" Kroft asked.
"Absolutely me. Once I saw Jackson Five and Michael Jackson, I'm like, 'Oh, my God.' The second I got on the stage, I just opened up and I became this whole other person on the stage. And I wanted to do it every day all day," Beyonce remembered.
With her best friend Kelly Rowland and two other pals from Houston they began winning talent contests. By the time they were 16, the quartet had morphed into Destiny's Child, one of the most successful pop groups of the 1990s.
Home schooled, underaged, and traveling with her parents on the road, Beyonce skipped the boys and the after parties, and passed the time on the tour bus with the other girls reading the Bible.
"We were nice ladies," Beyonce said. "I mean, I'm not sayin' that we were perfect teenagers. But, we were raised well and, honestly, we were too busy tryin' to be superstars. We didn't even have time to think about it, honestly."
There's still a prayer before every show. But since Beyonce began her own solo career eight years ago, a lot of things have changed. She has a successful clothing line with her mother, lucrative cosmetics deals with L'Oreal and Coty, and an estimated income last year of more than $80 million.
She has graced the cover of more than 200 magazines. And that shy girl from Houston who was a late bloomer in terms of her own sexuality, has obviously been a quick study. And parts of her show would make a preacher blush.
"You have a really sort of clean-cut, wholesome reputation. And then, out there on the stage, you're a seductress," Kroft pointed out.
"Okay. Thanks. I'll take that," Beyonce replied, laughing.
"You're seducing the audience," Kroft remarked.
"Really, I don't think about it too much. I'm just free. And I can express my sensuality. I can express my pain, vulnerability, my strength. All of those things," she said.
Asked where she learned all this, Beyonce told Kroft, "Well, just because I had a sheltered upbringing doesn't mean I haven't been a woman. I'm a woman that has had life experiences."
She is also a married woman now, and a worldly one, having seen most of it several times over. This last tour took her to 12 countries and 66 cities for 110 performances, including six sold out concerts in Dublin.
"So, that's a huge, huge accomplishment for me. Especially being an African American singer. There's not many of us that can sell out these venues," she said.
But her crossover appeal is by no means limited to white audiences: the reception was the same in Japan and Korea, in India and even the Middle East.
"When I was in Egypt, I was riding in the cars and I had the window just down to here, so I could look outside and see [the] beautiful place. And everyone was recognizing this," she remembered. "And I'm like, 'Oh my God. This is crazy.' In Egypt? And it's just, music is so powerful, you know? There were women in burkas full out, singing, 'To the left, to the left.'"
Her fan base is largely women. They are drawn to her songs about everyday problems like boyfriends and breakups and she is both a messenger and symbol of female empowerment - glamorous, sexy, willful and strong.
"These two hours on the stage everyday is what I was born to do. It's why I'm here," she told Kroft.
While her career is still managed by her father, Beyonce is the steam that drives the engine of his huge enterprise: 18 truckloads of gear, a family of 150 employees, many of them who have been with her for nearly a decade, and a few since she was 12.
The production costs on the road are more than $1 million a week.
She acknowledged it's a lot of a responsibility for one woman. "But, you know, I put a lot into this show. I don't give half of anything. I give 100 percent. And it has to work every night. So, and when it doesn't, I'm not too happy."
"It's difficult at times because I am really critical. I have to be boss at one moment. And then the next moment, I'm, you know, me," she added.
Asked if she's always been a Type A personality, Beyonce told Kroft, "I think so. Yes. I'm absolutely."
She also acknowledged that she is very assertive and gets the first AND last word.
She says her top priority is to make sure that the concert audience always gets its money's worth, even if it means putting herself at some personal risk.
"The first time I was on that trapeze, I was a little afraid, like, 'Am I really gonna do this every night?' But I feel safe now, some nights, I do two or three little spins, and some nights I do 20 spins, depending on how adventurous I'm feeling," she explained, laughing.
But perhaps the most dangerous thing she does is to perform all those dance routines in five-inch stiletto heels.
One rehearsal was shot by her private videographer, who records many of her off-stage activities for documentaries and DVDs. She is very much the custodian of her own image and this allows her to guard her privacy, keep outside camera crews and paparazzi at a distance and control content for her own commercial use.
She is particularly protective of her relationship with her husband, hip hop superstar Jay-Z. A short backstage clip was provided to us, but you are more likely to see "Big Foot" than either of them sitting down to discuss their marriage.
We gave it a try but we couldn't even get her to mention his name.
"Who's the most important person in your life?" Kroft asked.
"It's not just one person," Beyonce said. "But, I guess, it should be me. It should be me. Just start with me."
Asked if her husband is comfortable living with somebody as competitive and as ambitious as she is, Beyonce said, "You're gonna have to ask my husband. But, I think so. I'm competitive really with myself. I'm not a competitive person that walks in thinkin' about other people and how I can compete with them or especially not my husband. Not at all."
"Do you talk shop?" Kroft asked.
"Do I talk shop with my husband? What does he mean?" Beyonce asked.
"Talk about the business, talk about performing," Kroft said.
"We talk about everything," she replied.
Asked who has the bigger ego, Beyonce said, laughing, "I don't know. We don't really have egos! It's not about ego. I think it's appropriate for the stage. It's appropriate for certain moments, but egos are not attractive."
We did not see any evidence of hers in Dublin. When it came to evaluating her own talents, and future prospects, she was remarkably humble.
"What I love the most is singing. If I had to say, okay, if you couldn't dance, if you couldn't do a movie, if you couldn't, and I'd probably just stand there and sing, if I had to choose," she told Kroft.
You get the sense that whatever happens to musical styles and tastes, Beyonce will adapt. She has the ability to take a blues classic like "At Last" and make it her own.
Before she sang it to the Obamas at the Inaugural Ball for their first dance in the White House, she'd already sung it in the film "Cadillac Records," in a role she had to put on 20 pounds for to portray the tortured, drug addicted Etta James, who made the song famous.
Her performance won her the best reviews of her young movie career, that has ranged from a comedy turn in "Austin Powers in Goldmember" to a leading role in "Dreamgirls."
She says she wants to try and model her career after one of her idols, Barbra Streisand, another singer, turned actress and director.
"I know that she does everything, and I know that it's all Barbra Streisand. It's not someone that's telling her what to do, what to wear, what to sing. It's her. And I respect those types of artists," Beyonce explained.
"Is it true that you run on a treadmill with a big picture of an Academy Award in front of it?" Kroft asked.
"I do," she admitted with a chuckle. "But, it's not right in front of the treadmill. It's over in the corner somewhere. Just so it's in the back of my mind. "
"Not quite the back, I'll bet. I bet it's a little closer than the very back of your mind," Kroft joked.
"Well, it's gettin' closer," she replied.
Asked where all this ambition comes from, Beyonce told Kroft, "I don't know. I always wonder myself what am I trying to prove? Like what is this? I think it's just when I start something, I wanna do it all the way."
Produced by John Hamlin
Thanks for reading CBS NEWS.
Create your free account or log in
for more features.