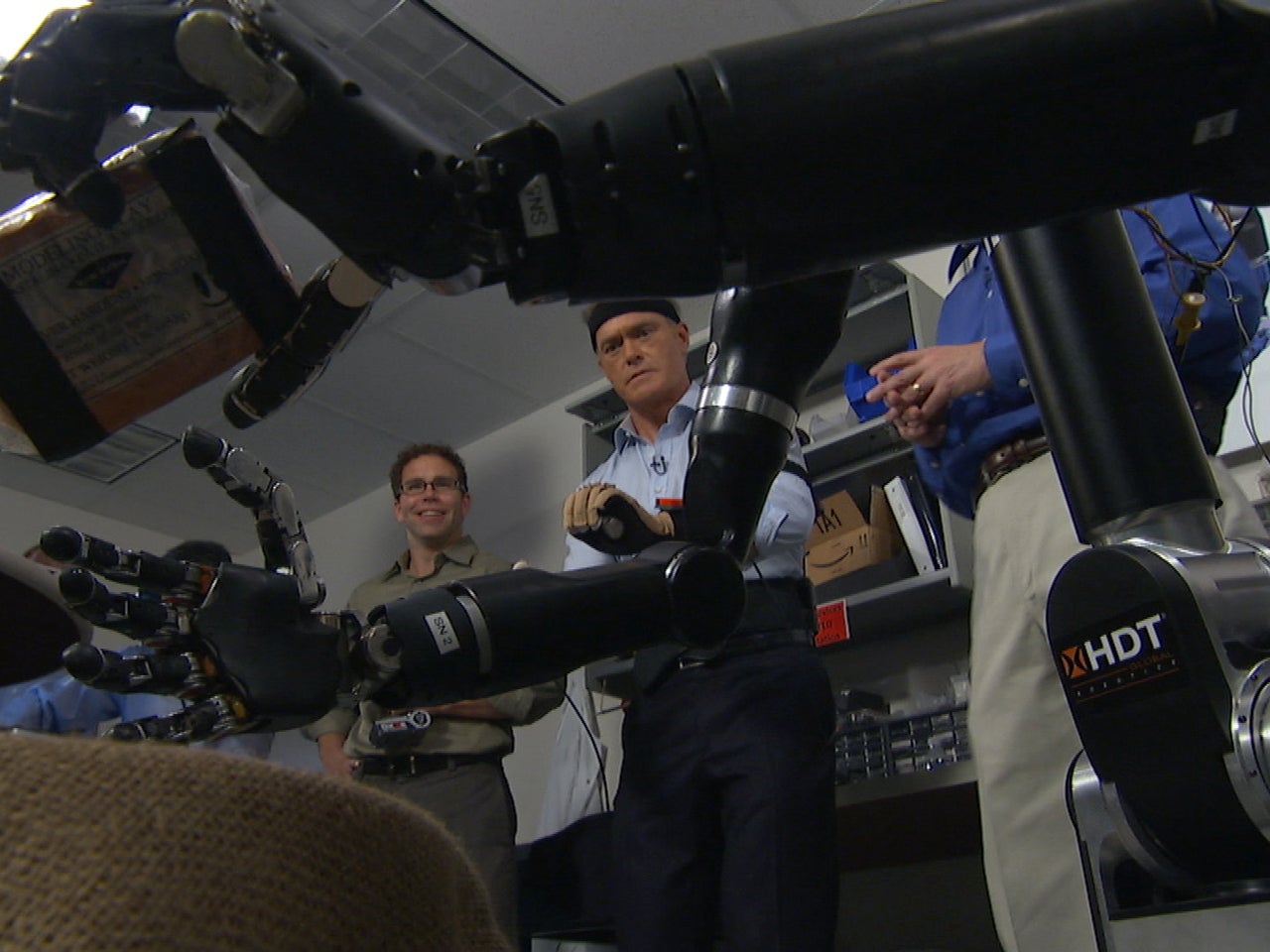 How a robot named "Robo Sally" could save soldiers' limbs
Meet "Robo Sally." She has the most sophisticated robotic hand and arm ever engineered, but if you talk to her lead designer, Michael McLoughlin, here's the most exciting thing about her: if Robo Sally's arms are blown off on the battlefield, it's no big deal.
Unlike humans, says McLoughlin, "it's easy for us to build a new arm for the robot." By tasking Robo Sally with dangerous missions like diffusing bombs or manning checkpoints, soldiers can operate her remotely from a position of safety -- which could, one day, dramatically decrease the numbers of soldiers who suffer devastating limb injuries and amputations.
Funded by the Department of Defense and created by McLoughlin's engineering team at the Applied Physics Laboratory at Johns Hopkins University, Robo Sally will eventually be operated from great distances. It's feasible, says McLoughlin, that a technician located on a base in the U.S. could diffuse a bomb in, say, Afghanistan, by wearing the special Robo Sally suit and visor that Scott Pelley tried out in this week's 60 Minutes Overtime feature (above video player).
As you'll see in the video, complicated physical tasks are no problem for Sally. Her arms are the same size and weight of a man's arms -- and every bit as strong. She can curl up to 50 pounds, and her agile fingers, each containing a high-efficiency mini-motor, can squeeze 20 pounds of pinch force. Pelley, a well-known tech geekaround 60 Minutes, is clearly wowed by Robo Sally's talents. Check out the above video to see her in action and let us know what you think.
Thanks for reading CBS NEWS.
Create your free account or log in
for more features.