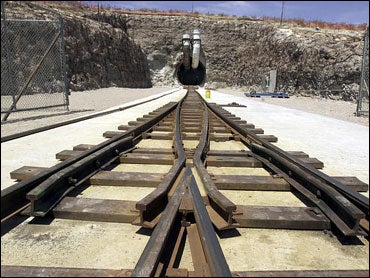 House moves to revive the mothballed nuclear waste dump at Yucca Mountain
The House is moving to approve an election-year bill to revive the mothballed nuclear waste dump at Nevada's Yucca Mountain despite opposition from home-state lawmakers.
Supporters say a bill slated for a vote Thursday would help solve a nuclear-waste storage problem that has festered for more than three decades. More than 80,000 metric tons of spent fuel from commercial nuclear power plants sit idle in 121 communities across 39 states.
The bill would direct the Energy Department to continue a licensing process for Yucca Mountain while also moving forward with a separate plan for a temporary storage site in New Mexico or Texas.
It's past time for the federal government to "fulfill its obligation and permanently dispose of the spent nuclear fuel sitting in our states, alongside our lakes, rivers and roadways," said Rep. John Shimkus, R-Ill., the bill's sponsor.
"People are ready to do something rather than nothing," he added, predicting a strong bipartisan vote in favor of the bill.
President Donald Trump's administration has proposed reviving the long-stalled Yucca project 100 miles (161 kilometers) northwest of Las Vegas, but the plan faces bipartisan opposition from the state's governor and congressional delegation.
Energy Secretary Rick Perry has said the U.S. has a "moral obligation" to find a long-term solution to store spent fuel from its commercial nuclear fleet. Trump's budget proposes $120 million to revive the Yucca project.
"We can no longer kick the can down the road," Perry said last year.
Nevada Sen. Dean Heller, a Republican who is locked in a close race for re-election, blasted the upcoming vote as "an exercise in futility."
Heller vowed that, "Under my watch, I will not let one more hard-earned taxpayer dollar go toward this failed project — just as I have in the past. Yucca Mountain is dead, it is that simple."
Democratic Rep. Jacky Rosen, Heller's likely opponent in the general election, has filed an amendment that would delay any licensing activity for Yucca Mountain until the White House Office of Management and Budget conducts a study of the economic effects from alternative uses of the site.
"I'm using every tool at my disposal to put an end to this administration's reckless plans to turn Nevada into a dumping ground for highly radioactive nuclear waste," Rosen said in a statement.
She called Yucca a "failed project" and "complete waste of time and taxpayer money."
Nevada Democrats blame Heller for even allowing the vote, noting that he is a close friend of House Majority Leader Kevin McCarthy, R-Calif., who controls the House schedule.
"Sen. Heller tries to brag about standing between Washington and Yucca Mountain, but our weak and ineffective senator couldn't even dissuade one of his closest friends on Capitol Hill from preparing to ram this bill through the Republican-controlled House," said Sarah Abel, a spokeswoman for Nevada Democrats.
While the fight over Yucca resumes, lawmakers say they hope to make progress on a plan to temporarily house tons of spent fuel that have been piling up at nuclear reactors around the country. Private companies have proposed state-of-the-art, underground facilities in remote areas of west Texas and southeastern New Mexico to store nuclear waste for up to 40 years.
The nuclear industry has said temporary storage must be addressed since the licensing process for Yucca Mountain would take years under a best-case scenario.
Thanks for reading CBS NEWS.
Create your free account or log in
for more features.