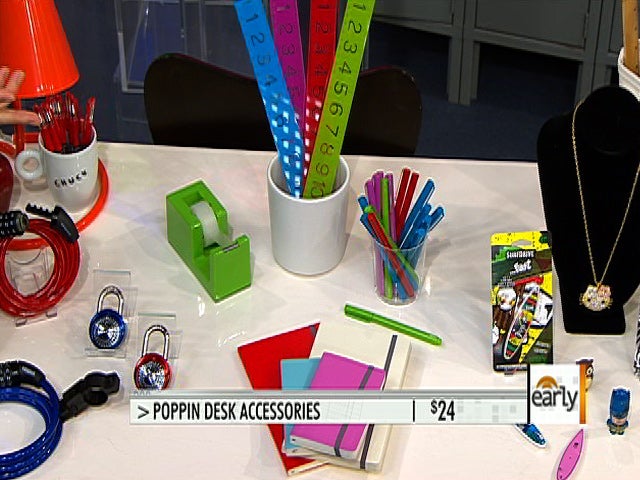 Hot back-to-school must-haves for kids, teens
As summer winds down, families are getting ready for the start of the school year.
And on "The Early Show on Saturday Morning," Gilt Groupe Lifestyle Editor Chassie Post spotlighted items kids just have to have, from grammar school kids to the college-bound, from must-have tech to the top dorm decor.
Special Section: Back-to-school 2011
The information in the following descriptions was provided in full or in part by the manufacturers or retailers involved
BACKPACK: STEREO BACKPACK AND MESSENGER BAG (with PIGGY-BACK SOLAR POWERED BACKPACK ATTACHMENT), $55, ShopScratchTracks.com
-- Is it a backpack? Is it a stereo? It's both! School books inside, party on the outside
-- Scratch Tracks stereo bags have a built-in amplifier and speakers that let you listen to music without headphones.
-- Scratch Tracks bags connect to most any MP3 player or smart phone. Bring your beats to the streets or just bust some jams with your friends while ìListening Outside the Box.
-- Super on-trend bright colors and puffy material makes this backpack a must-carry
-- Or kick it old school with a messenger bag that looks just like a boom box!
LOCK, $7/$12, Office Max
This back-to-school season, students can keep their stress levels down and personal belongings secure in their lockers with W-O-R-D-S, not numbers. The new, secure WordLock Text Lock (MSRP $5.99) makes it possible to have an easy to remember personal word combination. With a revolutionary new design and feel, the Text Lock comes preset with a three letter password that is in line with today's lingo and easy to remember for kids. Students will no longer need to remember long numerical locker combinations and can instead use the easy-to-remember three-letter phrases that they are already using such as: L-O-L, F-B-I or O-M-G. WordLock also offers the unique word-based personal combinations with the secure WordLock bike lock (MSRP $11.99). With over 10,000 word and letter combinations, the bike lock is easy to read, easy to set, and makes it possible to have an easy to remember personal word combination. Now, with the WordLock bike lock, kids can select their own four-letter passwords that reflect personal interests such as: J-O-C-K, G-A-G-A or best friends' names, like B-R-A-D or A-N-N-A.
DESK SCHOOL SUPPLIES (TO GO IN BACKPACK): PENS, NOTEBOOK, RULER, STAPLER, TAPE DISPENSER AND MOUSE POPPIN, $24, Gilt Groupe
-- Get inspired to do homework with the coolest designed technicolor pens, notebooks, rulers, gadget cases and school supplies ever!
-- Cool new company founded by Chris Burch, co-founder of Tory Burch
-- Super mod and colorful school supplies & desk accessories will make doing homework feel so much more stylish!
Rhinestone desk accessories, Talkofthetownstyle.com, starting at $15.99
-- Why not have some bling on your desk to motivate you to do that term paper?
USB DRIVES, $18.99, Staples
-- This was one of the top gadgets recommended by teachers. As every student knows they should "back up" their files and own a USB drive. This back to school season they are in fun shapes and sizes from everything from a surfboard to hamburger to Batman!
-- Make computing fun & bring a little bit of summer back to school with a USB drive shaped as a surfboard
-- 8 GB's so plenty of room to hold all those papers you will be writing this year!
-- Plus, it's a good feeling to be able to carry your homework in your pocket!
ALARM CLOCK FOR EVERYONE: CLOCKY, $29, Gilt Groupe
-- Hilariously annoying! The alarm clock that runs away and hides when you don't wake up.
-- Clocky gives you one chance to get up, but if you snooze, Clocky will jump off of your nightstand and wheel around your room looking for a place to hide.
-- Clocky is kind of like a misbehaving pet, only he'll get up at the right time.
-- Actually invented by an MIT engineering student who couldn't wake up
LOJACK FOR LAPTOPS, $39 for 1 year, Absolute Software
-- Remember LoJack for finding stolen cars? Because Laptop theft is the No. 1 most common theft in college - there is now LoJack for laptops.
-- Should your laptop be stolen, Absolute Software's Recovery Team not only tracks its location but also partners with local law enforcement to recover and return your laptop to you.
-- As an added piece of mind, with LoJack Premium, the remote data deletion option will keep your sensitive data safe
NOISE-CANCELING HEADPHONES, $49, Audio Technica
-- Face it, we have all had that experience where we are desperately trying to study, but the library is too loud, or your roommate is blasting Bob Marley. Never fear, the the solution has arrived!
-- Noise-cancelling headphones can almost completely block out all background noise.
-- The headphones can block out sound on their own, or transmit crystal clear music without having to crank up the volume
-- A little bit of a splurge but may be worth it if they improve your study habits...
-- Plus, you will look like a celeb as they all wear them on airplanes for a super quiet ride
NOISE-ENHANCING HEADPHONES, $40-$60, Urbanears.com
-- Superior sound & superior style -- coolest headphones on campus!
DORM DECOR: REMOVABLE WALLPAPER AND ART, Tempaper, $50, Art, $95, Gilt Groupe
-- Dorm rooms aren't what they use to be! The university student has brought décor to a whole new level!
-- Yep, you heard it right! Now you can add drama to your walls without getting in hot water.
-- Wallpaper that's removable - self-adhesive, temporary & repositionable!
-- Comes in great mod patterns and can move with you from dorm.
Thanks for reading CBS NEWS.
Create your free account or log in
for more features.