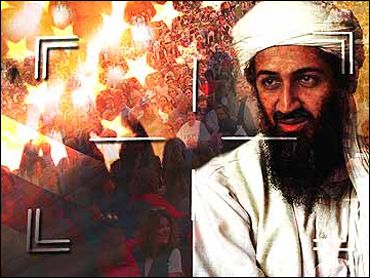 Hospital Worker: I Saw Osama
Everyone remembers what happened on Sept. 11 and, reports CBS News Correspondent Barry Petersen, here's the story of what may have happened the night before.
In a tale as twisted as the hunt for Osama bin Laden, CBS Evening News has been told that the night before the Sept. 11 terrorists attack, Osama bin Laden was in Pakistan. He was getting medical treatment with the support of the very military that days later pledged its backing for the U.S. war on terror in Afghanistan.
Pakistan intelligence sources tell CBS News that bin Laden was spirited into a military hospital in Rawalpindi for kidney dialysis treatment.
"On that night," said a medical worker who wanted her identity protected, "they moved out all the regular staff in the urology department and sent in a secret team to replace them." She said it was treatment for a very special person and "the special team was obviously up to no good."
"They military had him surrounded," said a hospital employee who also wanted his identity masked, "and I saw the mysterious patient helped out of a car. Since that time," he said, "I have seen many pictures of the man. He is the man we know as Osama bin Laden. I also heard two army officers talking to each other. They were saying that Osama bin Laden had to be watched carefully and looked after."
Those who know bin Laden say he suffers from numerous ailments — back and stomach problems.
Ahmed Rashid, who has written extensively on the Taliban, said the military was often there to help before Sept. 11.
"There were reports that Pakistan intelligence had helped the Taliban buy dialysis machines and the rumor was that these were for wanted for Osama bin Laden," said Rashid.
---
Click here to learn more
about the hunt for Osama bin Laden.
---

Doctors at the hospital told CBS News there was nothing special about that night, but they declined our request to see any records. Government officials reached Monday night denied that bin Laden received any medical treatment that night.

A U.S. official, speaking on condition of anonymity, said Tuesday the United States has seen nothing to substantiate the report.

It was Pakistan's President Pervez Musharraf who said in public what many suspected: that bin Laden suffers from kidney disease, saying he thinks bin Laden may be near death.

His evidence — watching the most recent video, showing a pale and haggard bin Laden, his left hand never moving. Bush administration officials admit they don't know if bin Laden is sick or even dead.

"With respect to the issue of Osama bin Laden's health, I just am...don't have any knowledge," said Secretary of Defense Donald Rumsfeld.

The U.S. has no way of knowing who in Pakistan's military or intelligence supported the Taliban or Osama bin Lade, maybe up to the night before Sept. 11 by arranging dialysis to keep him alive. So the U.S. may not know if those same people might help him again — perhaps to freedom.

©MMII, CBS Worldwide Inc. All Rights Reserved
Thanks for reading CBS NEWS.
Create your free account or log in
for more features.