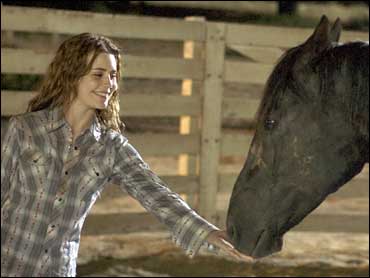 Horses Died On Set Of 'Flicka'
Two horses died on the set of the recently released family drama "Flicka," according to the American Humane Association.
The association's Web site said the deaths were accidental and occurred in 2005. One horse fractured his tibia during a well-rehearsed running scene in Simi Valley, Calif., and the other horse tripped on a lead rope and broke its neck after a fall.
Although Certified Animal Safety Representatives monitored the film's production, after an independent investigation the deaths were ruled unpreventable accidents, the association said.
"In neither instance did the filmmakers or the animal trainers fail to comply with American Humane's Guidelines for the Safe Use of Animals in Filmed Media," the association's Web site said.
In "Flicka," country singer Tim McGraw stars as the father of a 16-year-old named Katy (played by Alison Lohman) who takes in a wild horse to prove to her dad that she can run the family ranch.
Filmed in parts of California and New Zealand, "Flicka" is a screen adaptation of a Mary O'Hara novel, "My Friend Flicka." Its a 20th Century Fox film produced in association with Zucker-Netter Productions.
A rep from 20th Century Fox could not immediately be reached for comment.
"In our more than 65 years of oversight for the film and television industry, countless animal injuries and deaths have been prevented by our presence on the set," American Humane's Web site said. "Sadly, accidents do happen, but as long as animals continue to be used in film and television entertainment, American Humane will continue to monitor their treatment."
Thanks for reading CBS NEWS.
Create your free account or log in
for more features.