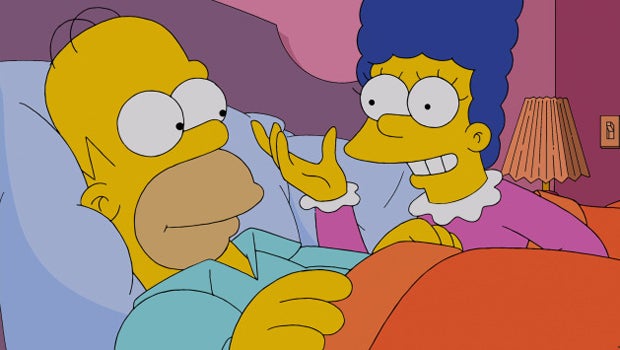 Homer and Marge to "legally separate" on "The Simpsons"
One of TV's most famous couples is hitting a rough patch.
"The Simpsons" executive producer Al Jean revealed in a new interview that Homer and Marge's marriage will "legally separate" when the long-running animated series returns this fall.
"In the premiere, it's discovered after all the years Homer has narcolepsy and it's an incredible strain on the marriage," he explained to Variety. "Homer and Marge legally separate, and Homer falls in love with his pharmacist, who's voiced by Lena Dunham. We'll have cameos from the other women from 'Girls.'"
Jean didn't say how long the separation would last, but hopefully the split is a temporary one.
He also shared some details about other upcoming episodes.
"We have an episode coming up where Lisa befriends a homeless woman who turns out to be an incredible singer," Jean revealed. "The woman's voiced by Kate McKinnon, but the singing is done by Natalie Maines. In another episode, Spider Pig makes his return. Sideshow Bob appears in a segment, and we finally see him do something he's wanted to do for 25 years. And we have an episode based on the film 'Boyhood.' It's a flashback/flashforward about Bart. We go to various points in his life and his life to come which I think came out really well."
"The Simpsons" is entering its 27th season (and has already been renewed for a 28th), but will be without longtime voice star Harry Shearer when it returns.
Thanks for reading CBS NEWS.
Create your free account or log in
for more features.