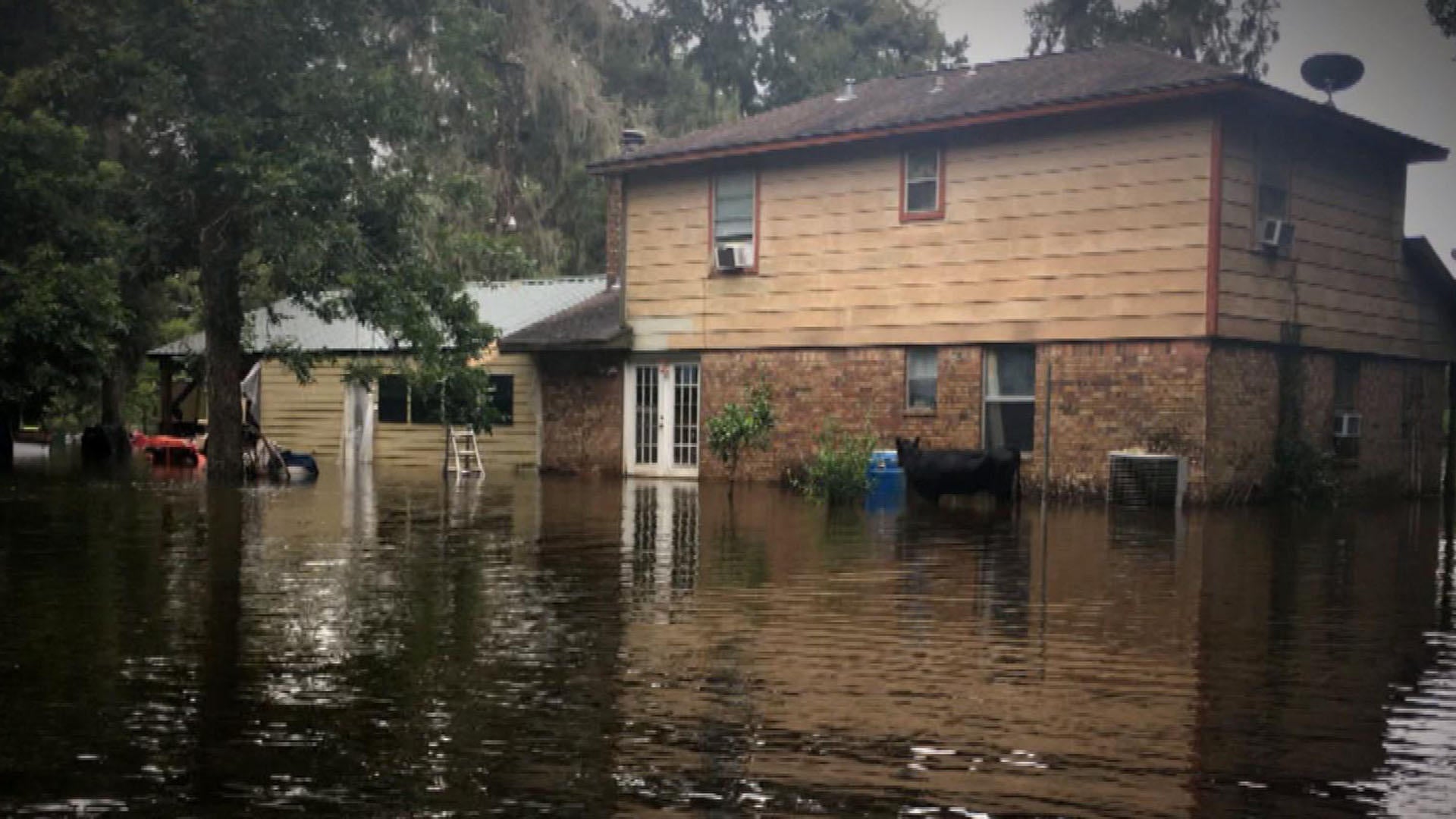 Texas homeowners say refinery, chemical plant pushed floodwaters into neighborhood
Hurricane Harvey dumped a record amount of rain on Texas, but about 150 flooded-out families say their troubles were man-made. The Army Corps of Engineers is investigating claims by residents of Sweeny, Texas, that floodwaters were knowingly forced into their neighborhoods when a local oil refinery and a chemical plant dammed up two bayous.
For 13 days after Harvey, the Hartquist's house was an island. Their home was their retirement plan. But it was flooded into ruin -- a disaster they believe was both needless and preventable, reports CBS News' Mark Strassmann.
"You can't imagine. I've got pictures and you look at it and it's like good God! There's no dry ground anywhere," David Harquist said.
They say disaster struck after the storm had moved on. Floodwaters stopped receding and began rising again -- this time, into the house.
"I was shocked. I was like what in the world is going on and then all of the sudden the water came up and it started coming up quickly," Harquist said.
David needed a kayak to feed his stranded animals. He lost much of his house, his farming equipment and livestock – a quarter-million dollar loss.
"It was like living in a big sewer. The water stunk. It was nasty. It was dirty," he said.
About four miles away, the Phillips 66 refinery sits next to the Chevron Phillips chemical plant.

A lawsuit filed by about 150 families claims that by damming two nearby bayous without warning, the companies knowingly pushed floodwater away from the plant and into neighborhoods. Video shows how the plant stayed dry – and left homes under water.
"It was full. I mean, it was almost to the top of where we're standing right now," said lawyer Josh Bowlin.
Bowlin represents the families now suing the two companies. He showed us one spot that was dammed and shared with us a video of the backhoe that was used to remove the blockage.
"I've talked to so many people that if they just had a little bit of notice they could have saved so much," Bowlin said.
What's left of Tim and Melissa Foster's dream house is nothing but buckled floors and runaway mold.
"They've ruined our dream. This was our dream and it's gone," Foster said.
Tim works as a technician at Chevron Phillips. He and Melissa have joined the lawsuit against his employer.
"Oh, it's a very awkward position to be in. I mean every day I go to work, I question will this be my last day," Tim said.
Chevron Phillips did not respond to repeated requests for comment. But in a statement, Phillips 66 said, "Our priorities during the flood were to protect people and the environment...we do not believe these actions on one side of our property impacted the ongoing flooding event adjacent to the refinery or in the community."
"I apologize for the profanity but that's a bunch of bull**** straight up. They made a conscious decision to save their plant but those actions have consequences and they need to be held responsible for those actions," Harquist said.

The Phillips 66 refinery said it did receive some flooding that damaged equipment. Both the Harquist's and the Foster's had flood insurance but have yet to receive a response to their claims.
Thanks for reading CBS NEWS.
Create your free account or log in
for more features.