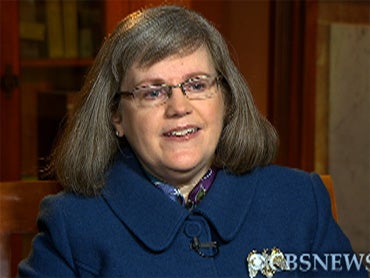 Holly Petraeus On Her Own Mission
General David Petraeus, the top U.S. commander in Afghanistan aid today he expects fierce fighting in the spring, as insurgents try to re-take towns captured by NATO troops.
As the General battles the Taliban, his wife, Holly, is also fighting back home on behalf of military families. Many have been ripped off by banks.
Today, JP Morgan Chase apologized at a Congressional hearing for overcharging thousands of military families for mortgages. As CBS Evening News anchor Katie Couric reports, the General's wife is Gung-ho about her new mission.
Web Extra: More with Holly Petraeus
"I haven't been in the spotlight, personally, but I'm willing to do it for our military families," Holly Petraeus said.
Holly has always preferred to let her husband, General David Petraeus take center stage. But now she's answering the call to service by leading an office within the new Consumer Financial Protection Bureau to safeguard military personnel and their families from financial fraud.
"They are a targeted population. And it's sad to say that, but it's true," Petraeus said. "Outside the gates of military installations, there's usually a strip out there with the 'buy here, pay here' car dealers, the check cashing, the payday loans, the pawn shops - all ways for them to basically cut into their paychecks by taking out debt to buy things."
A recent survey found that nearly one-third of military families had at least $10,000 in credit card debt - compared to 16 percent for the civilian population.
Foreclosures on the homes of military families are also on the rise. James Hurley, who lives in Hartford, Michigan had his house foreclosed on by Deutche Bank and even sold while he was serving in Iraq in 2005.
"I didn't know that they could sell it off while I was gone," Hurley said. "I figured when I came home, I would come to my house."
According to federal laws, banks cannot foreclose on the homes of active duty servicemen and women - but too many are.
"I sent them all my paperwork. There's no way they can say we didn't know you were in the military or guards," Hurley said. "I think the government should hit them pretty bad for breaking the federal law."
Hurley's attorney Matt Cooper said, "When the United States of America sends our men and women overseas to serve our country shouldn't we back here at least be looking out for their homes?"
"Banks need to be sure that their administrators know and understand that there is a law for military personnel who go on active duty that reduces the interest on their debts," Petraeus said.
Petraeus's mission is to educate military families about the law. So, she's visiting bases around the country - like Lackland Air Force Base in San Antonio.
"I realize some of what you're going through," Petraeus said at Lackland Air Force Base. "And I appreciate your willingness to come out today and to talk to us about what you're hearing and seeing."
She says her work helps her cope with her husband's long developments.
"I really can't think of anything better to be doing while my husband is deployed forever," Petraeus said. Her husband was first in Iraq, and now Afghanistan. They talk to each other mostly via email.
Petraeus said she's not impatient. "every deployment has an ending. So I know he's not going to be there forever."
She met her husband of 36 years in 1973, while her father was superintendant of West Point. David Petraeus was a hotshot cadet. Early in their marriage, they made some questionable financial choices of their own - like buying a fancy, but temperamental sports car.
Petraeus said she's learned from experience. "I would love to prevent some of these folks from making the expensive mistakes. And we were lucky ours were not-- didn't have serious consequences. But we did spend a lot of money on repairs on that red sports car."
"Whose idea was that, by the way," Couric asked.
"I'd probably have to point the finger at my husband on that one," Petraeus replied.

Thanks for reading CBS NEWS.
Create your free account or log in
for more features.