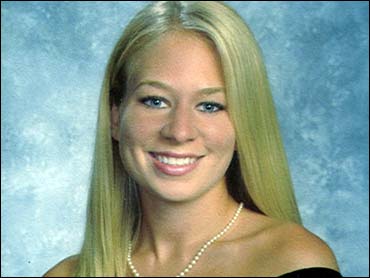 Holloway Investigator's Son Questioned
The former lead investigator in the disappearance of U.S. teenager Natalee Holloway said his 19-year-old son was questioned as a witness in last year's still unsolved case.
Aruban Police Commissioner Gerold Dompig told The Associated Press on Sunday that police have twice questioned his 19-year-old son, Michael — once since the April 15 arrest of Geoffrey van Cromvoirt, who is also 19.
Dompig said police asked his son about rumors he had heard about the case and allegations about Michael's behavior made by Holloway's father in a book about the case.
"Michael was merely one of the many people who were questioned as witnesses in this investigation and was never considered a suspect," Dompig said during a phone interview.
Dompig made the comments after his son told Fox News on Saturday that the Holloway family and others who have alleged incompetence and conflicts of interest in the investigation have been "trying to bring my father down."
The elder Dompig said earlier that Holloway's mother, Beth Twitty, has hurt the investigation by releasing sensitive information during her frequent appearances on U.S. television shows. But he said Sunday he did not agree with his son's comments and called the interview a "regrettable incident."
Local newspapers say Dompig's son worked for the same private security company as van Cromvoirt. Authorities have said van Cromvoirt was arrested on suspicion of "criminal offenses that may be related to the disappearance" of Holloway, but they have not provided details.
Dompig's son was questioned during a resurgence of activity in the past week that included new coast guard searches of the sea floor.
Authorities continued to study images of the sea floor taken during a four-day search by the Netherlands Antilles and Aruba Coast Guard, said Mariaine Croes, a spokeswoman for the prosecutor's office, on Saturday.
"There is nothing we can say immediately about the results," said Croes, who has declined to say what authorities hope to find in the images or to say how the search was related to Holloway's disappearance nearly a year ago.
Croes said that prosecutors must present new evidence to a judge by April 25 to keep van Cromvoirt in custody. They had not yet done so as of Saturday, she said.
Van Cromvoirt's lawyer said his client has no connection to Holloway's disappearance in May 2005. Holloway, of Mountain Brook, Alabama, was last seen driving away from a bar with three young local men on the final night of a high school graduation trip to the Dutch Caribbean island.
Aruban authorities have arrested seven people in connection with Holloway's disappearance and later released them for lack of evidence.
Thanks for reading CBS NEWS.
Create your free account or log in
for more features.