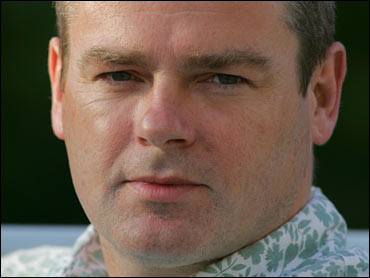 Hollingshead Wins Bad Sex Award
First-time author Iain Hollingshead scooped a dubious literary honor Wednesday, winning the Bad Sex in Fiction Award for his novel, "Twenty Something."
Hollingshead beat established writers including Booker Prize nominee David Mitchell, best-seller Mark Haddon and literary maverick Thomas Pynchon to the prize, which aims to skewer "the crude, tasteless, often perfunctory use of redundant passages of sexual description in the modern novel."
Judges were moved by Hollingshead's evocation of "a commotion of grunts and squeaks, flashing unconnected images and explosions of a million little particles." His description of "bulging trousers" sealed the win, the judges said.
"Because Hollingshead is a first-time writer, we wished to discourage him from further attempts," the judges — editors of Literary Review magazine — said in a statement. "Heavyweights like Thomas Pynchon and Will Self are beyond help at this point."
Hollingshead, 25, who received his award from rocker Courtney Love at a London ceremony, said he was delighted to become the prize's youngest winner.
"I hope to win it every year," said Hollingshead, who receives a statuette and a bottle of champagne.
Now in its 14th year, the award was established by the Literary Review to celebrate truly cringe-worthy erotic writing.
"It's mixed metaphors, embarrassing fumbling. It's the redundancy of the scene in an otherwise good novel," said assistant editor Philip Womack.
This year's runner-up was Tim Willcocks' medieval action novel, "The Religion," for a scene in which characters grapple passionately in a forge "across the cold steel face of the anvil."
"In the pit of his stomach a cauldron boiled and some seething and nameless brew rose up through his spine and filled his brain with the Devil's Fire," Willcocks writes.
Willcocks praised the Bad Sex prize as "a much better guide to a good read than those purveyors of powerful sleeping drugs, the Booker, the Pulitzer, the Goncourt et. al."
Other finalists included Mitchell's 1980s coming-of-age story, "Black Swan Green," for a passage in which one character's breasts are compared to "a pair of Danishes" and another's to "two Space Hoppers."
Pynchon's long-awaited, 1,000-page novel, "Against the Day," was nominated for a scene involving a spaniel that ends: "Reader, she bit him."
Haddon, the best-selling author of "The Curious Incident of the Dog in the Night-time," was shortlisted for his description of rapture in his latest novel, "A Spot of Bother": "Images went off in her head like little fireworks. The smell of coconut. Brass firedogs."
The other finalists were Scottish writer Irvine Welsh's "Bedroom Secrets of the Master Chefs"; Julia Glass' "The Whole World Over"; Michael Cannon's "Lachlan's War"; "Tourism" by Nirpal Singh Dhaliwal; and Self's "The Book of Dave."
Last year's winner was food critic and novelist Giles Coren for a memorable passage comparing a male character's genitalia to a shower hose. In 2004, the prize went to Tom Wolfe's novel, "I Am Charlotte Simmons," for sex scenes the judges called "ghastly ... inept ... (and) unrealistic."
By JILL LAWLESS
Thanks for reading CBS NEWS.
Create your free account or log in
for more features.