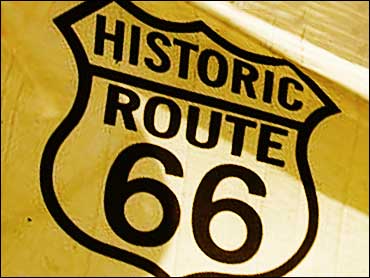 History, Nostalgia On Route 66
The Early Show National Correspondent Hattie Kauffman drove along a piece of the historic Route 66 thru Arizona to showcase the "Best Of America."
---
In Arizona, Route 66 is often a two-lane pitted stretch of highway with hairpin turns and fabulous southwestern scenery. But it's the characters you meet on the road, that really stop you in your tracks.
Oatman, Arizona, has a population of 125, not counting the burros. It is an old gold mining town, but the gold these days comes from tourists who go back in time, playing duels and shooting pistols.
A couple of tourists say, "There's lots history here. More than we expected."
More history can be found in the old Oatman Hotel, where two Hollywood legends consummated their marriage.
Jeanne Menesee, Oatman's mayor, gave Kauffman a tour and showed her the room where Clark Gable and Carole Lombard spent their wedding night. And it hasn't changed. "Well, the sheets have changed," Manesse observed.
Then they walked on a historic piece of road. To be specific, Menesse said, "Route 66, the mother road, right thru the center of town." - a road that keeps Oatman alive.
The mother road was the first paved road from Chicago to Los Angeles. It winds through eight states and three time zones, the longest stretch in Arizona.
Driving Route 66 in the summer can be a hot experience. Temperatures in the Arizona desert can top 100 degrees. But visitors can cool off underground while touring a working gold mine. The one Kauffman visited produced $2 million in gold way back in 1907.
Next, Kauffman went to Kingman. Geography places Kingman at the heart of Arizona's Route 66 and the town won't let you forget it. You see signs everywhere!
Jim Conkle, executive director of California Route 66 Preservation Foundation, has traveled the road many times in his RV. He is spending his summer putting up roadside attraction signs along Route 66.
"It's my 23rd round trip," he says. "We're saying get off the interstate, visit a section at a time and you'll meet great people, eat good food and you'll see America the way it really is."
So Kauffman stopped at Mr D'z, a landmark Route 66 attraction in Kingman, Ariz., - an authentic diner.
As the waitress brings burgers, fries and milkshakes, Kauffman wonders how important has Route 66 been to pop culture. Clonke says, "Pretty important, 'Route 66' TV show, there were 185 episodes of that.
But the role this highway played in U.S. history is far greater than its pop culture image.
Cloncke notes, "In the '20s and '30s, it was the road for the depression and the people from the dustbowls came to California."
You can revisit that journey at the route 66 Powerhouse Museum in Kingman where you can find written the famous Steinbeck quote: "... and they come in to 66 from the tributaries, side roads, from the wagon track, and the 66 is the mother road..."
Paul Snyder, director of Powerhouse Route 66 Museum says, "Route 66 was as Steinbeck immortalized the route of flint and all the hardship during that time, of people trying to go somewhere for a better life. This was the path they took."
Angel Delgadio, co-founder of Arizona Route 66 Historical Association says, "This highway, if you just think about it, is peppered with hope; it is peppered with tears."
Delgadio has been cutting hair on route 66 in the town of Seligman since 1950. His brother Juan has been selling ice cream. Together, they formed the first Route 66 Historic Association.
"So we helped save the town and a little bit of America Route 66," Angel Delgadio says.
Today, Seligman, Ariz., is a magnet for Route 66 nostalgia buffs.
Hackberry is another can't-miss stop on the Route 66 tour, a step back into the 1950s.
Cheryl Mince of Hackberry General Store says, "We can't prove Elvis ever came by here but we say he did."
Thanks for reading CBS NEWS.
Create your free account or log in
for more features.