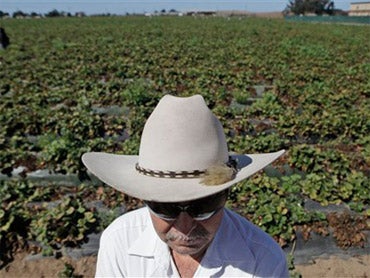 Hispanic Farmers Blame USDA for Lost Land
In their straw hats, rolled up sleeves and work boots, a dozen or so Latinos gathered by a field of ripening strawberries still look like farmers. All but one of them, however, have lost their land.
Now they ring up purchases in stores, drive tractors - and hold the U.S. Department of Agriculture responsible for denying or delaying the loans that could have saved their farms.
"I used to be a farmer - now I'm a farmworker, working on someone else's fields," said Juan Atayde, who lost his 90 acres of strawberries when he couldn't get loans to recover from the one-two punch of lower prices and a flood in the mid-1990s.
A lawsuit filed nine years ago on the behalf of Hispanic farmers from Texas to California alleged the USDA discriminated against Hispanics such as Atayde by refusing them help that was extended to white farmers in similar situations, then neglecting to investigate complaints. A similar suit, filed by black farmers, led to a billion-dollar settlement.
Hispanic farmers are still waiting. While they wait, some have lost their livelihood, some their homes and others have died.
"It was so hard, watching everyone go down, lose what they'd worked for," said Alicia Alvarez, who had built her raspberry farm from one and a half acres to 85 acres, only to lose most of it when the 1995 flood washed away her harvest. Without USDA help with her debts, she lost all but three acres of land.
As an attorney updated the Salinas valley farmers in late September, farmworkers stooped among the rows of strawberries, doing work that Maria Martinez said was the most grueling she had ever experienced - but which she still hoped to do again.
She lost 22 acres of zucchini in 1999, when water pipes broke in Hollister and brackish water ruined her land. She went to the USDA and applied for $20,000 in disaster relief assistance.
"They just saw my name, looked at me, and said I didn't qualify," said Martinez, who now works at Wal-Mart. The rebuttal cost her financially, but it was also deeply offensive, she said.
Her son, 16 years old at the time, had gone with her to translate and left upset, believing his mother had been humiliated and disregarded because she was Mexican.
"That was hard," Martinez said.
What has made the process singularly frustrating, these farmers said, is that a similarly worded suit brought on behalf of black farmers but heard by a different judge was certified as a class action and settled in 1999. The 15,000 claims represented in the Pigford lawsuit, named after a black farmer from North Carolina, shared a $1 billion settlement.
"It makes no sense morally, legally or politically to treat one group different from another," said lead counsel Stephen Hill, who is representing the Hispanic plaintiffs pro bono.
In addition to the initial payout, Congress last year gave black farmers a second chance to claim the money. In May, President Barack Obama proposed the government set aside another $1.25 billion as part of the 2010 budget to settle their additional claims. A month later, seven senators representing states from New Jersey to California applauded Obama for his stand on the black farmers' case, then called on him to apply the same standard to the Hispanic farmers.
"These are heartbreaking stories," said Sen. Robert Menendez, D-N.J. "These cases are valid, and the farmers deserve to be heard and deserve justice."
Agriculture Secretary Tom Vilsack has tried to address the issue and change the way the agency operates.
"From the moment I became the secretary of agriculture, my message has been clear: discrimination in any form will not be tolerated at USDA," said Vilsack in September, when he announced the agency's programs would be evaluated to identify barriers to equal access.
Despite the USDA's recent actions, and the support on Capitol Hill, Hispanic farmers have moved no closer to justice, said Hill, who estimated up to 80,000 farmers could be affected.
The Department of Justice, which is representing the USDA, pointed to the court's rejection of class certification to explain their refusal to discuss a group settlement. Instead, the government would like to see the cases broken apart and fought individually, in thousands of courts around the country.
"USDA and Department of Justice will give fair consideration to settling claims based on the facts and circumstances of each individual case," Justice Department spokeswoman Melissa Schwartz said.
Forcing these farmers to fight their cases one by one, rather than as part of a class, is tantamount to denying them justice, Hill said. Alone they don't have the means to take on the federal agency's bottomless resources, he said.
"It's really a cynical ploy on the part of the government, and it denies these farmers justice," said Hill.
He has appealed the Hispanic farmers' case to the Supreme Court, and is still hoping to get certification as a class action.
To the farmers in Salinas, promises made in Washington continue to ring hollow. Improving the way the agency works is important, but it will not bring their farms back. And more than anything, they are in this fight because they want to work the land again.
"It's the devil's work - you're bent over all day," Martinez said. "But still, it's my dream - to farm again."
Thanks for reading CBS NEWS.
Create your free account or log in
for more features.