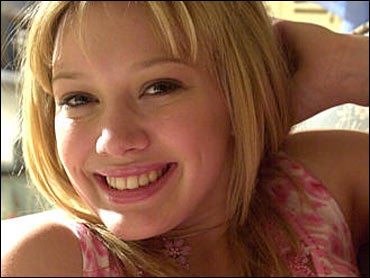 Think of her as Jennifer Lopez for the Clearasil generation. Hilary Duff is an actress, a singer and business mogul -- all at the tender age of 16.
In between concert gigs and movie shoots, The Early Show National Correspondent Hattie Kauffman managed to find a quiet moment with Duff.
Hilary Duff shot to fame as "Lizzie McGuire " in the Disney Channel's most successful show ever. She took the precocious teen to the big screen with this year's "The Lizzie McGuire Movie."
And then she walked away from it all.
"I did love the character, because she was me," Duff says. "Lizzy McGuire is Hilary, and so I think that I'm definitely going to miss it."
Duff fans don't have to worry. She's back in the new movie "Cheaper by the Dozen" about a harried couple raising 12 kids. Bonnie Hunt plays the mom, and Steve Martin plays Dad.
Duff says she didn't pick up any tips on comedy from the veterans.
"That was one thing that I really liked about them, that there was never, like, 'Hey, it might be funny if you try it this way,'" Duff explains. "It was always very complimentary of everything we did with both of them. And it was a lot of improv because they're so quick on their feet that it's hard to keep up."
Duff is also launching her music career. She has a new CD titled "Metamorphosis."
"I'm going to finish my tour and then work on a movie called 'Heart of Summer,' and then hopefully start working on my second album," she says. "And, I'm going to be working on my CBS TV show, so I'm real excited."
The actress also has "Stuff By Hilary Duff," her clothing line, which comes out in Target in January.
That's a lot for anyone, never mind a 16-year-old.
But, Duff says, "I don't run out of energy."
The dynamo keeps working. The careers of Duff and her sister Haylie are handled by their mother, Susan Duff, who recently participated at the "Kids With a Cause" charity event.
Susan reportedly felt the producers of "Lizzie McGuire" weren't paying Hilary what she was worth. Some newspaper columnist have said Susan Duff set the gold standard of stage moms, and that she's pushing the Duff sisters.
"My mom is the most incredible person you'll ever meet," Hilary Duff says in response to her mother's critics. "She didn't have a very good childhood, and she makes ours amazing. She knows that we really wanted this really bad, and so she worked really hard for it, and just because she's not a pushover and she won't let people stomp all over us, then she gets a bad reputation. And if that's what it's going to take, then, whatever."
Fame at 16 apparently has a downside. Duff says she can't just hang out at the mall.
"There's no way to hide," Duff explains. "And I'm not going to hide in my house."
With music, movies and merchandise, she's definitely not hiding.
Does Duff have any regrets about leaving "Lizzie McGuire" behind?
"My life is changing so drastically, and it's really cool," she says. "I'm having a great time. And also it's a big change for everybody else, because I wanted them to know more about me personally instead of the characters that they might know me as."
"Cheaper by the Dozen" opens on Christmas Day. And Duff will star in "A Cinderella Story" next summer.
Thanks for reading CBS NEWS.
Create your free account or log in
for more features.