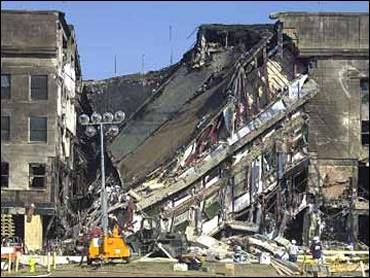 Hijackers Lived With FBI Informant
Two of the Sept. 11 hijackers who lived in San Diego in 2000 rented a room from a man who reportedly worked as an undercover FBI informant, highlighting the lack of cooperation by the nation's law enforcement and intelligence agencies.
Newsweek magazine reports that Khalid Almihdhar and Nawaf Alhazmi lived with a "tested" undercover "asset" who had been working closely with the FBI office in San Diego.
The magazine does not name the informant.
The connection was discovered by congressional investigators, reports Newsweek, and raises more questions about information-sharing among government intelligence agencies.
A senior law-enforcement official told the magazine that the informant never provided the Bureau with the names of his two houseguests from Saudi Arabia — but his FBI contact never asked, either.
The CIA was keeping an eye on the men after the two had attended an al Qaeda summit in Malaysia in January 2000.
Alhazmi and Almihdhar moved into the house in September of 2000. Almihdhar left six weeks later and Alhazmi left at the end of the year.
While there, the FBI informant prayed with them and even helped one open a bank account. Alhazmi and Almihdhar took lessons at a flight school while living in San Diego.
The two men were aboard American Airlines Flight 77, which crashed into the Pentagon on Sept. 11.
There is no evidence the informant concealed the identity of the two men. In fact, after their names were reported in the news media following the attacks, the informant contacted his FBI case agent to say the two men had been his roommates.
A bigger questions, said one counter-intelligence expert, is why the case agent, who knew that two Saudi men were staying with the informant, didn't show more curiosity about them. If nothing else, he should have considered them as possible informants themselves.
The CIA sent out an alert Aug. 23, 2001, naming the two as possible terrorists — but the FBI didn't know the names of the two houseguests, who had moved out months earlier.

Thanks for reading CBS NEWS.
Create your free account or log in
for more features.