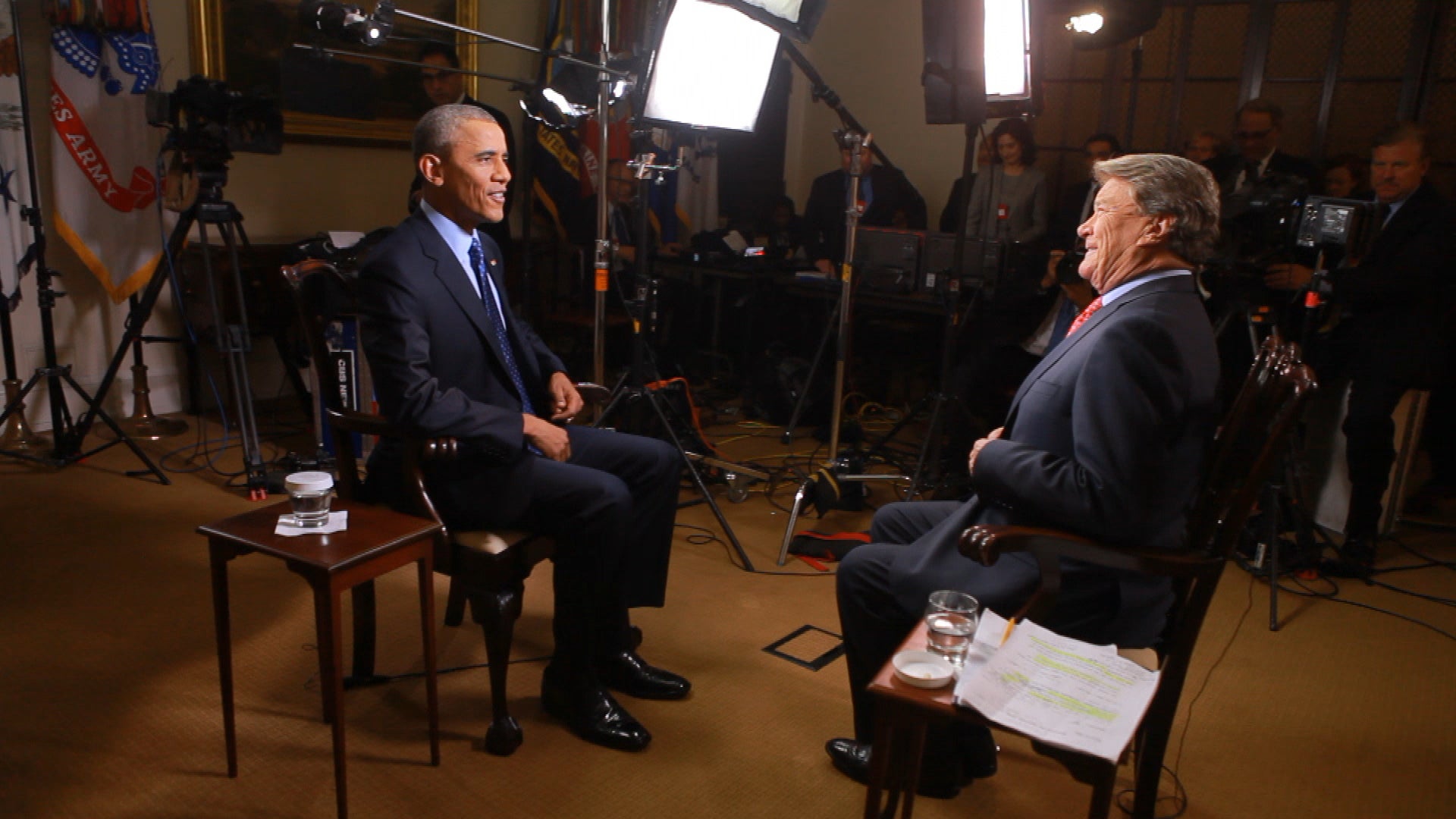 Highlights, outtakes from Obama's 60 Minutes interview
With the end of his second term on the horizon, President Obama spoke to 60 Minutes this week, reflecting on his achievements -- and on the problems not yet solved. At the top of that list is the protracted crisis in Syria, where more than 250,000 people have died, according to UN reports, and some 12 million have been forced from their homes.
Correspondent Steve Kroft asks President Obama about the lack of progress in Syria, but Obama says improvement takes time. "In a situation that is as volatile and with as many players as there are inside of Syria, there aren't any silver bullets," he says.
One of those players, Kroft points out, is Russia, which recently stepped up airstrikes and naval bombardments in support of Syrian President Bashar al-Assad. President Putin "is challenging your leadership, Mr. President," Kroft says.
Obama disagrees. "Steve, I've got to tell you, if you think that running your economy into the ground and having to send troops in in order to prop up your only ally, is leadership, then we've got a different definition of leadership," he says.
Kroft and Obama discuss domestic issues as well, including gun violence. At a press conference after last week's mass shooting in Roseburg, Oregon, Obama urged the country to do more to prevent these tragedies.
In the unaired clip below, Kroft asks the president if he can personally make a difference. Obama acknowledges that his options are limited.
"We are running out of administrative actions that could really move the needle in reducing gun violence in this country," he says. At the same time, he adds, "it is not realistic to think that this Congress will pass any common sense gun safety legislation."
But that doesn't mean a public outcry can't effect change, Obama says. "The most important thing I can do right now is just to keep on lifting up the issue and saying, 'It doesn't have to be this way,'" he tells Kroft. "I genuinely believe that."
The two-part interview also touches on the 2016 presidential race, and the candidates on both sides of the aisle. Kroft asks the president what he thinks of GOP frontrunner Donald Trump. "He is, you know, the classic reality TV character," Obama says. "At these early stages, it's not surprising that he's gotten a lot of attention."
As to whether that attention will evaporate, the president declines to speculate. "I'll leave it up to the pundits to make that determination," Obama says. "I don't think he'll end up being president of the United States."
At different moments in the interview, the president turns reflective, taking stock of his time in office and eyeing the year ahead. In the unaired clip below, he tells Kroft that, at this point, he's learned to trust his instincts.
"The nice thing about being a veteran in anything is your fear kind of goes away," he says. "There's no doubt I'm better at this job now than I was when I started."
At the end of the interview, Kroft asks Obama if he's glad he can't run for president again. Obama says he feels a mixture of satisfaction at what he's accomplished and a desire to still do more. "But by the time I'm finished, I think it will be time for me to go," he says, adding that new blood in the White House is essential for a healthy democracy.
"Do you think if you ran again, could run again, and did run again, you would be elected?" Kroft asks.
"Yes," says Obama, without missing a beat.
Thanks for reading CBS NEWS.
Create your free account or log in
for more features.