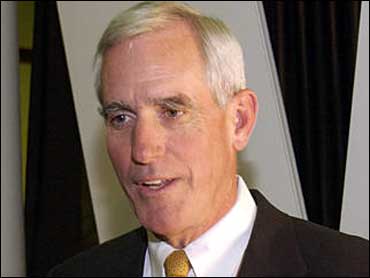 High-Stakes Race In Rockies
By Douglas Kiker,
CBS News Political Unit
---

The race to replace Colorado's retiring Sen. Ben Nighthorse Campbell seesawed almost overnight from a sure thing for the Republicans to its current status as an old-fashioned toss-up. Making things even more exciting: Control of the U.S. Senate could well be determined by the outcome.

Republicans currently control the Senate by a single vote, with 51 GOP senators, 48 Democrats and one independent, Jim Jeffords of Vermont, who caucuses with the Democrats.

Of the 34 Senate races this year, Jennifer Duffy of the nonpartisan Cook Political Report rates eight as "toss-ups," and Colorado is one of them. (Two others are leaning toward one party or another – Georgia to the GOP and Illinois to the Dems – bringing the total number of "competitive" races to ten.)

But that wasn't always the case. Until March, Colorado had been one of the Senate races Republican felt reasonably sure they would win.

Nighthorse Campbell, who is a Northern Cheyenne and the Senate's only American Indian, was first elected as a Democrat in 1992, but he switched parties mid-term and was re-elected in 1998 as a Republican. His pending retirement – he cited health problems as the reason – opened up the race in Colorado, which also has emerged as a presidential battleground state in the race between John Kerry and George W. Bush.

Democrats, in very un-Democratic fashion, cleared out when state Attorney General Ken Salazar threw his hat in the ring on March 13. The dropouts included Rep. Mark Udall, of the famous political family, and businessman Rutt Bridges. (Udall's decision to leave the race was a particularly striking bow to Salazar's perceived electability, as he dropped out just a few hours after announcing his decision to run.)

On the Republican side, brewery magnate Pete Coors – from a family well known for backing conservative causes but not actually running for office – and former congressman Bob Schaffer are vying for the GOP nomination. The primary is scheduled for Aug. 10, and the state party has decided to remain neutral in what has shaped up as a fairly competitive primary.

Much of the attention has been focused on Coors, who has never run for office before but is well known to Coloradoans – and almost every other American who watched TV in the last decade – as his brewery's top spokesman who tromped through the Rocky Mountain snow touting the purity of his company's water supply. (The spots have stopped running in Colorado during the race, although they continue to air nationally.)

Coors is chairman of the Adolph Coors Company, one of the state's largest employers and oldest companies. Coors, whose family still controls about one-third of the company's stock, plans to remain in that position pending the outcome of the race, although he is not being paid. He is the fourth generation of Coors men to lead the brewery.

The Coors name still conjures images in many minds of the ardent brand of conservative activism embodied by Coors' father, Joseph. In the 1960s, the late Mr. Coors was a backer of hard-line conservatives like Barry Goldwater and Ronald Reagan, and founded the right-leaning think tank The Heritage Foundation. So controversial were Joseph Coors' politics – his backing of the John Birch Society raised some eyebrows, as did the lie-detector tests employees were required to undergo to determine their political and religious beliefs – that some liberals refused for years to drink Coors beer as a form of protest. (At least one union in Colorado, the Food and Commercial Workers, continues to boycott the brand.)

But, while Pete Coors is undeniably conservative, he's no Joseph Coors. Political analysts say that Coors, despite his family name, is actually less conservative than Schaffer. (In particular, Schaffer has hammered Coors for contributions the Coors brewery PAC has made to politicians with "F" grades from the National Rifle Association.) As a result, he could do better against Salazar in November when middle-of-the-road voters are expected to determine the winner.

Coors ended the company's long-running feud with labor unions and has given gay couples employee benefits. When gays boycotted the Coors brand in the 1970s because of his father's politics, Coors even visited several gay bars to discuss the issue with patrons. In an interview with the AP, Coors said of his leadership style: "I'm kind of a peacemaker. I believe we should solve problems by getting people together and finding out what each side wants."

Political analysts say both the general election and the GOP primary are wide open. Jennifer Duffy says that the primary likely will come down to two factors: Salazar's ability (or lack thereof) to match Coors' fund-raising power and Coors' ability (or lack thereof) to present himself as a viable politician.

"He has a threshold to cross: Can this guy be a credible candidate," Duffy says of the political neophyte Coors.

Thanks for reading CBS NEWS.
Create your free account or log in
for more features.