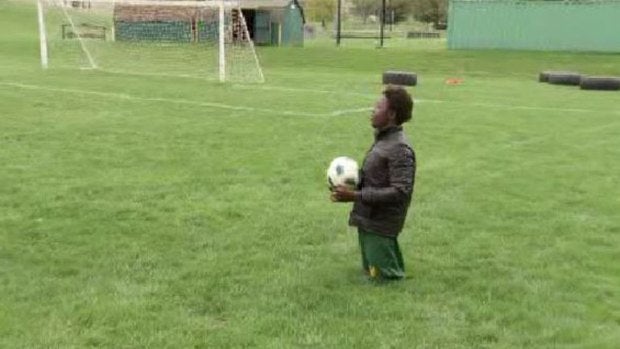 High school soccer goalie with no legs excels on team
PITTSBURGH -- A high school soccer player in Pennsylvania is defying the odds, and inspiring his teammates and coaches along the way, reports CBS Pittsburgh.
Blackhawk High School Junior Varsity goalie, Emmanuel Hilton, may have no legs, but that isn't stopping him.
"I was born with no legs, and my mom, she couldn't take care of me and she throw me away," Hilton explained to CBS Pittsburgh. "She didn't like me. So I was handicapped. And she threw me in the middle of the road, like when a car passes, somebody can hit me and I can die."
But Hilton survived. He was rescued by a woman who took him to an orphanage in the African nation of Congo where he lived. One year ago, Hilton couldn't even speak English.
Years later, Michelle Hilton and her husband, a Methodist pastor in Chippewa, saw his smiling face in a photograph. They decided to adopt.
"I thought this kid just needs a chance, you know," Michelle Hilton said. "What could happen if we just step out in faith and just give him a chance? And so we did, and it's good. It's not that hard."
Now, Hilton is on the soccer field.
"He inspires so many guys," said Coach Bryan Vitali. "He inspires me to come out and do my job better. The guys see him moving and they pick up their intensity. He's completely exceeded our expectations."
The goalie is allowed to kick with his arm, but CBS Pittsburgh reports that's the only break he gets. Although he is loved by his teammates, nobody coddles him on the practice field.
The newly adopted American admits to a bit of fear when he came out for the soccer team, but that quickly changed.
"They like me. They're happy, so I feel comfortable to be on the team," he said.
Thanks for reading CBS NEWS.
Create your free account or log in
for more features.