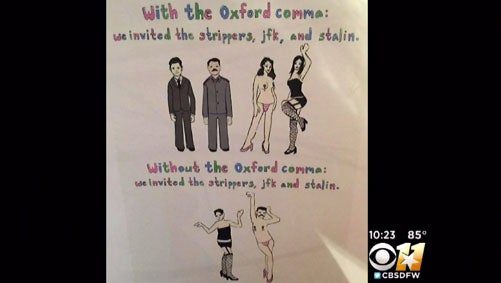 High school grammar lesson with JFK, Stalin, and strippers?
DALLAS -- A drawing of JFK, Stalin and two strippers has sparked outrage among some parents at a Texas high school after a teacher used it in class to illustrate the importance of the Oxford comma, reports CBS Dallas-Fort Worth.
The drawing, used by a teacher at Highland Park High School in a 10th grade English class, is supposed to illustrate how a comma can change the meaning of a sentence. Without using a comma before the word "and," whoever is writing the sentence is calling JFK and Stalin strippers.
But after seeing the illustration, some parents were not pleased.
"Wow. That's unbelievable. That is unbelievable," said Amy Steward, a mother from the school looking at the illustration. "I mean I feel like I shouldn't be looking at that picture right now."
CBS Dallas-Fort Worth reports that the school district says the drawing was an isolated incident and administrators have talked to the teacher who used the image.
"I mean, it's not appropriate. And I don't understand why a teacher would use that," said parent Marcel Solman. "To me that's not really teaching them anything."
Not every parent thought the image was that bad though.
"It's a little inappropriate. But I don't know, whatever these kids need today," said Paul Farris, a Highland Park father. "You got to catch their attention on something."
Solman acknowledged she could see, in a sense, where the teacher was coming from, but it still was not appropriate for high school students.
District spokesperson Jon Dahlander provided a written statement in regards to the image that read, "The teacher deeply regrets the incident and apologized to students in his classes earlier today."
CBS Dallas-Fort Worth reports that the district also said the image was not approved by administrators. The teacher made the decision to use the drawing on his own.
Thanks for reading CBS NEWS.
Create your free account or log in
for more features.