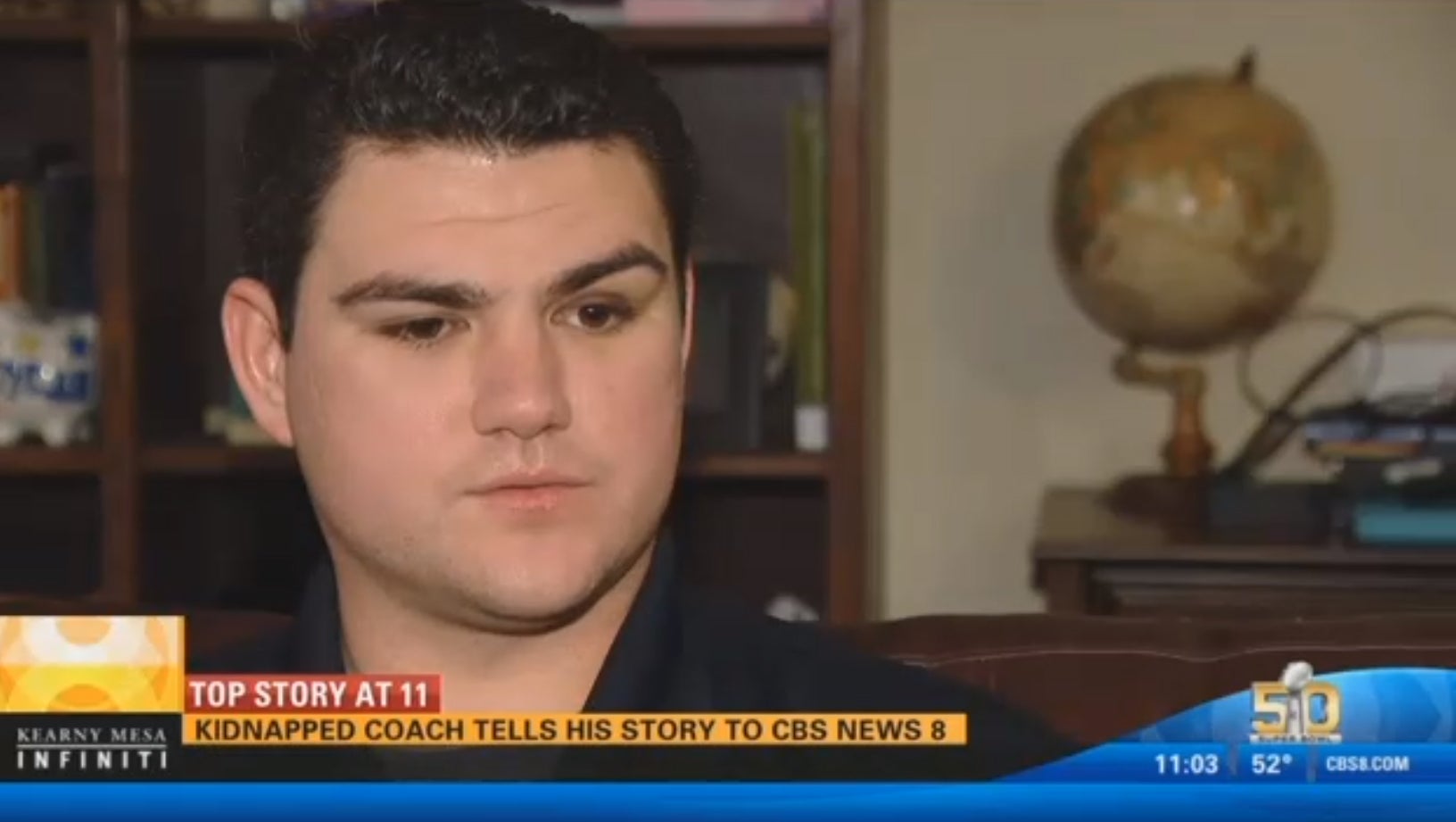 High school baseball coach describes overpowering armed kidnapper
SAN DIEGO --A California baseball coach says he was able to overpower a man who kidnapped the coach and a teen student when the suspect was distracted by lighting a cigarette, reports CBS affiliate KFMB.
Dylan Graham, an assistant baseball coach at San Diego's St. Augustine High School, tells the station the suspect approached him and the teen baseball player at a Kearny Mesa field as they practiced in a batting cage Wednesday morning. Graham said the man initially asked for a cigarette, but then pulled out a gun.
"My first reaction was to get on the ground. He yelled at me to stand up, get in the car," Graham told the station.
Graham says the man, who police say is Ira Stringer, 45, forced Graham and the sixteen-year-old player into the back of Graham's Jeep at gunpoint and told him to drive to Ramona, about 30 miles away. The suspect reportedly aimed the gun from the backseat and forced Dylan to drive while the teen sat in the front seat.
"I just kept saying, 'Don't hurt us. You can have whatever you want in the car. Whatever you need,'" said Dylan.
Graham said he believed Stringer was planning to lead them to a remote area and then kill them.
"It seemed like that was what was going to happen. He was going to take the car and kill us and then he would be on his way," Graham told the station.
Graham saw an opportunity for escape when the suspect was momentarily distracted by lighting a cigarette.
"I snuck my left hand behind my seatbelt and in one move, I just let go and hopped on him and got my hands around his wrist," said Graham.
Police say Graham made an attempt to wrest the gun from Stringer, and during the struggle the car veered and crashed into an embankment. Graham told the station he was able to get out of the car as the suspect fired three rounds.
"It's a good thing because there was a hole through the passenger seat and a bullet did go right by my head and out of the windshield," said Dylan.
Graham said he was able to wrest away the gun and fired several warning shots before Stringer fled. Police say Stringer then carjacked another driver, forced the woman to drive him to Ramona, and then told her to get out of the vehicle before he drove off in her car.
Stringer is also accused of robbing a convenience store in Lemon Grove late Saturday night and another convenience store in Orange early Sunday, reports the San Diego Union Tribune.
The paper reports officers chased him for 45 miles after he fled the Orange robbery, eventually using a spike strip to stop his car in Riverside. He was arrested after a two-hour SWAT standoff.
He remains jailed in Riverside County.
Thanks for reading CBS NEWS.
Create your free account or log in
for more features.