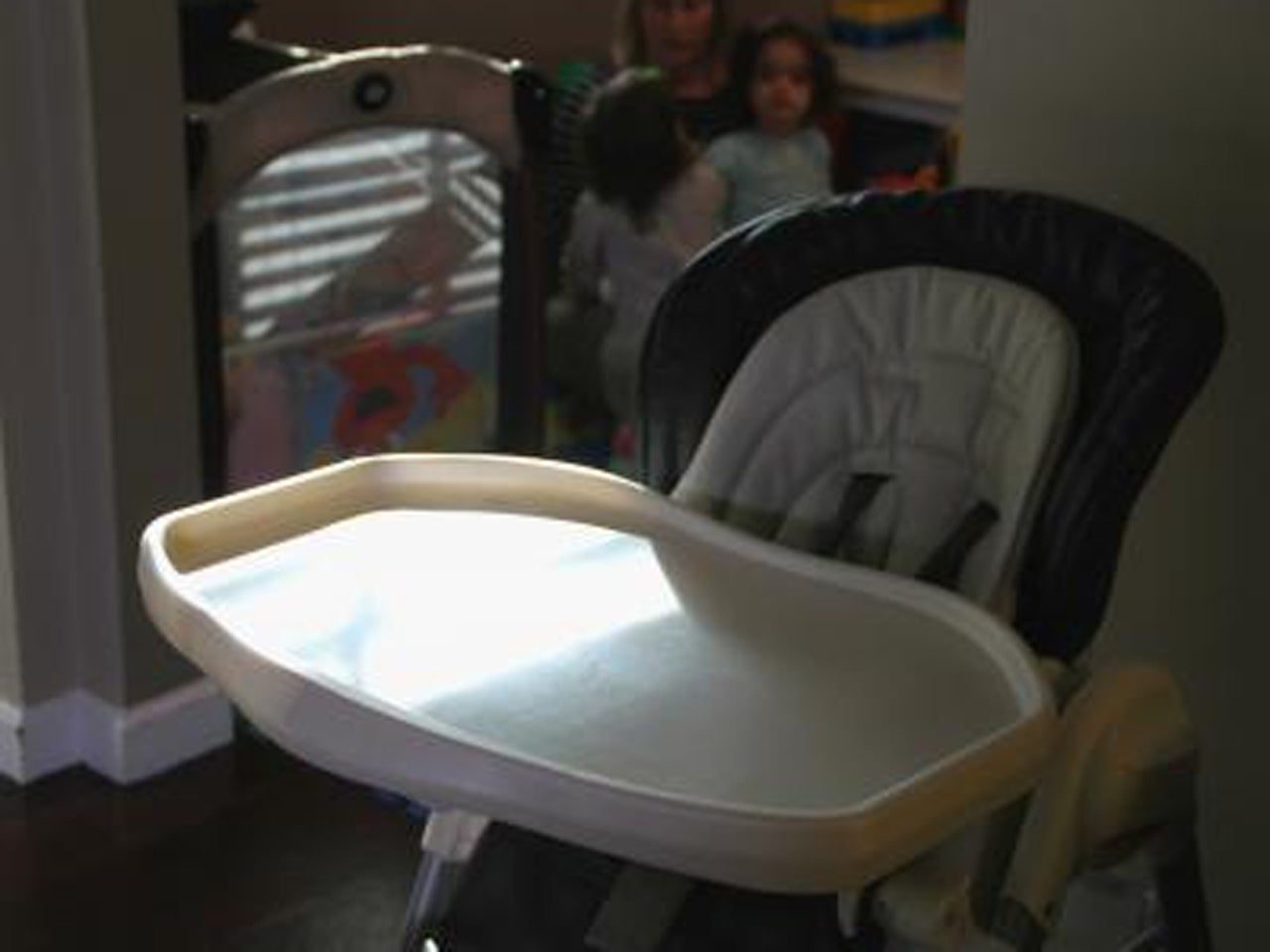 One child injured by high chairs every hour: Study
About one child each hour is brought to the emergency room due to a high chair-related injury, a new report claims.
The research, which was published in Clinical Pediatrics on Dec. 9, shows that between 2003 through 2010, U.S. emergency departments treated more than 9,400 kids for incidents involving a high chair or booster seat.
The number of injuries increased 22 percent over the study period.

"Families may not think about the dangers associated with the use of high chairs," study researcher Dr. Gary Smith, director of the Center for Injury Research and Policy at Nationwide Children's Hospital, said in a press release. "High chairs are typically used in kitchens and dining areas, so when a child falls from the elevated height of the high chair, he is often falling head first onto a hard surface such as tile or wood flooring with considerable force. This can lead to serious injuries."
Closed head injuries (CHI), which can include concussions and other internal head injuries, were the most commonly seen injury, reported in 37 percent of cases. Rates of these injuries increased by 90 percent throughout the study period, from 2,558 cases in 2003 to 4,789 cases in 2010. Most children sustained head or neck and facial injuries.
Bumps and bruises (33 percent) and cuts (19 percent) were the second and third-most reported high chair injuries, respectively.
Ninety-three percent of the injuries were associated with a fall. The majority of those cases involved a child who was climbing or standing in the chair, which researchers believed meant the product's safety restraint system was not being used or was not working properly.
The study also compared high chair injuries with child injuries linked to regular chairs. More than 40,000 standard chair-related injuries were reported in the same time frame, which equaled about four children every hour. Similar to high chairs, falling and jumping were the most commonly-associated actions before an injury took place. Kids injured by standard chair-related incidents were more likely to have broken bones, cuts and bruises than those injured by high chairs.
Smith said that most parents think that the tray on the high chair will stop the child from falling. He emphasizes out this item was not meant to be a safety feature.
Instead, the safety straps are the most important component to protect your child. Chairs that have a three- or five-point harness with a crotch strap or post are the safest options. The caregiver should make sure that the straps are working and are attached to the chair before strapping the child in.
"The number one thing parents can do to prevent injuries related to high chairs is to use the safety restraint system in the chair," Smith said. "The vast majority of injuries from these products are from falls. Buckling your child in every time you use the high chair can help keep them safe."
The chair itself should also be steady. Products with wide bases that meet current safety standards are may provide the best protection from tipping. If the high chair has wheels, parents should make sure they are locked before putting a baby in.

Caregivers should also check for recalls in order to prevent potential hazardous incidents.
The researchers added that high chairs should be used during meal time, and children should be taught that this area is used for eating. Never allow a child to play in the chair.
The area around the high chair should also be kept clean, so kids aren't tempted to reach or kick for something outside of their grasp. Common items that may be lying around including tablecloths, placemats, sharp silverwear, plates, hot foods and liquids.
Thanks for reading CBS NEWS.
Create your free account or log in
for more features.