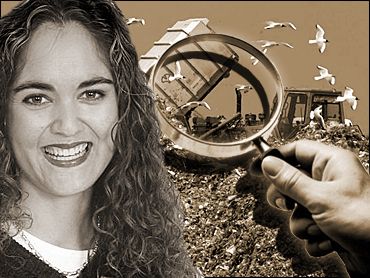 Hidden Truth: Lori Hacking Case
On July 24, while sitting in a psychiatric hospital, Mark Hacking's brothers say he told them that he killed his wife, Lori, and then put her body in the trash. It is believed her body is buried under more than 2,000 tons of garbage.
By all accounts, Mark Hacking worshipped his wife of five years, and he wasn't afraid to show it. Correspondent Maureen Maher has this 48 Hours update.
---
"He adored her. And she adored him," recalls Lori's mother, Thelma Soares. "I couldn't have asked for a better son-in-law. Lori used to call him 'My big, old teddy bear.'"

Mark, 28, was outgoing and romantic, while Lori, 27, was private and practical. But according to Lori's only sibling, Paul Soares, the combination worked.

"They were different. They say opposites attract. And that -- I think that was the situation," says Soares.

"And we would always joke around with him. Like, how did he get such a cute woman? Everyone kidded him about that. Because, you know, he was just like this goofy dude that-- you know, goofy guy," says Brian Hamilton, who became friends with Mark when they worked together in the children's psychiatric unit of a Salt Lake City hospital. He said Hacking loved to entertain the kids at the hospital.

The couple had just learned Lori was five weeks pregnant, friends say. And they were about to embark on a cross-country move to North Carolina, where Hacking said he would be starting medical school.

"It seemed as though they had their life planned, chapter by chapter," says Hamilton.

On Thursday, July 15, Lori emailed the Hamiltons with their new address. But the day after she sent the email, Lori received a phone call from the University of North Carolina. She left work early in tears.

Apparently, she'd just learned that Mark's big plans for medical school were all a lie. He'd never even enrolled with the school.

A few days later, on Sunday evening, the couple went to a convenience store. It's the last place where anyone would see Lori Hacking alive.

As seen in surveillance footage from later that night, Hacking returned to the store around 1 a.m. – but this time, he was alone.

Now that Hacking has allegedly confessed to killing his wife while she was sleeping, people wonder, after seeing these images on the surveillance tape, had he just murdered his wife? Or was he about to?

The next morning, Hacking reported his wife missing. He said she never came home after going for an early jog in nearby woods. Hacking said he went searching for her, but later that day, police learned that he'd been shopping for a new mattress before he called 911.

That was the first sign that Hacking's concern for his wife was all an act. And it was the first of many lies to come.

"My name is Mark Hacking," he said in a press conference. "And I have so much gratitude today for the friends, the family, the officers, the search-and-rescue people. Everybody. It's just been the worst day of my life; it's good to feel some comfort from the community."

Later that night, Hacking was admitted to a psychiatric hospital after he was seen walking around outside, naked.

"He kept his shoes on - his sandals - that's not generally something we see in someone truly psychotic," says Candace DeLong, who was an FBI profiler for 20 years.

Does she think he was faking his condition and setting up a defense? "I think there's a very good chance he thought that might work," says DeLong.

In the days following Lori's disappearance, while hundreds of volunteers searched for her, it became apparent that Hacking had been making up stories for years.

"We were under the impression that Mark had been accepted to medical school and just found out a few minutes ago he never even applied to medical school at North Carolina," says Mark's father, Douglas Hacking.

In fact, Hacking had never even graduated from college. He stopped attending classes at the University of Utah three years ago, and Lori, and Mark's family, found out.

It's a story that's never been reported in detail.

"His mother called their house and left a message asking why he wasn't enrolled in school, 'cause she had attempted to pay the tuition and it wasn't-- he wasn't in the — enrolled," recalls Hamilton.

Lori heard the voice mail first, and when Hacking came home, she confronted him. He took off in his car, and when Lori couldn't find him, she called the Hamiltons. "She was just crying on the phone," says Hamilton.

Lori later found out Hacking was at a hotel an hour away.

"We didn't really think anything of it because the next day, Jennifer talked to Lori and she said, 'Oh, yeah. Well, we went and we reconciled things and made up," says Hamilton.

"And the way that it kind of played out was that he had made a mistake or he had forgotten to register. I think that's how it went. We thought he went back to school."

And apparently, so did Lori. And from then on, Hacking's lies just got bigger and more elaborate.

"I remember for the last two-plus years, the extensive preparations for medical school," says Lori's brother, Paul Soares.

In fact, Mark went so far as to fly to Manhattan, and pretend to interview for medical school, while staying with his cousin.

"He got up in the morning, put his suit on -- like day before, she drove him by where Columbia was, so he'd know where it's at," recalls Soares. "And-- left-- went to do his interview and came back a few hours later and talked about the interview and how it was."

"He talked a little bit about his deception to us, how it all got started a few years ago," says Mark's father, Douglas Hacking. "He has two brothers who are high achievers. He felt pressure to excel as well."

The real tragedy is that many believe Lori would have loved Hacking, no matter what he did for a living.

"As long as he was doing his best, she would have loved him with all of her heart," says Soares. "And he didn't have to be a doctor, a president -- whatever it was. As long as he was doing his best, she would have loved him."

And Hacking may have been the only person who didn't truly believe this.

"Failure just was not an option. It almost seemed like-- he couldn't handle the idea of letting her down," says Hamilton. "Basically, I think that maybe he was just so sad or so distraught about the idea of letting her down that maybe something did snap. I mean what that was, I don't know."

"I had real pride and real joy when I said she was my sister," says Paul Soares. "And to know that-- how-- she's expecting a child. She would have been a wonderful mom. And it's sad that she'll never have that opportunity."
Thanks for reading CBS NEWS.
Create your free account or log in
for more features.