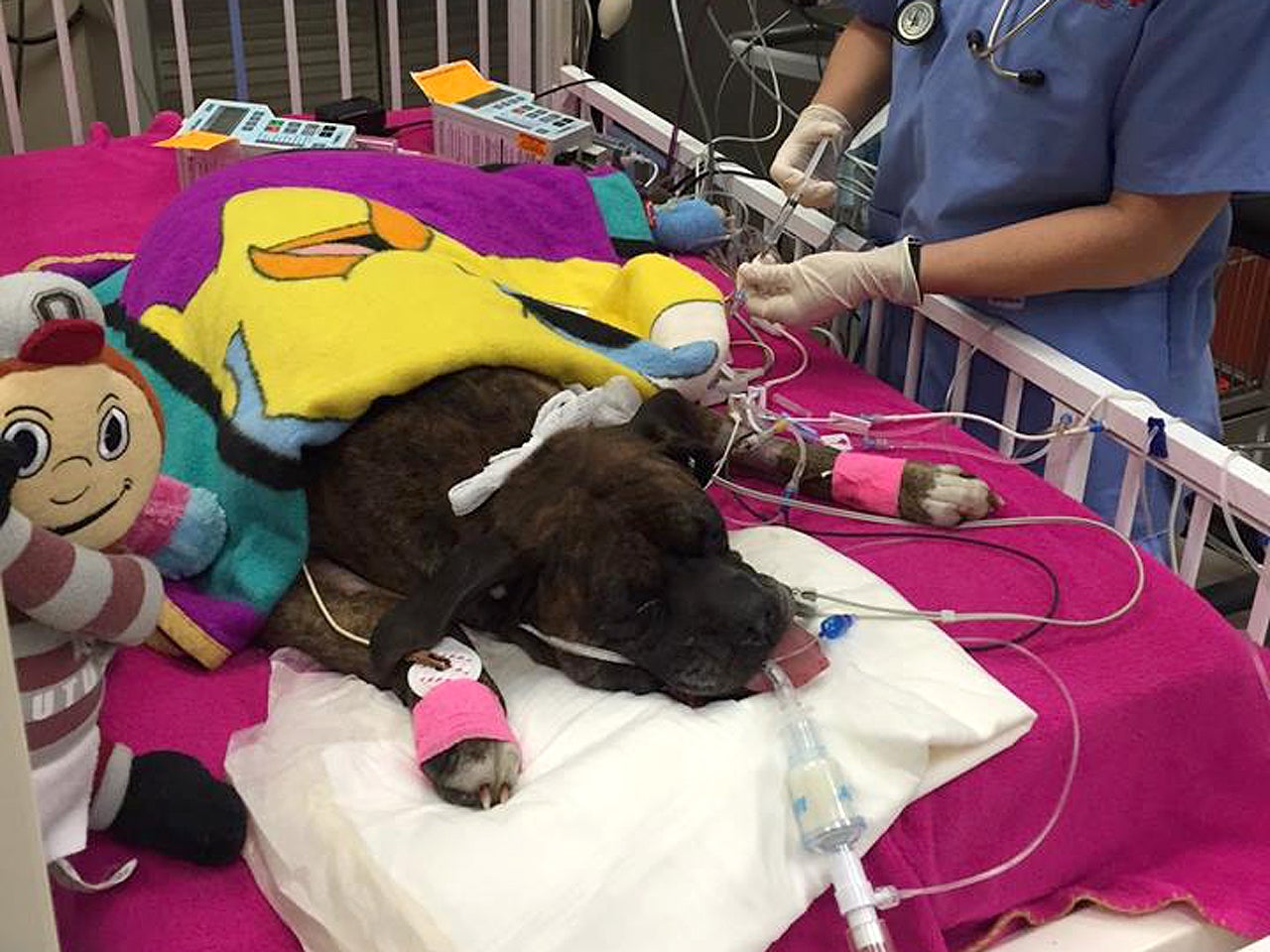 Dog lauded as house fire hero "improving"
A dog is fighting for her life after apparently trying in vain to protect her owner from the choking smoke which engulfed their home in Ohio.
Vets at the CARE Center veterinary hospital in Cincinnati said Monday in a written statement that Carmen, a nine-year-old boxer, was "still on very intensive ventilator support," but her badly damaged lungs seemed to be improving slowly.
Fire fighters responded to the blaze in Goshen Township, they found Benjamin Ledford unconscious in the basement with his dog Carmen laying across his face, seemingly trying to shield her owner from the heat and toxic fumes.
Carmen was also unconscious, but rescuers were able to bring her around. Ledford was rushed to hospital but was pronounced dead after arrival, according to CBS affiliate WKRC.
When she first reached the vets, Carmen could barely gasp for breath.
"We are providing her with the fluids to stay hydrated and at this stage it may be a day of two before she is interested in eating. Her body is focusing on other things right now," said Dr. Marlo Anderson at the CARE Center.
After a touch-and-go weekend, the oxygen tube and intravenous nutrition provided to Carmen seemed to be helping her recover.
CARE Center Vets said Monday that Carmen's "oxygenation is improving," and "all of her vitals are stable."
Meanwhile, a donations page set up to help Carmen and the family who lost their home -- and loved one, Ledford -- in the blaze, had collected almost $12,500 by early Tuesday morning.
Thanks for reading CBS NEWS.
Create your free account or log in
for more features.