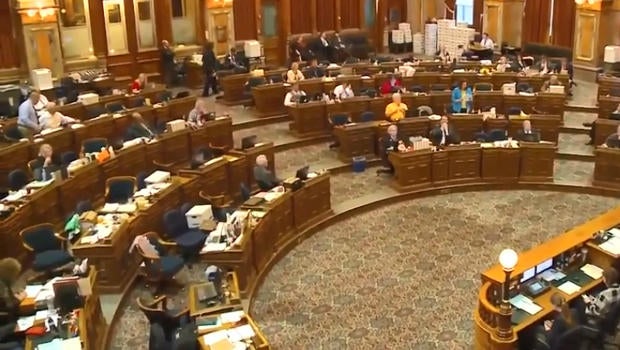 "Heartbeat" abortion bill, nation's toughest, OK'd by Iowa lawmakers
DES MOINES, Iowa -- Iowa lawmakers have paved the way for the nation's most restrictive abortion legislation in the country. The Republican-majority Iowa Senate fast-tracked a vote early Wednesday morning on a so-called "heartbeat" bill that seeks to ban most abortions once a fetal heartbeat is detected.
The GOP-controlled Iowa House approved the bill hours earlier.
The legislation effectively would ban most abortions around six weeks of pregnancy. Critics say that would ban the medical procedure before some women know they're pregnant.
Republican Gov. Kim Reynolds hasn't indicated whether she'll sign the bill into law.
If enacted, the legislation is expected to be challenged in court over whether it violates U.S. Supreme Court rulings, including the landmark 1973 Roe v. Wade decision that legalized abortion.
Iowa Republicans passed legislation last year that banned most abortions after 20 weeks of pregnancy.
A similar 2013 bill passed in North Dakota was rejected by the federal appeals court whose territory includes Iowa.
Iowa's legislation would allow abortions after a heartbeat is detected to save a woman's life and in some cases of rape and incest.
Democrats in the Iowa House called the bill "intentionally unconstitutional."
"This would take away the right of women to make their own health care choices," argued Rep. Monica Kurth, of Davenport, according to CBS Des Moines affiliate KCCI-TV.
Republicans said life is precious and needs to be protected, the station adds. "We are alive when our hearts start beating and our life is over when it stops," said Representative Dawn Pettengill of Mount Auburn.
Thanks for reading CBS NEWS.
Create your free account or log in
for more features.