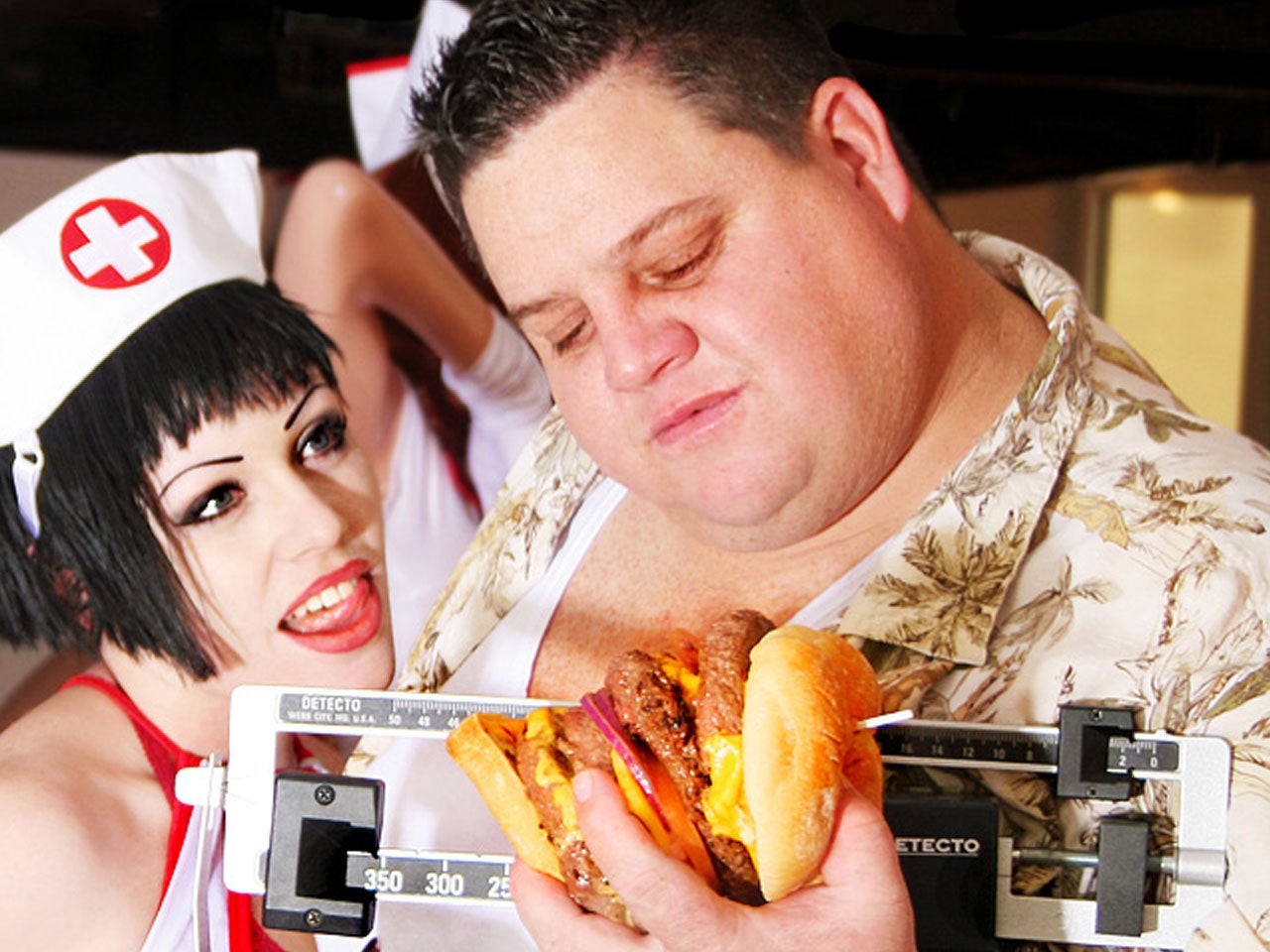 Heart Attack Grill "spokesperson" dies from heart attack, owner says
A patron has reportedly died from a heart attack at the Heart Attack Grill, about one year after another person was reported having a heart attack at the eatery.
The Las Vegas Sun reported Monday that 52-year-old John Alleman, an unofficial spokesperson for the restaurant known for selling unhealthy fare such as its "Quadruple Bypass Burger," and "Flatliner Fries," had a heart attack last week as he waited at a bus stop outside the downtown Las Vegas eatery. He was removed from life support Monday.
Alleman was reportedly a fixture at the restaurant and would stand outside its doors daily greeting customers in an unofficial capacity, according to the paper.
"He never missed a day, even on Christmas," the restaurant's owner "Dr." John Basso, who is not a medical professional, told the Sun. "He never wanted a handout from anyone. He always insisted on paying," he said. "He lived, ate and breathed the Heart Attack Grill."
Basso wrote on the Grill's Facebook page that Alleman was so popular that he was placed on the restaurant's menu and given his own "Patient John" clothing line. Staff at the eatery dress up in nurse's and doctor's uniforms.
He told the paper the man was not heavy, weighing about 180 pounds, and may have had a genetic predisposition to cardiac problems because both his parents died from heart attacks in their 50s.
The death comes about a year after a man suffered a heart attack while eating one of the restaurant's 6,000-calorie "Triple Bypass Burgers." Last February, patrons thought they were witnessing a publicity stunt for the restaurant that says it has a "Taste Worth Dying For" and took out their cell phone cameras, but were ultimately seeing a patron around his 40s having a cardiac episode being wheeled out by paramedics.
Basso appeared on CBS This Morning last February to defend his restaurant after the incident.
"I'm here to tell you straight up that I'm here to make a buck," Basso told CBS This Morning last February. "Anything that's legal that you want to eat or drink that's fun, that enriches your life at the moment, I will sell it to you. If I could put danger back into hamburgers, all the better."
The restaurant also offers free meals to patrons who weigh over 350 pounds.
The Las Vegas Sun also reported that a woman suffered a similar incident two months later while eating a "Double Bypass Burger," although it was unclear if the food was to blame.
CBS Sunday Morning profiled the restaurant's original store opening in Chandler Arizona in 2008. That chain closed down in June of 2011, two months after the death of its 29-year-old 575-pound spokesman Blair River.
River died from flu-related pneumonia, according to the Sun. Basso told the paper the latest death was a "wake-up call" but vowed to continue serving the food as long as there was a demand.
Thanks for reading CBS NEWS.
Create your free account or log in
for more features.