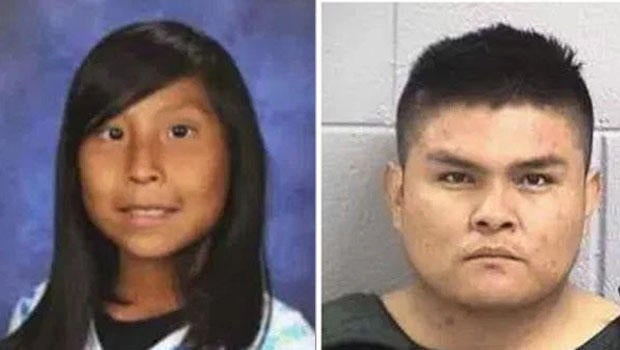 "He finally admitted it": Guilty plea in girl's killing in Navajo Nation
ALBUQUERQUE, N.M. -- A man charged with murder, sexual assault and other counts in the death of an 11-year-old girl on the largest American Indian reservation changed his pleas to guilty Tuesday in a case that prompted calls to expand the Amber Alert system and the death penalty to tribal communities across the U.S.
More than a year after Ashlynne Mike was killed in Navajo Nation, Tom Begaye entered his new pleas at a hearing in U.S. District Court in Albuquerque, New Mexico, as family members of Mike cried.
Her father, Gary Mike, said after the hearing that the guilty pleas were a turning point for the family that has struggled since the killing.
"We all know that this person is guilty," he said. "He finally admitted it today."
Asked if he had a message for Begaye, Mike paused, tried to hold back tears and said, "I can't now."
Mike told CBS affiliate KRQE, "words cannot describe what I'm feeling – what we're all feeling."
"This crime is something that should not happen to anyone," Mike told the station.
New Mexico Gov. Susana Martinez said in a statement that she hoped the guilty plea brought some peace to the family.
"But sadly, nothing will ever undo what was done," the Republican governor and former prosecutor said. "It's critical that we continue to do more to protect our children."
Among the charges against Begaye were aggravated sexual assault resulting in death and kidnapping resulting in death.
Prosecutors say Begaye lured the girl into his van in May 2016 and sexually assaulted her. She was reported missing, but an Amber Alert didn't go out in the state until the next day.
She was later found dead near the Arizona-New Mexico border. The Navajo Nation covers parts of those two states and Utah.
The death led to pending federal legislation that would expand the Amber Alert system to tribal communities and calls for Navajo Nation to end its opposition to the death penalty.
Republican Sen. John McCain of Arizona introduced legislation in April that would expand the notification system. He said more than 7,700 American Indian children are listed as missing in the U.S.
Authorities say Begaye lured Mike and her brother into his van. The boy later told police the man took them deep into the desert then walked off with the girl and a tire iron before returning alone.
Begaye told investigators he sexually assaulted the girl and hit her twice in the head with a crowbar. He also strangled the child, KRQE reports. The girl was still moving when he left her in the desert, according to court documents.
Her brother was able to escape.
Begaye is from the small town of Waterflow near Lower Fruitland, where Mike lived with her father and siblings, according to the FBI. The town is near the reservation.
Navajo Nation, like many Native American tribes, outlaws the death penalty. Federal prosecutors are responsible for prosecuting homicides on tribal lands and rarely challenge tribal beliefs.
Gary Mike said changing the tribal rule on the death penalty would be a decision for tribal elders.
After his daughter's death, Gary Mike filed a lawsuit against Navajo Nation for failing to have an emergency notification system that he says could have saved his daughter's life.
An Amber Alert system for the 27,000-square-mile reservation was proposed years ago but never implemented, despite the tribe having been awarded $330,000 in federal funding as part of a U.S. Justice Department pilot project.
Half the money was used to buy equipment such as megaphones and pop-up tents, but the rest went unspent.
"We know the pain will be life-long for Ashlynne's parents and immediate family," Navajo Nation President Russell Begaye said Tuesday. "The Navajo Nation is taking every step necessary to strengthen our laws and emergency response communication system."
Russell Begaye is not related to the defendant.
A sentencing hearing has not yet been scheduled for Tom Begaye.
In another case involving a child's death on the reservation, an Arizona woman who put her 17-month-old daughter in a stroller, pushed her into the desert and left her to die on the Navajo Nation was sentenced Monday to 20 years in prison.
U.S. District Judge David Campbell said Ashley Denise Attson, 23, committed an "intentional, cold-hearted, horrendous killing of an innocent child."
Attson had pleaded guilty to second-degree murder in the September 2016 killing. Her defense attorney, Ashley Adams, did not immediately return a call for comment.
Thanks for reading CBS NEWS.
Create your free account or log in
for more features.