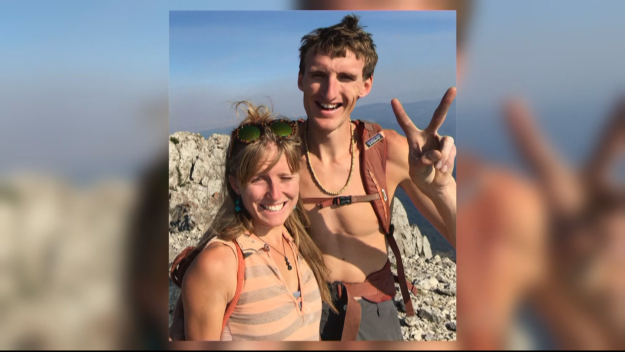 Renowned climber reflected on "painful reality" before killing himself
A renowned climber who killed himself in the wake of his girlfriend's death in an avalanche had recently reflected on a climbing blog on two good friends who died during climbs.
Montana sheriff's officials said Hayden Kennedy, 27, and Inge Perkins, 23, were skiing on Imp Peak in the southern Madison Range on Saturday when they triggered an avalanche in a steep, narrow gulley at about 10,000 feet above sea level.
Perkins, also an accomplished mountain climber, was buried by the 150-foot-wide slide. Kennedy hiked out after he couldn't find his girlfriend. He was found dead in his home in Bozeman Sunday with a note detailing where to find Perkins' body.
Less than two weeks before his death, Kennedy wrote for the "Evening Sends" blog that he had watched too many friends die in the mountains over the last few years.
"I've realized something painful. It's not just the memorable summits and crux moves that are fleeting. Friends and climbing partners are fleeting, too," he wrote. "This is the painful reality of our sport, and I'm unsure what to make of it. Climbing is either a beautiful gift or a curse."
Kennedy reflected on two friends' deaths in the Sept. 26 post. He said Justin Griffin died in Nepal in 2015 and Kyle Dempster disappeared with his partner, Scott Adamson, in Pakistan the following year.
Kennedy wrote that he thinks about Dempster and Griffin "all the time."
"In many ways, I am still processing what has happened to my dear friends," Kennedy wrote. "Waves of sadness overwhelm me at times, making it hard to stand up or focus. At other times I am able to think only of the enchanting adventures, contemplative conversations, and the simple yet enriching moments we shared as friends. These pendulum shifts between various emotions will never go away, as I am starting to learn."
He also wrote that he sees "both light and dark" in climbing.
"It's difficult to accept the fact that we cannot control everything in life, yet we still try, and maybe our path changes to something totally unexpected," Kennedy wrote. "I am still in the process of finding my own path, and I'd be lying if I said these deaths haven't affected its direction."
In Montana, Doug Chabot, director of the Gallatin National Forest Avalanche Center, said Kennedy did not call 911 to report Saturday's slide.
"It all came out in this incredibly detailed and well-thought-out note," he said. "He basically left nothing to chance in finding Inge."
The area had received a foot of snow since Oct. 1, which was on top of about 4 feet of dense snow that had fallen over the previous two weeks, according to the avalanche center.
Chabot said the note included GPS coordinates and details about the route Kennedy and Perkins were skiing. Kennedy also left an avalanche probe and a shovel in the debris to mark the site, allowing searchers to find the body within an hour of arriving.
Perkins had an avalanche transceiver in her backpack, but it was turned off, Chabot said. It's unclear if Kennedy was carrying a similar unit.
In a statement released Tuesday, Kennedy's parents described their son as "an uncensored soul whose accomplishments as a mountaineer were always secondary to his deep friendships and mindfulness."
"Hayden survived the avalanche but not the unbearable loss of his partner in life," they wrote.
Kennedy, who grew up in Carbondale, Colorado, had been working on his EMT certification while Perkins completed a bachelor's degree in mathematics and education at Montana State University.
Kennedy was perhaps best known for climbing the Southeast Ridge in Patagonia's Cerro Torre in 2012 and removing many of the bolts placed by controversial Italian climber Cesare Maestri more than 40 years earlier.
Afterward, he and his climbing partner were accosted by locals and detained by police. But Kennedy's father, Michael Kennedy, who was editor of Climbing Magazine for more than two decades, beamed with pride.
"You made a courageous first step in restoring Cerro Torre to its rightful place as one of the most demanding and inaccessible summits in the world," the elder Kennedy wrote in an open letter to his son that was published in Alpinist Magazine in 2012. "I never would have had the guts to take that step myself, even in my best days."
Michael Kennedy, an accomplished mountaineer in his own right, also wrote to his son about losing multiple friends to the sport.
"An awareness of mortality prompts us to focus on what's important: developing a strong community of family and friends," he wrote.
Thanks for reading CBS NEWS.
Create your free account or log in
for more features.