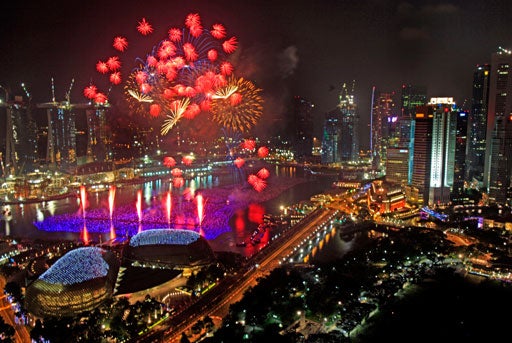 Hawk And Hatch: Getting Past It
A contestant on the CBS reality TV show "Survivor" stunned a national television audience Thursday night by alleging that she was "sexually violated" by another player.
Sue Hawk, a member of "Survivor: All-Stars" Chapera tribe, suddenly quit the game, charging that she had been touched in a sexually inappropriate way by former "Survivor" champ and recent cast-off Richard Hatch - who liked to play the game naked.
For the second time this season, there was no tribal council on "Survivor: All-Stars." The tough-talking Sue decided she had enough after a run-in with Hatch. The Early Show co-anchor Harry Smith interviewed Sue and Richard Friday.
The tribes met last week for a balance-beam obstacle course challenge, during which members from both tribes ran across narrow wooden planks set up several feet above the ground. Refereed by host Jeff Probst, the challenge featured showdowns in which each contestant tried to knock the other off if two members met on the same beam.
When Hawk and Hatch -- who was voted out of the game last week -- met face-to-face on the beam, Hatch stepped toward Hawk so their bodies touched and said, "You want some of this?" Hawk protested, but pushed past him, and Probst offered a mild rebuke.
On Thursday night's episode, Hawk was visibly upset and crying at the Chapera camp as she recalled the incident, her anger building and finally culminating in an outpouring of rage when the tribes assembled for a routine reward challenge.
"I was sexually violated, humiliated, dehumanized and totally spent," she said, unleashing a torrent of angry words at Probst.
She announced she was quitting the game: "There's no way I can continue with my emotions pushed to the ground that much."
At another point, she added: "If he (Hatch) had just walked by me and never touched me, I'd have been fine. But he didn't."
Probst immediately called for a boat that took Hawk from the scene of the game in Panama.
On The Early Show, co-anchor Smith said that, as a viewer, the incident, to him, "seemed like a momentary confrontation. Jeff said, 'Hey, there's no place for that.' It happened in two seconds. You got back to the camp. And what started going through your mind?"
Hawk responded, "That evening, when I had time to be by myself, I just kept reliving the incident. It just kept eating into me more and more like a cancer."
Does she still feel that way?
"It's been a long time since that. And me and Richard have had a chance to sit down and hash it out and talk about the incident. And we both have different perspectives on it," Hawk explained. "But we have come to terms with it and agreed to move forward and past it.
"Of course," she added, "the viewing audience won't, because it was just, like, last night."
Smith asked her if there was anything she wanted to say to Hatch.
"Just, you know, I can understand your feelings, that you like to be naked, you're not uncomfortable with it," Hawk told Hatch. "But sometimes you need to take in other people's perspectives on what's going on with you."
Smith pointed out that Hawk was much calmer on Friday's Early Show than she appeared on Thursday night's episode of "Survivor: All-Stars."
"That was in the moment, though," Hawk said. "That was, like, fresh off the plate. That was when it was still hot…You know, I'm an adult. You have to work through things like that in life. I mean, you can't shut them out at the moment. But you grow from them. You learn from them."
Smith asked her if she was tired and hungry, and if perhaps physical deprivation contributed to her emotional response. But Hawk said it did not.
"I wasn't thirsty or hungry," she explained. "We had a lot of food there… I was in really good shape physically and mentally. I wasn't thinking about home and I wasn't thinking about food. It was actually easier this time around."
She told Smith, "Feeling Richard naked next to you is not a good feeling. That's all… You know, I don't want to brush up against naked people."
As for Hatch, he said, "We have a perspective of Sue Hawk as, you know, super tough… And I learned something: You know, she's a sensitive person. And afterwards, it really, really, got to her. It just started to really, really, get to her. It was emotional."
Hatch and Hawk knew each other; they had played "Survivor" together in its first season, and Hatch had been naked all through the first show. He wasnaked again, all through "Survivor: All-Stars." The difference, though, said Hawk, is that "he kept his distance, always."
After the incident on the island, Hatch and Hawk did have a chance to talk. And what did Hawk express to Hatch at the time?
"That I did not appreciate what I felt was an intentional move against me with his private area that upset me so much, that it was uncalled for and it bothered me."
And what did Hatch express to Hawk?
"I got to say to her that I didn't appreciate what, from my perspective, was her kind of taunting me… From my perspective. I realize that she doesn't see it that way… Sue and I have worked it out. You know, we see it from two different perspectives. It's not about her apologizing to me or, from my perspective, about my apologizing to her… I'm so sorry that she feels this way. I'm so sorry that it's been so emotional for her. I do feel for her very, very much."
Hawk said she has no intention of bringing lawsuits against Hatch, or "Survivor" producer Mark Burnett, or CBS.
"I did consider, like, a lawsuit when it first occurred," she explained "and I decided I needed not to do something on that move, because that's emotionally draining also. And I decided to move forward, and CBS has been real nice about helping to deal with the situation."
So, Smith concluded, the waters are not exactly tranquil, but there is some
peace?
"Yeah, you can drive a boat on it," replied Hawk.
On Thursday night's "Survivor: All-Stars," both tribes were shocked by Hawk's sudden departure, but continued with the game.
Some of Hawk's tribe mates reacted to her departure with glee. Bursting into a song and dance, flapping his arms and stomping his feet in a jerky chicken strut, contestant Tom Buchanan, who made no secret of his dislike for Hawk, honked out a celebratory chorus of "Ding dong, the witch is dead."
On Friday's The Early Show, Hawk said, "Tom did that dance all the time for TV. I'm glad to see he finally got it on. It probably was good because it gave him a chance to finish the bottle of whiskey that he had
been getting the shakes over... Yeah, he definitely loves that stuff. Yeah, that's up on his priority list."
Does Hawk feel she got enough support from her tribe when she was going through her turmoil?
"No," she replied. "In a situation like that, those people, you don't expect
support from them. You really don't ask for it, because of the game... It's not a real situation, you know. So you are on your own."
Hawk is the second "Survivor" to leave the game voluntarily this season. Former champion Jenna Morasca quit the show to be with her cancer-stricken mother.
Thanks for reading CBS NEWS.
Create your free account or log in
for more features.