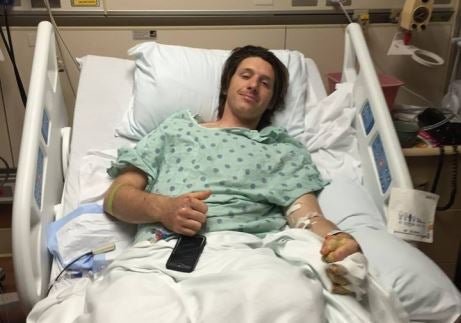 Surfer: Losing leg in tiger shark attack won't keep me down
HONOLULU -- A 25-year-old surfer who recently lost most of his leg in a shark attack near Oahu says he's determined to ride the waves again.
Hawaii News Now reports that doctors amputated most of Colin Cook's left leg after he was attacked by a 10- to 12-foot tiger shark near island's North Shore on Friday.
One day later, Cook was out of his hospital bed and taking a few steps.
The Oahu man had just opened his own fiberglass surfboard shop and won't be able to work while he learns to walk again. His friends are trying to raise $50,000 so Cook won't have to worry about money during his recovery.
His cousin, Chris Webster, told CBS affiliate KGMB in Honolulu that Cook swam to another surfer who paddled him to shore.
"It was his left leg that got taken, and then it was his left hand that he lost a couple of his fingertips on," Chris Webster, Cook's cousin, told Hawaii News Now. "So I imagine he was holding the shark off while he was punching it."
Webster got a chance to talk to Cook before he was wheeled into surgery. "I got there and I was all, 'What's up? I heard you were fighting with a shark.' And he started laughing and smiling. He's all, 'Yeah, I got a couple good cracks on him.' So he was in good spirits."
Cook's friend John Carper helped get him out of the water. He said the Rhode Island native is a regular at the popular surf spot where the shark bit him, and they both live nearby.
Cook moved to Hawaii from Newport, R.I., three years ago and learned to create custom surfboards from famed North Shore shaper John Carper, reports KGMB.
"We taught him how to make surfboards and we ended up semi-adopting him for a long time," said Carper. "He was part of our family for several years."
CBS affiliate KGMB reported, Cook's father, Glenn, flew in after getting the news about his son.
"When you're going through something like this as a dad, all you want is to come here and hug your son," he said. "He goes 'Dad, don't worry about me. Just make sure you take care of yourself and get over here.'"
Glenn said his son is a fighter.
The Rhode Island native is a regular at the popular surf spot where the shark bit him.
Thanks for reading CBS NEWS.
Create your free account or log in
for more features.