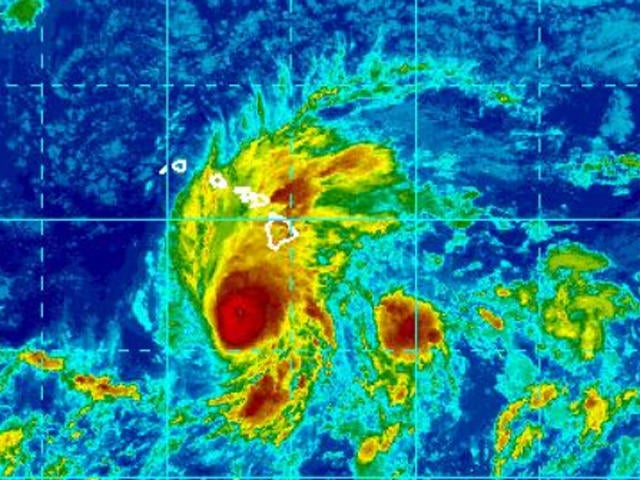 As massive Hurricane Lane nears, Hawaiians have nowhere to go
HONOLULU -- As emergency shelters opened, rain began to pour down and cellphone alerts went out, the approaching Hurricane Lane started to feel real for Hawaii residents. Lane was forecast to continue its northwest turn into the islands Thursday and be the most powerful storm to hit Hawaii since Hurricane Iniki in 1992.
Hurricanes are ranked 1 to 5 according to what is known as the Saffir-Simpson Hurricane Wind Scale. Hurricane Lane is at Category 4, which means winds from 130 to 156 mph.
Meteorologist Chevy Chevalier said Lane may drop to a Category 3 by Thursday afternoon but that would still be a major hurricane.
"We expect it to gradually weaken as it gets closer to the islands," Chevalier said. "That being said, on our current forecast, as of the afternoon on Thursday, we still have it as a major hurricane."
Unlike Florida or Texas, where residents can get in their cars and drive hundreds of miles to safety, people in Hawaii are confined to the islands ad must stay put. They have to make sure they have enough supplies to outlast prolonged power outages and other potential emergencies.
President Trump declared a state of emergency in Hawaii late on Wednesday, authorizing the Department of Homeland Security and FEMA, to coordinate disaster relief efforts with the state. CBS News correspondent Mireya Villarreal reported that Honolulu has 150 FEMA emergency responders ready to go and the U.S. Navy has moved ships out to sea to avoid the powerful storm.
Forecasters warned that Hurricane Lane's "very close" pass on Thursday and Friday is slated to bring strong winds, torrential showers and monster surf to the entire island chain, as well the possibility of "significant and life-threatening flash flooding" and landslides.
The Central Pacific Hurricane Center in Honolulu forecasts "total rain accumulations of 10 to 20 inches, with localized amounts in excess of 30 inches over the Hawaiian Islands."
"Everyone is starting to buckle down at this point," said Christyl Nagao of Kauai. "Our families are here. We have businesses and this and that. You just have to man your fort and hold on tight."
Officials opened shelters on the Big Island and on the islands of Maui, Molokai and Lanai on Wednesday. They urged those needing to use the Molokai shelter to get there soon because of concerns the main highway on the south coast of the island could become impassable. On the island of Oahu, which was put on a hurricane warning late Wednesday, shelters were scheduled to open Thursday. Officials said they expect that around 4,000 or 5,000 people will evacuate.
Officials were working to help Hawaii's sizeable homeless population, many of whom live near beaches and streams that could flood.
Hawaii Emergency Management Agency Administrator Tom Travis said there's not enough shelter space statewide and advised those who are not in flood zones to stay home.
Officials warned the limited shelter space should be a "last resort" and aren't designed to withstand winds greater than about 40 mph.
"Whenever possible, the public should plan to shelter in place or stay with family or friends in homes outside of these hazard areas that were designed, built, or renovated to withstand anticipated conditions," the city and county of Honolulu said in a news release.
Melanie Davis, who lives in a suburb outside Honolulu, said she was gathering canned food and baby formula.
"We're getting some bags of rice and of course, some Spam," she said of the canned lunch meat that's popular in Hawaii.
She was organizing important documents into a folder -- birth and marriage certificates, Social Security cards, insurance paperwork -- and making sure her three children, all under 4, have flotation devices such as swimming vests -- "just in case."
Public schools were closed for the rest of the week and local government workers were told to stay home unless they're essential employees.
The central Pacific gets fewer hurricanes than other regions, with about only four or five named storms a year. Hawaii rarely gets hit. The last major storm to hit was Iniki in 1992. Others have come close in recent years.
"We're planning on boarding up all our windows and sliding doors," Napua Puaoi of Wailuku, Maui, said after buying plywood from Home Depot. "As soon as my husband comes home -- he has all the power tools."
Puaoi was 12 when Iniki hit Hawaii.
"When it did happen, I just remember, pandemonium, it was all out craziness," she said.
Heavy rains buffeted the Big Island Wednesday night, triggering flooding in some spots and forcing the closure of several roadways, reports CBS Honolulu affiliate KGMB-TV. The National Weather Service said rainfall rates of 1 to 3 inches an hour were being recorded in some spots.
The Federal Emergency Management Agency has several barges with food, water and supplies that it moved into the region ahead of Hurricane Hector, which skirted past the islands more than a week ago, according to FEMA Administrator Brock Long.
The U.S. Navy was moving its ships and submarines out of Hawaii. All vessels not currently undergoing maintenance were being positioned to help respond after the storm, if needed.
Thanks for reading CBS NEWS.
Create your free account or log in
for more features.