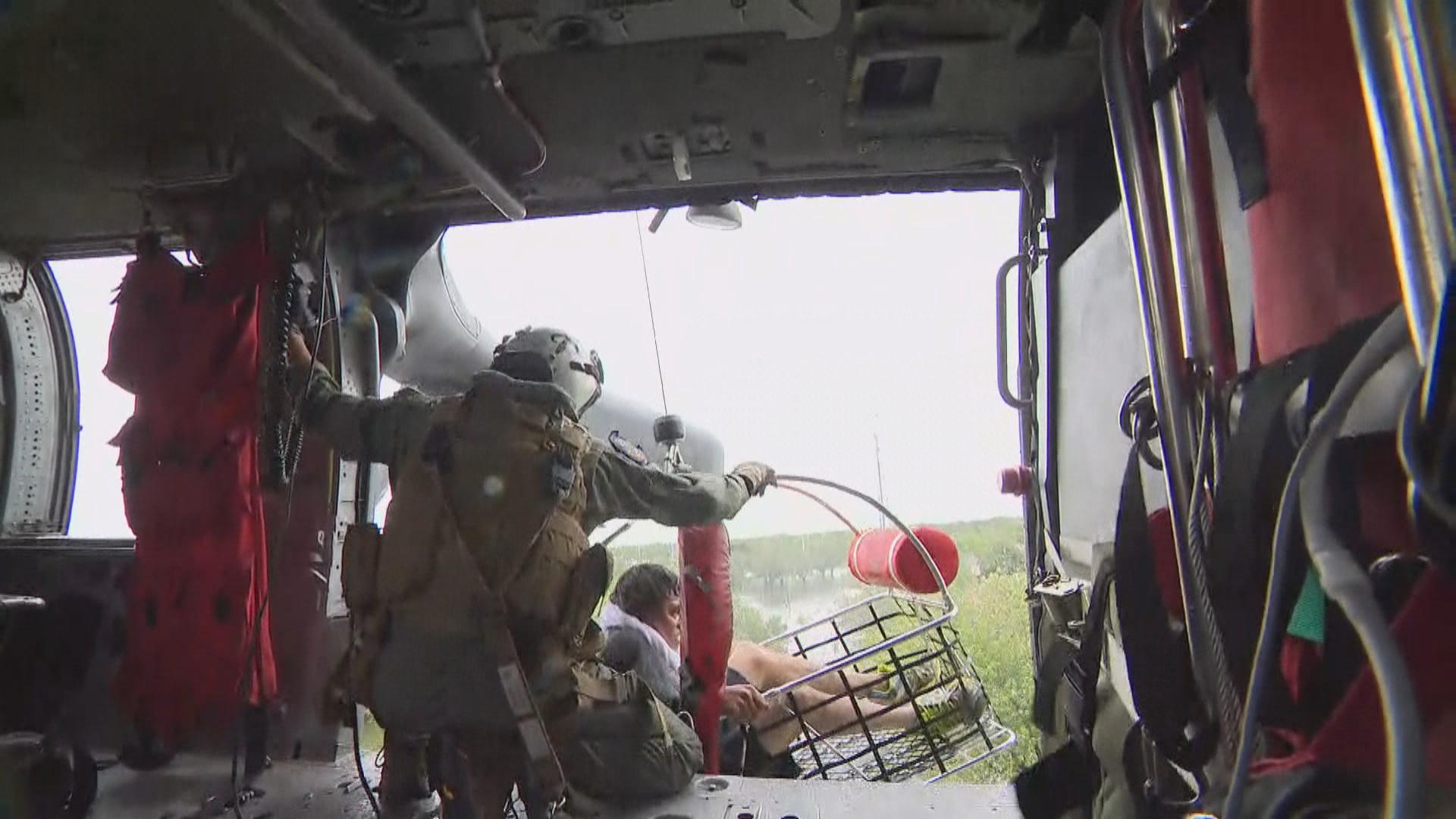 Navy helicopter rescue team provides lifeline from the air to flooding victims
For hundreds of Texans stranded in rising floodwaters after Hurricane Harvey, the path to safety has been a lifeline from the air. Helicopter rescue crews are able to pluck residents from rooftops and raging rivers, reports CBS News correspondent Omar Villafranca.
We took a ride with "The Dusty Dogs," of the Navy's Helicopter Sea Combat Squadron Seven, to see a search and rescue team in action. In five hours, the team we flew with pulled eight people and even a dog to safety from hard-hit Port Arthur.
"Honestly, I've never seen anything like that before," said Lt. Anthony Arrow, a pilot on one of the missions. He said pilots have been looking for "anything out of the ordinary" in trying to spot people in need of rescue.

It's a careful coordination between pilot and crew to locate and load people desperate to escape a toxic brew of floodwaters left by Tropical Storm Harvey.

People who are coming up are telling us that the water is cold, and they've been sitting in maybe two to three feet of water for a very long time. One of the first rescues that came up was of an older woman. She wasn't able to get her medication, but her son-in-law, who was also rescued, was able to grab her Bible. And he said, "We're gonna need it."

So far this team has flown over 40 missions with more than 250 rescues. One of those rescued was a 93-year-old woman. She was pulled to safety by officer Joseph Snyder. He told us part of the mission is helping calm people who are frightened and desperate.

"Good feeling to know that you are this person's only hope, pretty much, and you showed up just in the nick of time," Snyder said.
Rescue swimmers are trained to make rescues in the churning waters of the open sea, so in some ways, this mission is simple. But it's different: Instead of flippers, these rescuers wear boots to protect them from dangerous debris under the water.
Thanks for reading CBS NEWS.
Create your free account or log in
for more features.