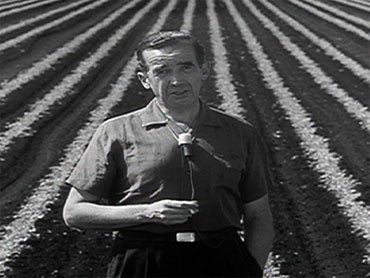 "Harvest of Shame" 50 Years Later
The day after Thanksgiving in 1960, CBS REPORTS presented what would become one of the most important documentaries of all time, about the plight of the men and women who had provided the holiday feast. They were America's migrant farm workers.
It was intended, the producer said, "To shock the consciousness of the nation." And it did. Now, a half century later, CBS News chief national correspondent Byron Pitts returns to the fields to continue the story.
---

"They are the migrants, workers in the sweat shops of the soil - the harvest of shame," CBS News correspondent Edward R. Murrow said in 1960.

In "Harvest of Shame," Murrow called them "the forgotten people; the under-educated; the under-fed."

With raw and striking images, Murrow's documentary exposed the poverty and deplorable working conditions endured by America's 2 to 3 million migrant farm workers.

"Only in name are they not a slave," said Rev. Michael Cassidy in the original documentary. "But in the way they are treated, they are worse than slaves."

Men, women and children who harvested crops for the best-fed nation on earth earned barely enough to feed themselves.

From the tomato, bean and sugarcane fields of Florida, working steadily north to the apple orchards of New York, life was an endless road trip. Housing was crowded, dilapidated, often filthy - but all a worker could afford on an average yearly income of $900. That's about $6,700 today.

Watch in Full: CBS REPORTS "Harvest of Shame"

Fifty years later migrant work is still backbreaking. In Immokalee, Fla., the tomato capital of the country, harvest season is just beginning. But while the work is the same, wages have improved.

That is, if the work can be found. In a tiny trailer he shares with his wife and five children, 62 year-old Juan Lopez gets up before dawn hoping to find work as a tomato picker.

In 2009, Lopez said he "earned $7,800 for a full year of work."

For a few months, a rented trailer is home. Six, sometimes seven days a week, he competes with younger men and women for a limited number of jobs. Like every other industry, farming has suffered in this economy. Those at the bottom suffer most. On the day CBS News was with him, Lopez was hired to work on a tomato farm more than two hours away.

Over the years, the faces in the fields have changed from poor whites and poor blacks to poor Hispanics. Today most migrant workers are from Mexico. Workers make about $10,000 to $12,500 a year. There are no mandated benefits like health insurance, overtime or sick pay.

In extreme cases, some farm workers have been held against their will, forced to work for little or no pay - modern day slaves. Women routinely endure sexual harassment. Since 1997, seven slavery operations involving more than 1,000 workers in Florida's fields have been prosecuted.

Most migrants are hard-working people like Claudia Vasquez, a mother of four. This year, Vasquez has already picked Michigan blueberries, Georgia tomatoes, and now Florida grape tomatoes. On top of her $7.25 an hour minimum wage, she'll earn 60 cents for each 32-lb. bucket she fills.

Vasquez said she has just enough to eat, but "we don't have any money to save."

But soon, that may change. Under an agreement between Florida tomato growers and the CIW,an advocacy group for field workers, working conditions will improve to include shade in the fields, a strict code of conduct, and perhaps most importantly - increased wages.

Nine national food giants, including Whole Foods and McDonald's, have agreed to pay an additional penny for each pound of tomatoes picked. That program could put another $5,000-$7,000 in the pockets of America's field workers each year.

Jon Esformes' family owns Pacific Tomato Growers - the first grower to sign on to the new agreement. "Our effort was really about making it a public conversation because it's intolerable that anybody behave inappropriately within agriculture," he said.

"We know that the industry is changing," said Gerardo Reyes of the Coalition of Immokalee Workers. "We know that it doesn't have to be a harvest of shame anymore. It can be a harvest of hope."

For Thanksgiving, Juan Lopez hopes to have enough to "try to buy a turkey."

Fifty years ago this week, America was given its first glimpse at what Murrow called "the sweat shops of the soil."

Fifty years later, the bounty and blessings of many this Thanksgiving remains the burden of a few.
Thanks for reading CBS NEWS.
Create your free account or log in
for more features.