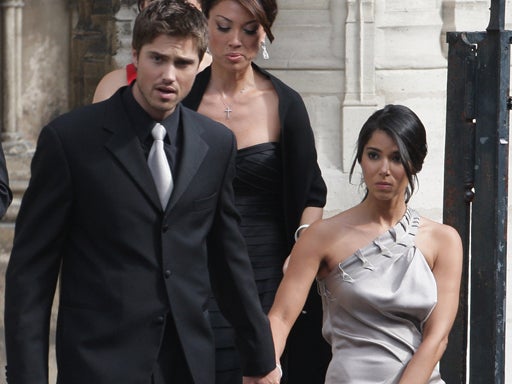 Harrison Denies Health Report
Former Beatle George Harrison, who has been battling cancer, said Monday that reports of his imminent death had been exaggerated.
The reclusive star, responding to weekend press reports that his health was fading fast, said in a statement that he was "active and feeling very well."
Harrison, 58, and his wife Olivia said in a statement released in London that they were "disappointed and disgusted" by the reports.
The musician has been treated for a brain tumor at a Swiss clinic and underwent an operation for lung cancer this year.
The Mail newspaper said Sunday that Harrison had told his friend and former producer George Martin, dubbed the "fifth Beatle," that he did not have long to live.
But in a strongly worded statement, Harrison and his wife said Martin had denied giving any interview on the subject of Harrison's death.
"The reports were unsubstantiated, untrue, insensitive and uncalled for, especially as Mr. Harrison is active and feeling very well in spite of the health challenges he has had this year," the statement said.
"George Martin ... has emphatically denied speaking to any newspaper."
"George Harrison is fine and working on his new album," producer George Martin's agent Adam Sharp tells CBS News.
According to The Mail on Sunday, Martin, the legendary producer for the Beatles, said: "He (Harrison) is taking it easy and hoping that the thing will go away. He has an indomitable spirit but he knows that he is going to die soon and he is accepting that."
Two weeks ago, Harrison told his fans he was feeling fine after treatment at a Swiss cancer clinic. Swiss cancer specialist Franco Cavalli confirmed that he had recently treated Harrison.
In early May, Harrison had surgery at the Mayo Clinic in the United States to remove a cancerous growth from a lung.
In 1998, the musician overcame throat cancer, which he blamed on smoking. He was given the all-clear after radiation therapy.
Just over 18 months ago, Harrison survived a life-and-death struggle of a very different kind - with a knife-wielding intruder who stabbed him in the chest.
The former Beatle was almost killed in the attack at his home near London in late 1999. He was saved by wife Olivia, who hit the attacker on the head with a poker and table lamp.
Harrison was known as the "quiet Beatle" during the heyday of the "Fab Four" in the 1960s and was rated as a major musician in his own right only after the breakup of the group in 1970.
The reserved Liverpudlian lived for many years in the shadow of John Lennon and Paul McCartney, but after the group broke up he released a triple album, "All Things Must Pass," which made his name as both a guitarist and songwriter, and enjoyed a worldwide smash hit with "My Sweet Lord."
© MMI, CBS Worldwide Inc. All Rights Reserved. This material may not be published, broadcast, rewritten, or redistributed. The Associated Press and Reuters Limited contributed to this report
Thanks for reading CBS NEWS.
Create your free account or log in
for more features.