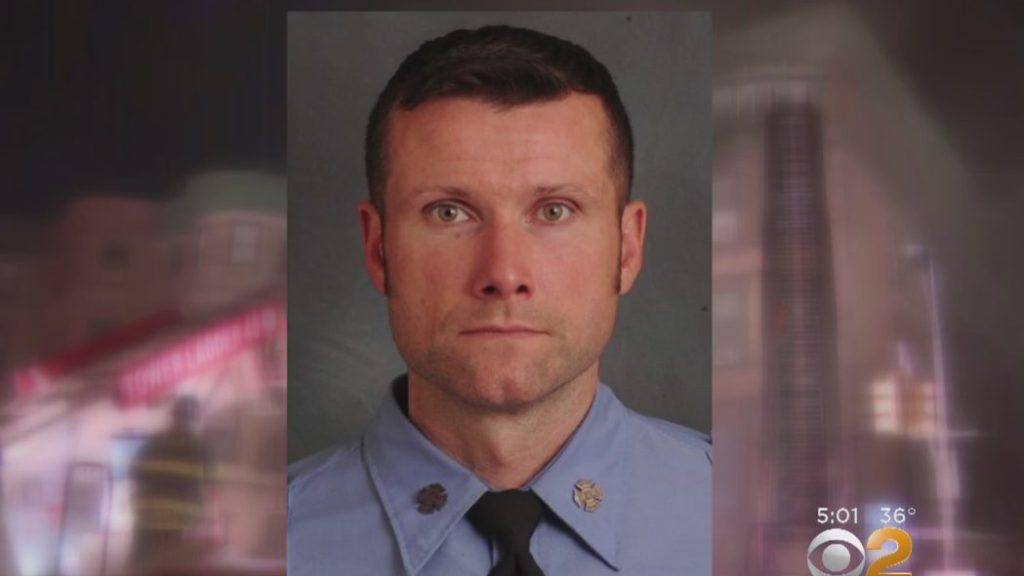 Massive blaze on set of Edward Norton, Bruce Willis movie kills firefighter
NEW YORK -- A firefighter was killed battling a five-alarm blaze late Thursday night in Harlem, reports CBS New York. The fire broke out around 11 p.m. on a movie set in the basement of an unoccupied residential building, New York Fire Department Commissioner Daniel Nigro told reporters in an early morning briefing.
It was in a long-closed club, the St. Nick's Jazz Pub, in a building designated as a landmark by New York City, CBS New York says.
The movie, "Motherless Brooklyn," was set for release next year and stars Bruce Willis, Willem Dafoe and Alec Baldwin. Edward Norton is director / screenwriter and is also listed as an actor.
The film's producers issued a statement saying, "Our deepest condolences to the family of Michael R. Davidson. A fire broke out tonight in the building where we were shooting our film. Our production was towards the end of our working day and had dozens of people working on site, when our crew noticed that smoke was coming into our set and into other parts of the building from below us. As soon as we noticed smoke coming up into our set, our crew immediately alerted the fire department and began alerting residents of the building even as we evacuated our cast and crew.
"To our great sorrow, we now know that a NYC firefighter lost his life battling the blaze that grew, and our hearts ache in solidarity with his family. New York City firefighters truly are the bravest in the world. We watched firsthand with astonishment as they charged into the smoke to make sure all were safely out and then fought to contain the blaze and prevent it from spreading, putting their lives on the line as they do every day. The FDNY are real life super-heroes and have our boundless admiration and gratitude."
Eric Phillips, press secretary for NYC Mayor Bill de Blasio, announced the death on Twitter:
The firefighter who lost his life was identified as Michael R. Davidson, 37, a 15 year veteran of the New York Fire Department, and husband and father of four:
Two other firefighters were injured -- with burns -- and were in serious condition, Nigro said. In addition, three minor injuries to civilians were reported.
Some 200 NYPD were there.
New York City Council member Mark Levine tweeted about it:
Levine retweeted images of the flames:
The fire was declared under control about 2:30 a.m. Friday.
The building, constructed in 1920, wasn't fire-resistant and the flames spread quickly, Nigro said. The cause of the blaze was under investigation.
Thanks for reading CBS NEWS.
Create your free account or log in
for more features.