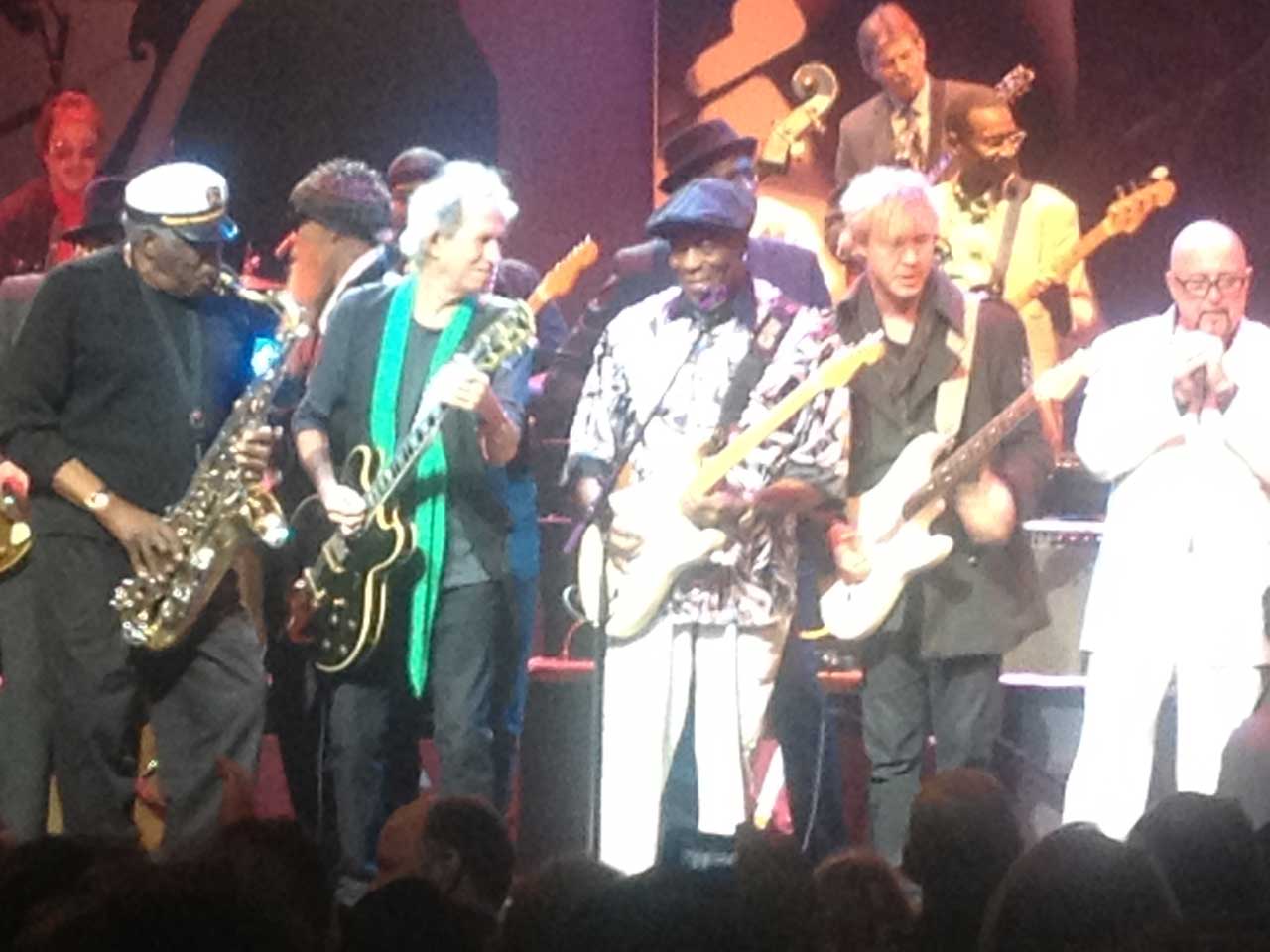 Harlem blues summit brings music legends out
In an extraordinary show of musical force, some of the greatest blues musicians alive converged on Harlem's storied Apollo Theater Friday night to honor the legendary Hubert Sumlin, longtime guitarist for blues pioneer Howlin' Wolf.
Rolling Stone Keith Richards traded licks with Eric Clapton on Wolf's hit "Spoonful," and played piercing, 12-string slide guitar beside blues harp pioneer James Cotton on "Little Red Rooster." Buddy Guy brought the house down with a thundering interpretation of Willie Dixon's "Hoochie Coochie Man." Elvis Costello sauntered on stage unannounced to play the Dixon classic "Hidden Charms."
Jody Williams and Eddie Shaw - Wolf's original guitar player and saxophonist, tore through "Sittin' On Top Of the World." Keb Mo', Robert Randolph, Doyle Bramhall II, ZZ Top's Billy Gibbons, Warren Haynes from the Allman Brothers, and Texans Jimmy Vaughan and Gary Clark Jr. were also among the night's many headliners.
Sumlin, a blues giant who died in December of heart failure, is one of the most influential blues guitarists in American music history. He developed a sound so potent that Pfizer licensed the rights to his 1950s signature riff from "Smokestack Lightnin'" for the company's Viagra commercials. He would have turned 80 on Friday.
Like so many of the first era of recorded blues greats, Sumlin died in poverty. Richards and Rolling Stone frontman Mick Jagger paid his funeral expenses. The concert was a benefit for the Jazz Foundation, which aids poverty-stricken blues and jazz musicians, many of them anonymously.
For more than four hours, the spirit of Sumlin's muscular sound rang through the packed house, as blues royalty arrived on stage in a staggering succession of once-in-a-lifetime collaborations.
From Louisiana came Lonnie Brooks, in a charcoal black suit, and his son Ronnie Baker Brooks. With Kim Wilson from the Fabulous Thunderbirds on harmonica and The Neville Brothers' Ivan Neville on keyboards, they brought the house to its feet with a swampy, insouciant rendition of "Sweet Home Chicago."
From their spiritual home of Jacksonville, Florida came two generations of Allman Brothers: veteran Allman Warren Haynes, and slide guitar virtuoso Derek Trucks - nephew of founding member Butch Trucks. The pair teamed up with Derek Trucks' soul singer wife, Susan Tedeschi, who wailed and howled her way through 10 minutes of foot-stomping guitar blues.
The evening began on a note of reverential sadness. A reserved Eric Clapton appeared on stage with Cotton, who trained as a child at the knee of Sonny Boy Williamson and went on to play blues harp in Howlin' Wolf's band, for a moving, acoustic take on "Key to the Highway."
Soon Jimmie Vaughan, in a black suit and a sequined silver tie clip and cowboy boots, was up on stage to sing Humlin home with "Six Strings Down," an ode to fallen bluesmen.
But in a galaxy of stars, Richards may well have shined the brightest, if for no other reason than the sheer enthusiasm that his first stage appearance in years generated.
Clad head to toe in black, with a neon green scarf hanging from his neck and grinning madly like the devil himself, Richards first wandered onstage with Clapton to sing on "Goin' Down Slow," St. Louis Jimmy Oden's 1941 celebration of a life well lived.
Surveying a stage full of stars and a thoroughly exhilarated audience that included tennis ace John McEnroe, Richards simply grinned. "These cats are too much!....It's good to be back,'' he said. "Goddamn, it's good to be back."
The show kicked into high gear when New York Dolls frontman David Johansen stepped to the microphone to sing "Evil,'' one of Wolf's most memorably evocative numbers, backed by an all star band that included concert organizer Steve Jordan and Jimmy Keltner, whom Rolling Stone magazine's Patrick Doyle called "two of the best drummers alive."
Late in the evening, a wildly enthusiastic Buddy Guy promised the packed house he'd "play something so funky you can smell it!" and then launched into a searing version of "Hoochie Coochie Man." Guy's appearance set the house on fire - perhaps literally, as drifts of pungent marijuana smoke pierced the auditorium air. All eyes in the theater were drawn to the veteran bluesman, in a black satin Hawaiian shirt and red leather shoes, as he shuffled and scratched at his guitar, and grinned and flirted with chanteuse Shemekia Copeland during "Blues in G."
"This is just...just unbelievable,'' said audience member and guitar player Kieran Blake, perched happily in the lower balcony with a rum and Coke in his hand.
Founded in 1989, The Jazz Foundation supports hundreds of down-on-their-luck blues and jazz musicians. Recipients include the 1950s folk and blues legend Odetta, and the lesser known Johnnie Mae Dunson, who is crediting with penning more than 600 blues songs, many of them sold to or stolen by more famous bluesmen like Dixon, Wolf, Muddy Waters and Jimmy Reed.
Dunson was paid $5 a musician to straighten their hair backstage, and wrote an extraordinary number of songs that later found their way into the American blues lexicon, according to Wendy Oxenhorn, longtime executive director of the Jazz Foundation. Dunson is said to have written the original versions of blues hits like "Evil" and "Wang Dang Doodle."
"When I first called her she was living in a state run [nursing home] in Chicago,'' Oxenhorn said. "She had no visitors and she didn't leave her room except in the middle of the night when no one would see her collecting aluminum cans."
The foundation got behind her. They began helping her with rent money, and re-introducing her to blues audiences from Chicago to New York City. In 2004, Dunson appeared at the Apollo Theater with Elvis Costello.
"You see this fragile, street-tough, savvy old girl, wheeled out in a wheelchair, and she takes this microphone in her hand and holds it like her life depended on it, and all of the sudden she starts singing, and the power that came out of her mouth brought people to their feet in seven seconds,'' Oxenhorn said.
"At one point, she got up out of her wheelchair, took two steps - gave me a heart attack - but she got up! This sound that was healing the audience was healing her! And then,'' Oxenhorn said, "when it was all over.... she'd been playing with Elvis Costello - she didn't even know who Elvis Costello was - but she said, 'Man that boy can play some."
Oxenhorn is an unique character in her own right. The stunning blonde learned harmonica while busking with a Mississippi bluesman in New York City subway stations in her teens, after an injury sidelined her classical ballet career. In 1990, she co-found Street News, a newspaper generated by the homeless, which in its first year garnered a circulation of a quarter million papers, and inspired the creation of 150 similar homeless-generated newspapers around the world. She is especially passionate about her work with musicians.
"These people spent their lives making music, and not making a dime," she said. "I mean, Jimmy Norman, who co-wrote [the Rolling Stones' first hit] "Time Is On My Side," never got the publishing credits. He was one of The Coasters! He was one of Bob Marley's first producers.
"When we found Jimmy, he was ready to be evicted,'' Oxenhorn said. "He had emphysema so bad he couldn't sleep lying down, so he slept at night sitting up in a plastic chair,'' she said, growing visibly emotional. "His apartment hadn't been cleaned in years because of the heart condition.
"One of our volunteers found a tape from 1968 of him and Bob Marley writing songs in his apartment in the Bronx, songs that had never been heard before,'' she said, her eyes still wide with amazement at the re-telling of the story. "It sold at Christie's for $20,000. He got himself a computer and some editing software, and he finally recorded his OWN version of "Time Is On My Side." His first CD! At 71 years old!"
"The people that you are helping are the people that were there for you your whole life - the people who literally played and wrote the soundtrack of your life,'' said Oxenhorn. "These were the people that [wrote the songs] for your wedding, and the ones that were there [on the radio] at 2 a.m. when you got divorced.
"It was Muddy Waters, or Odetta, or whomever, that got you through that girl in high school that broke your heart.
"And now it's our turn to be there for them, in their darkest hour."
Thanks for reading CBS NEWS.
Create your free account or log in
for more features.