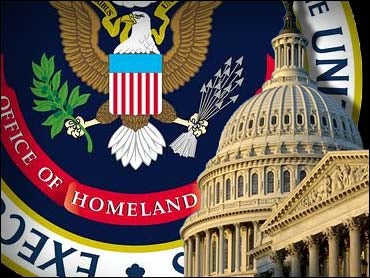 Handouts For The Homeland
Since Sept. 11, Congress has appropriated nearly $10 billion for homeland security to protect Americans from terrorism. The money is being doled out over a four-year period, with much of it going to local police and emergency services charged with preventing and responding to terrorist attacks.
As Correspondent Steve Kroft reported last spring, congressional critics, armed with independent studies, are alleging the money is being squandered, and that programs are riddled with handouts that have little to do with making the country safer, and everything to do with restocking police and fire departments with all sorts of equipment that has nothing to do with terrorism.
It's touched off a fierce debate over how and where the billions are being spent.
---
Tiptonville, Tenn., probably isn't on any terrorist map of potential targets. It's not even on the rental car map, and neither is the road you take to get there.

Approximately 7,900 people live in the county, spread over 164 square miles, bordered by cotton fields and the Mississippi River. The nearest city, Memphis, is a two-hour drive.

Yet Tiptonville and Lake County are getting $183,000 in homeland security money from the federal government. And Mayor Macie Roberson believes it's money well spent.

Why would al Qaeda come to Tiptonville? "If I were al Qaeda, and I wanted to get Memphis, and I wanted to get some cities, even St. Louis is 100 miles, just about 250. But if I wanted to get those cities, I'd come to Tiptonville. No one would ever expect me here."

By Washington standards, $183,000 isn't a lot, but it's more federal money than Roberson has ever seen before. The Department of Homeland Security sent him a 13-page shopping list of approved items he could buy, so he went out and got a Gator, which is an all-terrain vehicle. He also bought a couple of defibrillators, one of which is being used at high school basketball games, and purchased protective suits for the volunteer fire department, in the unlikely event terror comes to Tiptonville.

The last murder occurred three years ago. The fire alarm hasn't gone off in three months. And the nearest nuclear power plant is a couple hundred miles away.

Tiptonville seems like one of the safest places in the country, so why do they need all this money? "If it's available, we're gonna apply for it," says Roberson.

And Tiptonville is the tip of the iceberg.

"There is a good deal of waste on homeland security expenditures that follows from the fact that we were in a big hurry after 9/11," says Rep. Chris Cox (R-Calif.), chairman of the House Homeland Security Committee. Cox says the bulk of the anti-terrorism money should have gone to protecting high-risk targets, instead of being doled out to every local community in the country, whether they need it or not. "In some cases, the money just arrives," he says. "It's as if you've won the Publisher's Clearing House sweepstakes and you say, 'I'm a big winner today. Where can I spend this money?'"

"So the money is awarded, and then they figure out how it's going to be spent?" asks Kroft.

"It's exactly backwards," says Cox. "Instead of planning first and knowing where that money's going to go according to our priorities, it's 'Now that I've got the money, what can I do with it?'"

Converse, Texas, first used its new homeland security trailer to transport riding lawn mowers to the annual lawnmower races.

Newark, N.J., spent a quarter of a million dollars on air-conditioned garbage trucks. In Columbus, Ohio, the fire department is buying bulletproof dog vests for its canine corps. And Mason County, Wash., famous mostly for its Christmas trees, spent $63,000 for a decontamination unit that no one's been trained to use. It's been sitting in boxes in a warehouse for a year.

Hazardous material suits are especially popular. Missouri spent $7.2 million for 13,000 of them, one for every law enforcement officer in the "Show Me State."

"In Des Moines, your taxpayer dollars went to purchase, among other things, to be prepared for a terrorist attack, traffic cones," says Cox.

What does that have to do with homeland security? "Well, you know, that's one of the beauties of homeland security," says Cox. "In the end, everything has something to do with homeland security."

Like the four Segways purchased by the sheriff's office in Santa Clara County, Calif., which could be used to transport its bomb squad in the event of a terrorist attack against facilities in Silicon Valley. Sheriff Laurie Smith and Capt. Edward Perry say the protective suits are heavy -- 85 pounds each -- and hot. The ordinance experts are only allowed to stay in them for 30 minutes at a time. They say the Segways will allow them to get to the explosives quicker and stay there longer.

"The people who view these as not necessary, I think, are wrong," says Smith.

How will it help them deal with the threat of terrorism? "Well, it's another tool in our toolbox to help us prepare for dealing with explosive devices. And terrorists use explosives," says Smith.

"Santa Clara County may well be a site that al Qaeda has in mind," says Cox. "But if it is, I hope that we have more sophisticated equipment than Segways with which to respond."

An hour north of Santa Clara County is the city of Oakland, and one of the largest ports in the country, which makes it a legitimate terrorist target. Although primary security is provided by the U.S. Coast Guard, Alameda County Sheriff Charlie Plummer used homeland security money to buy underwater cameras that were used in the search for Lacy Peterson; a boat with diving equipment; and the first-ever, lead-lined, weapons-of-mass destruction container. "If you come up with biological or radiological material, you put it in there, and cart it away?" asks Kroft.

"Yeah, it's really state of the art, and we were the first to get it," says Plummer. "I don't think anyone has one."

Plummer says they haven't used the container, which costs $400,000, yet and it's the only one in the United States like it.

The 9/11 Commission recommended that homeland security money be allocated to protect the most vulnerable strategic targets from attacks that would cause the most casualties or economic damage.

But Congress, led by a group of powerful senators from smaller states, had a different plan. It decided to ignore the recommendations and distribute the money much the same as it hands out federal highway funds with everyone getting a share.

"It's pork barrel. It's the kind of distribution of funds that Washington always makes when politics comes before substance," says Cox. "We find that the monies are being doled out not necessarily according to national security risk, but rather, according to political formulas."

"Everyone wants a piece of this pie. And after Sept. 11, it's one of the biggest pies around," says Tom Schatz, who runs a group called Citizens Against Government Waste. He estimates that pork barrel spending on homeland security this year will reach $1.7 billion. "Members of Congress have figured out how to get their hands on homeland security pork," says Schatz.

Why else, he asks, would the state of Oklahoma, which is a land-locked state, get federal funds designated for port security?

"They have a river somewhere. And that is included under this maritime security provision that was passed by Congress," says Schatz.Sen. Ted Stevens of Alaska, the former chairman of the Senate Appropriations Committee, and one of Congress' most powerful members, argues that you never know where terrorists are going to strike, and that small states deserve protection as much as larger ones.

"I don't think you can say, 'Where's the population? Look at where the problem is if terrorist want to strike and harm our economy,'" says Stevens.

"We just got back from Tiptonville, Tenn.,'" says Kroft. "I mean, it just really stretched the imagination to think [that terrorists are] under any circumstances ever gonna go to Tiptonville."

"You don't know," says Stevens. "Now, where are the terrorists gonna strike? Just New York, and Washington, and you know, San Francisco? It's a nation and the threats are against assets that have a considerable impact on our national economy."

"Are you saying there's no pork here?" asks Kroft.

"No," says Stevens.

"There is some pork," says Kroft.

"You know, when you get into spending the kind of money we're spending in homeland security, there's got to be some things that wound up by just being there because someone wanted it there, rather than someone needed it there," says Stevens.

But Stevens says there is no pork in the $30 million Alaska is getting in homeland security funds. He says it's all needed to protect the oil pipeline, key military installations and in places like the North Pole, Alaska, which is situated along this strategic highway.

Of the $557,000 for rescue and communication equipment that they have received, Stevens says: "Every state has to locate equipment. That's not for us. That's for people that will be using that highway in the event of disaster. And I think it's legitimate."

"We don't live in a world of limitless resources, and we have to pick. We have to choose," says Cox. "And we want to put those monies where they're most needed, where we can protect the most life."

So much homeland security money has been appropriated that some places are having trouble figuring out how to spend it. Washington D.C., which everyone agrees is a primary terrorist target, has received $145 million in homeland security money, according to the House Homeland Security Committee, but has spent less than 10 percent of it. "Anybody could just spend money. We want to spend it wisely," says Washington Mayor Anthony Williams. He says a lot of the money has gone into a new emergency operations center, equipped with the latest computers, wide-screen TVs and 150 cameras that monitor different locations throughout the city.

But some other purchases are questionable, like leather jackets for the metropolitan police force. "A uniform and equipment as part of response and preparedness, I think, is certainly justifiable," says Williams.

What does it have to do with homeland security? "Well, I think protective equipment clearly ought to be part of funding for a homeland security strategy," says Williams.

"Another item: $100,000 to send sanitation workers to a Dale Carnegie course that has nothing to do with emergency preparedness," says Kroft. "What was that about?"

"I'd have to look into that," says Williams. "But by and large, I think the money we're spending is part of a plan."

Another example includes $300,000 for a computerized car towing service, which Williams says is "absolutely a part of homeland security."

"You know how? Now you are sitting you just came in here, looking at how a computerized towing service has anything to do with homeland security," says Williams. "Part of an orderly evacuation and mobility for people is clearing the roadways."

But if there is a terrorist attack, is it important to tow cars? "Absolutely," says Williams.

Plus, $100,000 went to the summer jobs program, some of which went to developing a rap song on emergency preparedness. "A big, big part of marketing and outreach to kids is through, you know, and I'm not an expert on rap, you can see that, but is using the rap idiom," says Williams.

"Do you know the rap lyrics?" asks Kroft.

"You got me on the spot. No, I don't know the rap lyrics, but I heard of that example," says Williams. "So here I am on national TV defending rap and homeland security. I don't, you know."

Mayor Williams not only has $130 million left to spend, he's about to get $96 million more.

In Tiptonville, Tenn., Police Chief Norman Rhodes is looking forward to the next windfall. "Well, if it's out there, we're gonna try to harvest it. I'll tell you that," says Rhodes. "The federal government's putting it out and we're gonna apply for it, and get it, and try to get the equipment it takes to protect our citizens. This is our home."

Congress is about to begin deliberations on whether or not to change the way homeland security funds are being used and distributed.

Since this interview, 60 Minutes has heard from the mayor's office in Washington D.C. about the money spent on the Dale Carnegie course for sanitation workers. The purpose, they told us, was to help the sanitation workers develop the necessary skills to deal with panicky customers in the aftermath of a disaster.

Shortly after this story aired in April, the House of Representatives overwhelmingly passed legislation to change the way the funding will be distributed. The Senate is working on its own version of the bill.

As for Rep. Chris Cox, President Bush has named him to head the Securities and Exchange Commission.
Thanks for reading CBS NEWS.
Create your free account or log in
for more features.