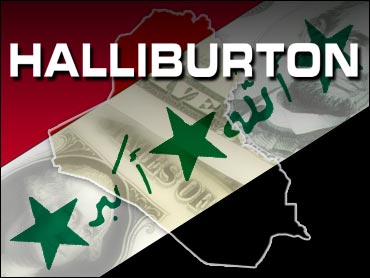 Halliburton May Lose Iraq Contract
Halliburton Co.'s multibillion dollar contract for work to support U.S. troops in Iraq will be put back up for bids, according to a published report.
The Wall Street Journal said Tuesday an internal Army memo indicates the move is planned within months. The company, formerly headed by Vice President Dick Cheney, has come under intense scrutiny amid allegations of overcharging and poor accounting.
The value of the contract, to feed and house U.S. troops in Iraq, is valued at up to $13 billion.
The Journal quoted a Halliburton spokeswoman as saying the move was expected and that its Kellogg Brown & Root unit may bid again for parts of the work.
The awarding of the no-bid contract to Halliburton has been attacked by Democrats because of Cheney's connections to the company. Cheney led Halliburton from 1995 to 2000.
Last month, Pentagon auditors urged the U.S. Army to start withholding millions of dollars in payments to Halliburton until the company justified its bills.
A published report on the findings of Pentagon auditors said last month that Halliburton did not adequately account for more than $1.8 billion it billed the government for work in Iraq and Kuwait.
The $1.8 billion amounts to 40 percent of the $4.18 billion KBR has already billed the Pentagon for its work feeding and housing military troops.
Various government agencies are investigating several aspects of Halliburton's work in Iraq, including allegations of kickbacks by Kuwaiti subcontractors and improper charges totaling hundreds of millions of dollars.
Halliburton said last month it will pay $7.5 million to settle a Securities and Exchange Commission probe that it failed to disclose a change in its accounting procedures in 1998 when the conglomerate was run by Cheney. Besides the company's fine, former Halliburton controller, Robert C. Muchmore, Jr., will pay a $50,000 penalty, the SEC announced Tuesday.
Halliburton in August also disclosed that the Justice Department has expanded its investigation related to an alleged $180 million bribery scandal involving a subsidiary's efforts to get a contract in Nigeria.
In another case, a former employee of KBR has been subpoenaed by the Justice Department in an investigation of possible overcharges by the company in Iraq. Trade with Iran is restricted by U.S. sanctions, although the company said it believes it has fully complied with the law.
Some of the most compelling accusations come from people like Marie DeYoung, who worked for Halliburton subsidiary KBR, reports CBS News Correspondent Sharyl Attkisson.
"There was no regard for spending limits," says DeYoung.
She recently told Congress that while troops rough it in tents, hundreds of preferred Halliburton KBR employees reside in five-star hotels like the Kempinski in Kuwait with fruit baskets and pressed laundry delivered daily.
"It costs $110 to house one KBR employee per day at the Kempinski, while it costs the Army $1.39 per day to bunk a soldier in a leased tent," DeYoung said.
"The military requested that Halliburton move into tents, but Halliburton refused."
Documents obtained by CBS News show an auditor repeatedly flagged improper fees for soldiers' laundry. At one site, taxpayers reportedly paid $100 for each 15-pound load of wash - $1 million a month in overcharges.
Thanks for reading CBS NEWS.
Create your free account or log in
for more features.