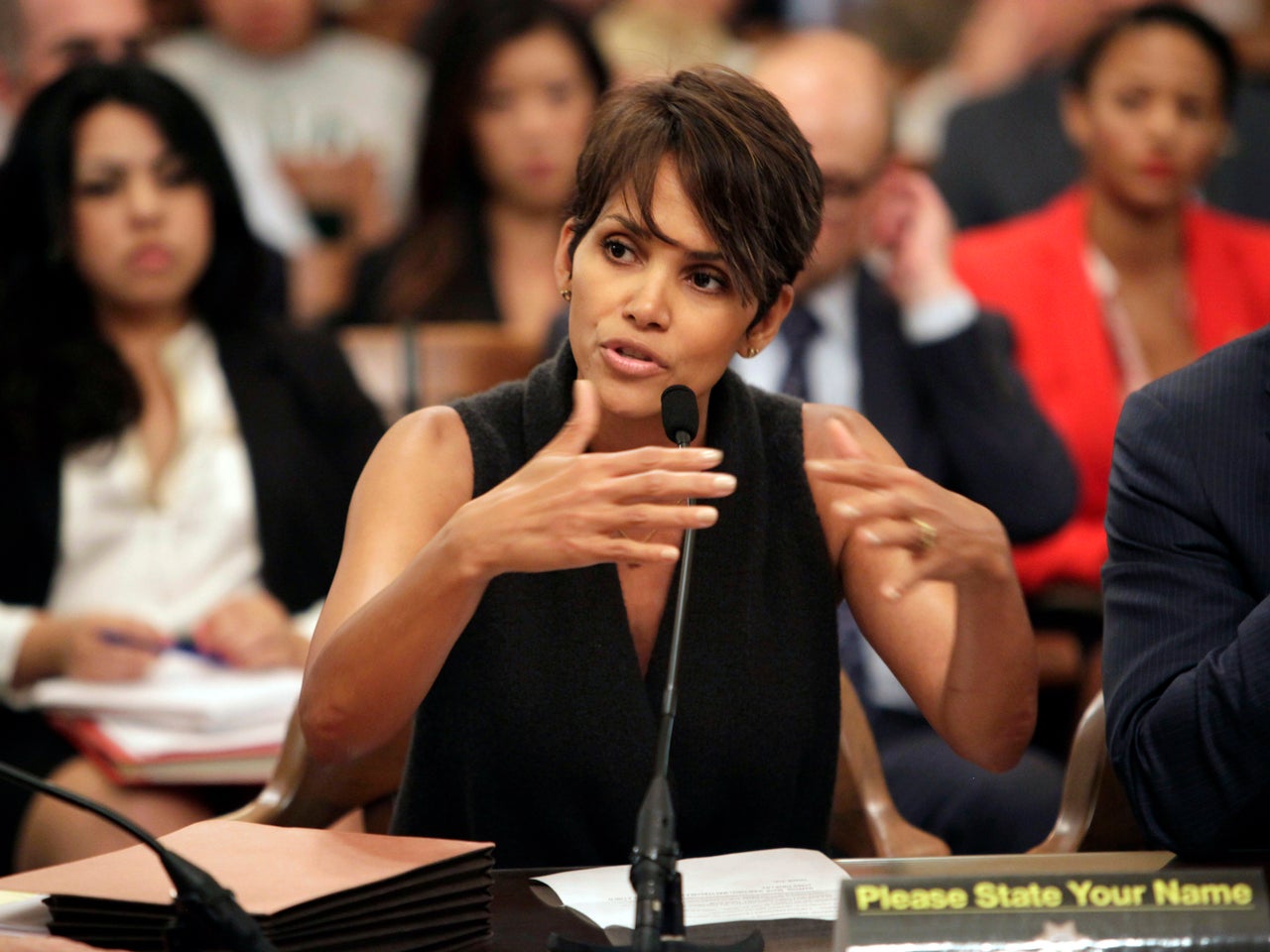 Halle Berry describes daughter's harassment terror
SACRAMENTO, Calif. With dozens of journalists tailing her every move, Academy Award-winner Halle Berry appeared at the California Capitol on Tuesday to testify for a bill that would limit the ability of paparazzi to photograph the children of celebrities and public figures.
"My daughter doesn't want to go to school because she knows 'the men' are watching for her," the actor told the Assembly Committee on Public Safety. "They jump out of the bushes and from behind cars and who knows where else, besieging these children just to get a photo."
Berry, who is pregnant, said she was speaking in favor of the anti-harassment bill by Sen. Kevin de Leon, D-Los Angeles, as a "mother of a daughter and the baby boy in my belly."
"If it passes, the quality of my life and my children's lives will be dramatically changed," she said.
The committee obliged, and the bill now goes to the Assembly Judiciary Committee, where supporters promised to clarify language that would protect the First Amendments rights of journalists gathering news.
"It's a broad definition to harass," Assembly Member Melissa Melendez, R-Lake Elsinore, said in calling for the explanation. The bill would change the definition of harassment to include photographing or recording a child without the permission of a legal guardian by following the child or guardian's activities or by lying in wait.
It also increases the penalties for people convicted of such behavior. Anyone convicted of a first offense could spend between 10 days and a year in jail. It also allows civil lawsuits to be filed.
The goal is also to protect the children of public officials, including judges and law enforcement, said Greg Hayes, spokesman for the senator.
But journalism advocates fear the bill will interfere with reporters and photographers gathering news. In an age when everyone with a cellphone has a camera, some say it also potentially puts private citizens at risk of prosecution.
"It sweeps legitimate newsgathering activities into the new definition of harassment and exposes everyday activities that journalists do to criminal and civil liability," said Jim Ewert of the California Newspaper Publishers Association, which registered the organization's opposition.
Some opponents of the bill found it difficult to testify in the presence of the cinematic superstar without deference. A representative of the Motion Picture Association of America, which opposes the bill, said it was a "privilege to be here with Academy Award-winner Halle Berry." A lobbyist representing 1,000 of the state's radio and television stations said he stood "between Halle Berry and First Amendment Rights."
The bill also was supported by many Southern California law enforcement organizations.
The "Monster's Ball" star and one-time Bond Girl talked about the recent infamous tabloid blowup between her family and the paparazzi that occurred at Los Angeles International Airport as they returned from a Hawaiian vacation. She said their relaxed good time turned to terror when they were cornered by 50 photographers with flashes who blocked their way out.
"They were trying to start a fight with my fiance because if they get a photo of that it's more money," Berry said, adding that her daughter was terrified. "She asked 'Mommy, are they going to kill us?' She didn't get to sleep until 3 a.m. because she can't get this out of her mind and she doesn't understand what just happened to her."
After the hearing, journalists scurried after Berry, recording her every move until she boarded a private elevator with de Leon.
Thanks for reading CBS NEWS.
Create your free account or log in
for more features.