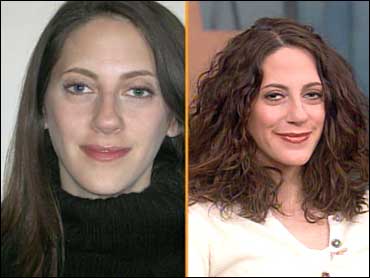 Hair Revolution: Curls Are Back
For years, fashionable women have been enduring expensive blow-outs and straightening treatments to tame their curls into submission. But this spring, curls are everywhere. The Early Show's stylist to the stars, David Evangelista visited with tips and demonstrations for all hair types.
Look No. 1: Permed or naturally curly hair
This year is the 100th anniversary of the perm, but today's treatments have come a long way from the perms of even the past 20 years. The goal of the perm today is to give some permanent texture and wave to straight or limp hair. It's a far more gentle process than in years past, and the amount of curl can be controlled to add just a touch of life and movement to lackluster hair. Keep in mind that a perm is not actually permanent. New technology allows the treatment to gradually fade away so if flat hair becomes all the rage again, you won't be stuck with curls you don't want.
A few general tips for permed or naturally curly hair:
Tip: Use products formulated for curly or dry hair. The key for naturally curly or chemically-curled hair is to keep moisture in the hair cuticle. There are a slew of products designed for curly hair, some of the best include Kerastase's Elasto-Curl line, Frederic Fekkai's Luscious Curl line, Avon's Advanced Techniques products, and DevaCurl's styling aids. From shampoo to curl-enhancing sprays, these products not only seal the cuticle and add moisture without weighing down hair, but they manage to enhance curl as well.
Tip: Use a mask once a week to hydrate hair. If your hair is naturally curly, chances are its coarse and dry, so opt for a heavier mask. If you've permed hair, try a lighter mask that will keep your hair healthy without weighing it down too much to seal in moisture.
Tip: Always dry hair with a diffuser. This is the cardinal rule for anyone with naturally curly or permed hair. If you're not going to air-dry (which is the best option for curly or chemically permed hair), use your dryer's diffuser. It will disperse the air flow and spread it over a larger area. All diffusers should be used on low speed and cool to warm heat settings. Using a diffuser with a dryer set on high defeats its purpose and can cause the dryer to overheat. A flat-vented diffuser or "finger" diffuser can be used on naturally curly hair or permed hair. The diffuser dries the curl softly and slowly so the curl pattern is not disturbed. Simply bend at the waist and direct air flow at the nape of the neck and roots of the hair. Keep the dryer moving. Never let the air stay directed at the same spot for any length of time.
Look No. 2: Curling iron ringlets

If women have straight hair but crave curls, the first tool they usually turn to is a curling iron. Though curling irons are a fantastic way to get curls on the spot, they can also damage your hair. When using a curling iron, it's best to separate hair into 1" to 2" sections, and to choose a curling iron with a wide barrel (1" to 2", depending on the length of your hair).
A few general tips for women using curling irons:
Tip: Prep with a heat-protecting curl enhancer. If you've ever used a curling iron, you know it has the potential to fry your hair. But a heat-protecting styling aid will help, and there are some products that do double duty, working as curl enhancers and heat protectors.
Tip: Opt for a large ceramic or ionic curling iron. The larger the barrel, the larger and looser the curl. The smaller the barrel, the smaller and tighter the curl. For this look, you want to create big, loopy spirals, so going for a large-barreled curling iron (between 3/4 of an inch to 2 inches, depending on your hair length) is a wise option. Choosing a ceramic or ionic curling iron is also recommended; both technologies speed up the setting of the curl, and help protect your hair from heat damage. Evangelista uses the Bio Ionic iTools iCurl Ionic Curling Iron and a Ceramic Tools iron.
Tip: Don't use the curling iron clamp. Unless you're curling the very ends of the hair, don't use the clamp on your curling iron. Trying to wrap an entire section of hair in a clamped iron is a sure-fire way to fry the hair cuticle and create lots of frizz and dead ends. Instead, separate hair into 2" sections, and wrap each section around the barrel of the curling iron, holding hair in place for 10-15 seconds. You'll get a much cleaner curl, and hair is far less susceptible to frying.
Look No. 3: Hot roller curls

If you're trying to get full, soft curls, but are afraid of damaging your hair with a perm or curling iron, you may want to try hot rollers. Available in a variety of diameters, they are used on dry hair to create long lasting curl and minimize frizz, and they are less damaging to hair than irons.
A few general tips for women using hot rollers:
Tip: Use the largest hot rollers you can find. As with the curling iron, the larger the hot roller, the wider and looser the curl. Unless you're trying to get pin curls, stay away from tiny hot rollers and opt for those with a 1" to 2" diameter.
Tip: Prep hair with setting spray or lotion to extend the life of curls. Using a setting lotion or gel specifically designed for curly hair before you set your hair in rollers is a vital step if you want your curls to last for over an hour, especially if you have very fine, straight hair. A thickening lotion designed for curling hair will ensure that your curls stay in place throughout a busy day.
Tip: Keep hair in hot rollers for at least 20 minutes. It may seem like a long time, but in order to get any real, defined curl, you need to let the curlers sit in your hair for a minimum of 20 minutes — 30 minutes is even better. Anything less and you'll get a tiny wave at best. The more time the hot rollers set in your hair, the more defined the curl.
Thanks for reading CBS NEWS.
Create your free account or log in
for more features.