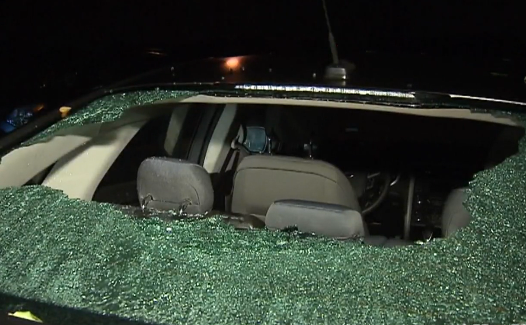 "Like God was throwing rocks at us": Baseball-size hail pummels Texas
CARROLLTON, Texas -- Severe storms, including hail the size of baseballs, left a trail of damage in Texas overnight from Carrollton to Coppell to Arlington. Windows and skylights were shattered, car lights were cracked or smashed, and tree branches were knocked to the ground, CBS DFW reports.
"It actually sounded like God was throwing rocks at us," said Coppell resident Brandi Rafael.
The storms turned severe at around 12:30 a.m. when the National Weather Service posted warnings for portions of Denton County and Collin County. The storms tracked south and west, bringing high winds and heavy rain to the Dallas-Fort Worth area, and dumping large hail in its path.
"The sound is what got me," said Cynthia Schultz of Coppell. "Never heard the intensity of something pounding like that."
"I heard a lot of commotion going on, and I actually thought someone was trying to break into my house -- that's just how hard the hail was hitting," said Charles Peteet, another Coppell resident. "I've been here my whole life in North Texas, Dallas area, and I've never seen anything like this before."
Viewers took many pictures of the enormous hailstones that pelted their homes.
"It's hard to believe, even holding it in my hands," Rafael said. "It's crazy."
There were no reports of injuries as of early Wednesday morning, but the Carrollton Police Department confirmed a significant amount of property damage in the western part of the city. CBS DFW found smashed windows across several blocks between Interstate-35E and the Sam Rayburn Tollway.
The Coppell Police Department also confirmed reports of damage in its city.
The Hebron Trails apartment complex in Carrollton was among the places hit by the large hail. Some drivers there woke up to a mess, with at least 10 cars damaged.
"It was hail the size of baseballs. Bust out my front windows in my living room. Bust out my car windows like someone took a baseball," said resident Katrina Winne about the falling chunks of ice. "I know everybody has some type of hail damage."
The storms were loud and moved fast. They quickly dissipated as they approached the Mansfield area. The Dallas-Fort Worth area is not expected to see more severe weather on Wednesday, only very warm temperatures through the rest of the week, as those affected by the hail work to clean up the mess left behind.
Thanks for reading CBS NEWS.
Create your free account or log in
for more features.