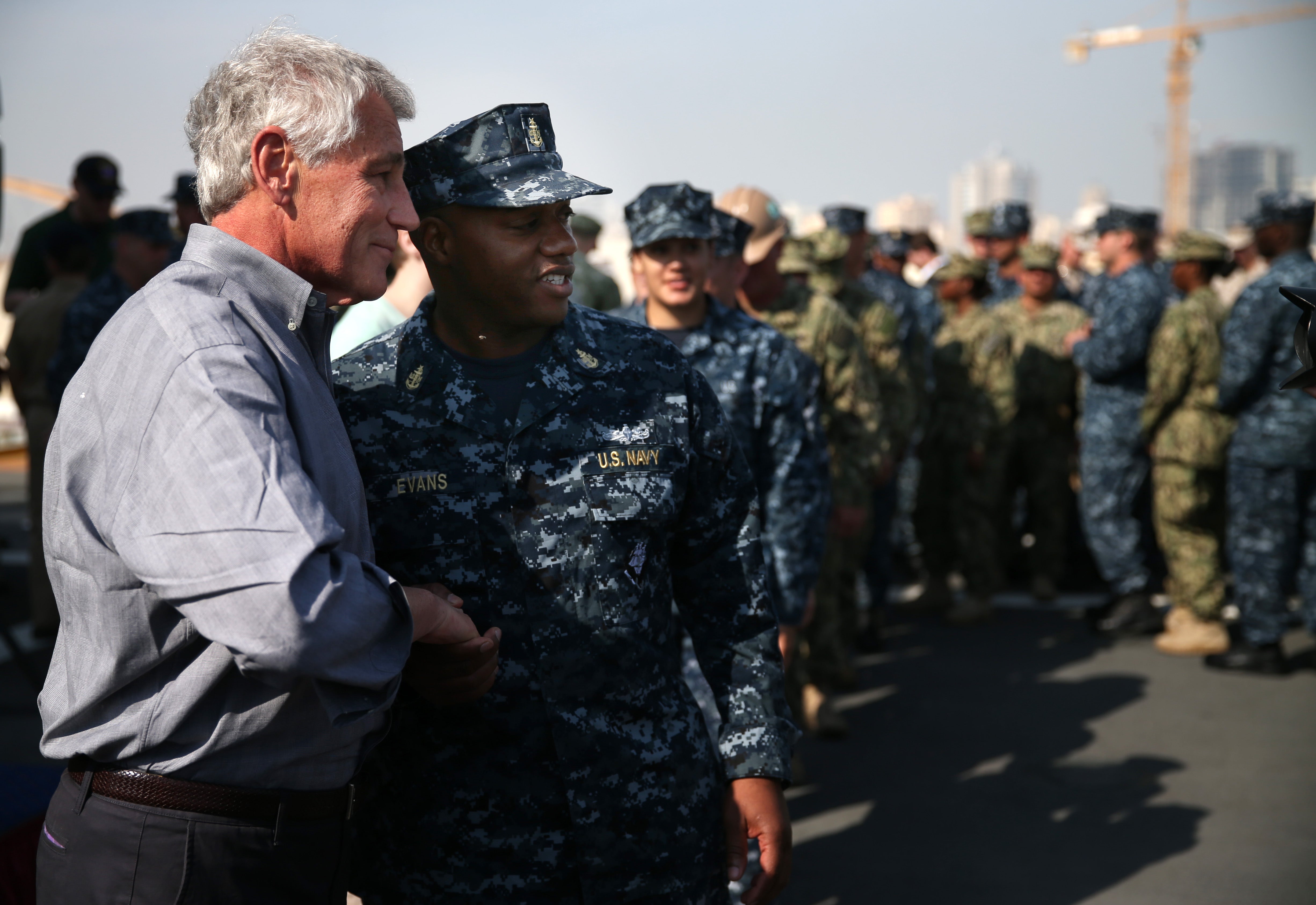 Hagel reminds Iran that threat of force still an option
Manama, Bahrain -- Defense Secretary Defense Chuck Hagel on board the USS Ponce, just 120 miles off the coast of Iran, told servicemembers that the threat of U.S. military force still exists even though the Obama administration is pursuing a six-month long diplomatic process with Iran to freeze its nuclear program.
Iran was topic number one during a question and answer session with the Defense Secretary. Petty Officer 1st Class Maurice Hill, asked Hagel whether the U.S. would now downgrade in military protection.

"We are not going to change any of our military posture in this area during that six-month period," Hagel said in reference to the six-month-long interim agreement. "We will keep the same kind of strong assets, the same exercises, the same partnerships, the same focus on our strategic interests as we did before we entered into this six month period."

Iran has not made any observable change to its military posture either, according to U.S. Navy officials aboard the vessel. The two officials told reporters that Iran maintains the same number of ships and servicemembers in the Persian Gulf as they did previous to the diplomatic deal that was signed just under two weeks ago. Under that interim agreement, Iran agreed to freeze its nuclear program in exchange for limited financial sanctions relief.

Hagel said the Obama administration understands "very clearly the dangers that Iran represents and has represented" but went on to defend the decision to negotiate as a way to "probe" whether it is possible to resolve differences through diplomacy. The administration argues that it was the threat of military pressure and financial sanctions that made diplomacy possible. Without maintaining the pressure, Iran does not have the incentives to move down the diplomatic path.

"So make no mistake, this is not an exercise based on folly, this is very clear-eyed real and difficult engagement," he said. "But in the interim you can be sure the United States of America will not change any of its force posture, its force protection or any of its relationships with our partners here."

Hagel is likely to repeat that line a lot over the next few days here in Bahrain as he meets with the Saudi deputy defense minister, the King and Crown Prince of Bahrain, the UAE foreign minister and others. While the military standoff continues alongside the diplomacy, there are a lot of questions being raised by U.S. allies in the region who wonder whether the Obama administration lacks the will to actually use the significant weapons hardware that it has positioned in Iran's backyard.

Senior defense officials say that Hagel made this trip at what they acknowledge is a "critical time" in order to "look directly into the eyes of his counterparts" and to reassure those nervous allies that the U.S. will still defend them against Iran. While those officials would not unequivocally say that the U.S. will refrain from adding to its military presence in the region, they did point out that the U.S. will continue to be a major provider of weapons systems to its allies who sit in close proximity to Iran. The U.S. has already sold over $81 billion in weapons systems to the region over the past seven years. Defense officials traveling with Hagel say that he will encourage those regional allies to increase their own military cooperation and regional integration.
Before addressing the servicemembers, Hagel toured the USS Ponce, which is the first floating military integrated command and staging base in the Persian Gulf. Currently docked in Manama, Bahrain, the ship is equipped with mine hunting helicopters, aerial drones and unmanned underwater drones. It can also embark and support special operations units. By next year, it will be outfitted with a short-range laser system that can shoot down incoming fire. That system is currently under technical review and evaluation, according to a U.S. Navy official who declined to detail the range of interception due to security concerns.
The mobile base is meant to be a physical reminder to the region and to Iran that the U.S. will use force if necessary. In addition, the U.S. Navy Fifth Fleet and Centcom is headquartered in Bahrain. The U.S. military presence extends beyond that as well. In the coming days, Hagel will visit nearby Qatar which is home to an Air Force base.
Thanks for reading CBS NEWS.
Create your free account or log in
for more features.